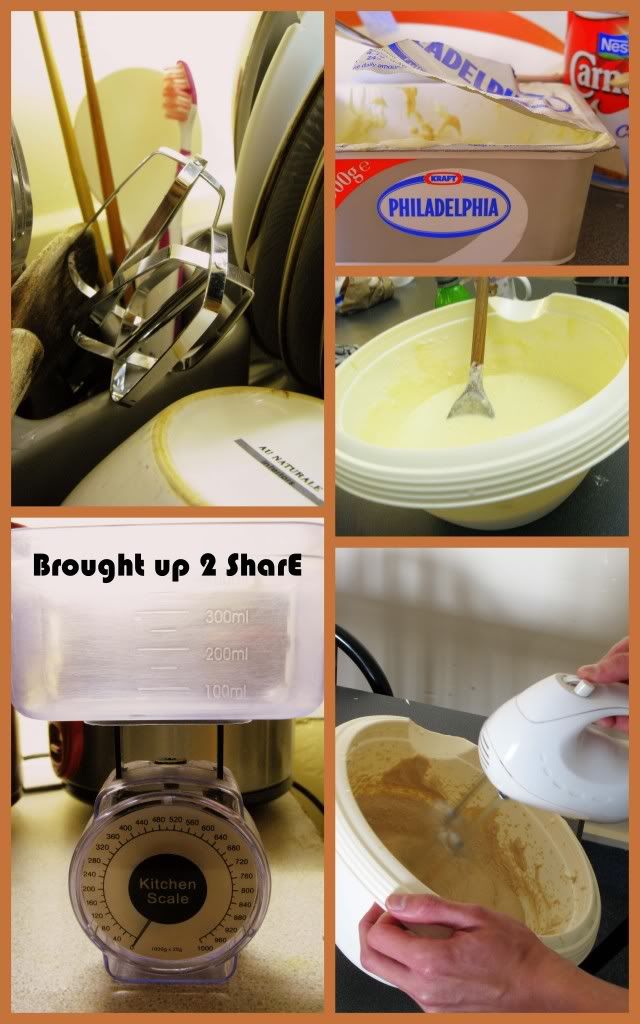 When there are lecture free days….
When you are tired drenching yourself with knotty, tedious and long-winded journals…..
When you wanna find an excuse to run off from generating words to write the intro for thesis…..
When the BF is out working…..

What's best to kill time?
Let's Bake!
Being a noob in baking, I called AiWei back home for help ;P Thanks gal.
Japanese Cottony Cheese Cake
Followed her adapted recipe below:
Part A:
250g Philadelphia Cream Cheese
50g Butter
100ml Fresh Milk
Part B:
60g Superfine Flour (top or cake flor)
20g Cornflour
6 Egg Yolks
1 tbsp Lemon Juice
¼ tsp Salt
Part C:
6 Egg Whites
¼ tsp Cream of Tartar
140g Fine Granulated Sugar
1. Melt (A) in double boiler and cool the mixture until room temperature.
2. Fold in (B) and mix well
3. Whisk egg whites with cream of tartar until foamy and then add in sugar and whisk until soft peaks form. Fold in half of the (C) into the mixture and mix well. Then add in the other half and mix them evenly.
4. Pour the mixture in 8 inches round cake pan (lightly grease and line the bottom and side of the pan with greaseproof paper).
5. Finally, bake in water bath for 1 hour 10 minutes or until set or golden brown at 160 °C.
Soft, fluffy and cheesy 🙂

So indulging…
However, mine still doesn't stand out impressively as AiWei's. HaHa.
———————————————————-
KC and Jean then came up with an idea of utilizing the cream cheese for another simple recipe.
Strawberry Cheese Tarts were just irresistible and easily managed!
Strawberry Cheese Tarts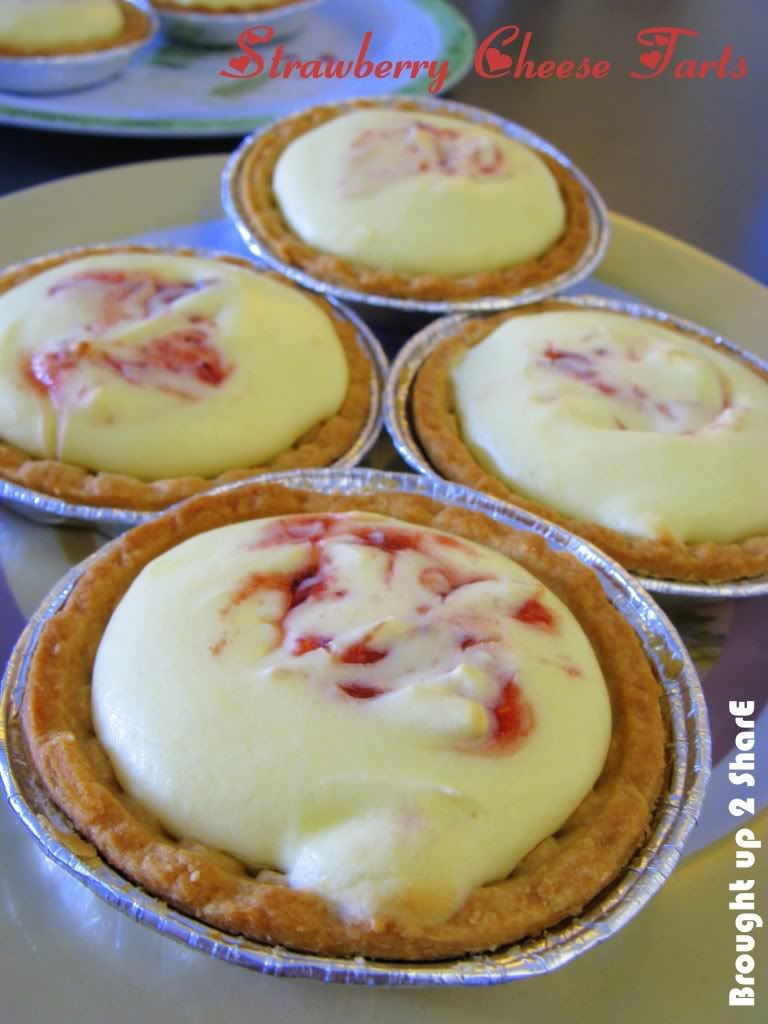 Ingredients:
Philadelphia Cream Cheese

Dessert Base

Strawberry Jam
1. Preheat the oven.
2. Beat the cream cheese with mixer.
3. Fill in beaten cheese into the dessert base.
4. Layer some Strawberry Jam in the middle of the tart
5. Bake the tarts at 180 degree for about 15 minutes.
Ta-Da! As easy as that 🙂
You can opt to layer some fresh strawberries on top. Decorate it to suite your likings.
For recipe on Blueberry Cheese Tarts and the making of the dessert base (we used the pre-packed ones from Hoppers in this case), please visit: