For the detailed Hua Hin travel itinerary, CLICK BELOW:

Cicada market is definitely not your usual Thailand street night market! Operating since October 2010, the Cicada Market in Hua Hin has become one of the area's most popular open-air markets!
It has definitely stand out for itself as this market is more of a platform for local artists to exhibit and sell their work, with a weekly schedule of live entertainment that includes local bands, international acts, theatre, performance art and various derivations of dance.
This market is created as a medium of connection to artists, creators, designers, tourists, students and community through integrating culture and arts with lifestyles.
As an art market with atmosphere of Hua Hin, this place is a source of contemporary art in various fields, including the invention of handmade decorative items, fashion clothes, collectible secondhand items and little products with innovative ideas to be displayed and sold in open-style mat and shops.
All things handmade!
Hand-drawn cute T-shirts designs!
Local artists operate from cute stalls! And yes, they painted every single masterpiece themselves.
So tempted to bring this umbrella home!
Here comes the bride! Can't resist to get his pretty veil for our cousin!
Their setting is like in a tropical garden, whereby the ambiance is relaxed, stylish and bohemian, with paths illuminated by lanterns and fairy lights and art installations throughout.
This market is also divided into 4 sections: Art A La Mode, Cicada Art Factory, Amphitheater and Cicada Cuisine. There are also 2 indoor galleries, known as The Art Factory which display the works of local artists and university students, plus a rotation of touring national and international exhibitions. Visitors can buy the art on display, or have their portrait sketched by one a local artist!

Air-sprayed portraits!
Love their Tourist Information Centre which they named it the Hua Hin Lifestyle Library. Equipped with computers, maps and infos, one can find out lots more about Hua Hin. Everything inside is so vintage and pretty!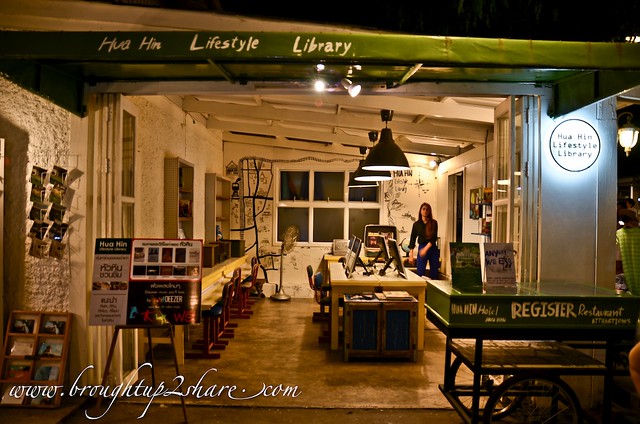 A
s you stroll along the night market, you will notice an amphitheater that offers different schedules of events which includes music, dance, theatre and more. Depending in which weekend, we can enjoy traditional Thai dance, magic shows, comedy, local musicians, b-boy and street dance competitions. We managed to watch some b-boy and live band performances while doing our shopping!
This is Cicada Cuisine. I lovetheir open are that offers a picturesque garden dining area. Food vendors here sells a wide range of Thai street foods with lots of local specialties. If you do not wish to have Thai food, there are also some selections of Chinese, Korean BBQ, western food etc.
Grilled fresh seafood here is also a specialty! Eyeing on those barbecued seafood 🙂
Coffee Break!
We stopped by a cute cafe by the name of Coffee Corner. Too hot must have cold coffee & cold milk tea!
Every cafe we stopped by in Hua Hin also never fail to melt us with its cuteness. Decos, petite table & chairs, and settings.

Iced Cappuccino – 60 Baht / Iced Milk Tea – 40 Baht
How to get there?
Cicada Market is easily accessible via cab or tuk tuk. As we booked a van, so it's not a problem 🙂
It's located in the Khao Takiab area, about ten-minute drive from Hua Hin Night Market. Located opposite the entrance to the Hyatt Regency Hotel.
Opening times?
They are only open on Weekends: every Friday, Saturday from 4pm to 11pm and Sunday 4pm to 10pm.