Continued from Day 1 BabyMoon @ Pangkor Laut Resort 🙂 Read more HERE!
Started the refreshing Day 2 on Pangkor Laut Resort being greeted by nice weather as we got out from our villa, ready for breakfast!
WARNING: Picture loaded ahead! As we've got a whole day here!
While waiting for the shuttle service 🙂
Here's our full day activity for Day 2. Pampered with good food and relaxation 🙂
#1 BREAKFAST @ Feast Village
Culinary offerings from the Asia-Pacific region and beyond that features a patisserie, cafe, Chef's table and wine cellar where guests can purchase wines of their choice. The restaurant is open for breakfast and dinner.
Our beautiful morning begun by making our way to this Feast Village for our big breakfast before we continue our activity throughout the day 🙂
Spoilt with choices, savour yourself with different types of cuisines; from Malaysian delights, Western fix or even some Chinese cum Indian tasty surprises!
The morning face!

#2 Jungle Trekking (for Chris)
This activity starts at 10am every morning by gathering at the Library behind the main lobby. You will then be briefed by the resident naturalist beforehand. This was a 2-hour jungle trekking activity where it opens your eyes up to a lot of what nature offers, and the resident naturalist will be your fount of information about the flora and fauna of the island.
The journey started from walking along the beaches and villas before entering the jungle behind, accompanied by informations about the island as well. Chris explored the jungle treks through the rainforest accompanied by their experienced and informative resident naturalist. The walks are free of charge and offer a fascinating insight into the spectacular virgin rainforest that is estimated to be over 2 million years old. Some of the interesting wildlife you may spot on the island include crab-eating macaque monkeys, fruit bats, tropical monitor lizards and yellow pied hornbills.
Chris also got to crane his neck to peer up at the tall trees in the rainforest while climbing up the small hills under the cool canopy of trees. It was kinda sloppy, so I'm advise to wait for him at the Emerald Bay instead 🙂
#3 Laze & Swim @ the EMERALD BAY
While Chris went for his jungle trekking activity, I made a stop on the Emerald Bay myself with #miniC! His last stop will be at the Emerald Bay so I will just have to wait for him there while hanging out with my book, took a walk on the beach and nap on the beach chair with sea breeze brushing my face. When Chris reached, we had a small photo session on the beach as the weather was great that day. Even better than during our Minimoon.
Hello miniC 🙂
#4 LUNCH @ Chapman's Bar
Located Right on the Emerald Bay, is where Chapman's Bar is lay. So do plan your lunch route here after Emerald Bay for convenience. Just a short walk from your beach chair, we got our yummy lunch fare after chilling out on the beach, rounds of photos-taking session & Chris's jungle trekking activity.
This bar is named after a famous British Colonel who sought refuge at Emerald Bay before his dramatic escape by submarine in 1945.
They used to serve course meals but they have revamped their menu just recently and turn it into buffet style during our visit, serving Asian cuisines with local flavours from Malay, Chinese to Indian like satays, chicken rice, noodles, BBQ items and more!
**Note: Just last week, the Chapman's Bar have decided to revert back to their usual ala-carte / course meals instead of buffet sessions like this. Better food quality we bet 🙂 You could have a look at the ala-carte meals that we had before HERE. 
Cold Ginger Ale on the beach!
#5 Pool Time @ Lap Pool
Passed by their tennis court on our way to the pool.
After the swim, we got back to our room to bath and rest.
Chris just gotta get some white wine while he bathes! Enjoying the hot tub and sounds of the sea with his glass of wine 🙂
#6 SUNSET CRUISE
Our evening was made memorable by starting out with a refreshing beverage at sea on board at Pangkor Laut Resort's teakwood Oriental junk. Captain Desa and his friendly crew took us out to the sea, leisurely cruise around the island to witness the beautiful sunset with visits to some of the islands beautiful bays.
A private cruise just for us! And the weather was just so perfect.
During our cruise, we were served with a choice of refreshing non-alcoholic and alcoholic beverages and appetizers from the crew while relaxing on the main deck or on the loungers and day beds on the upper deck. Yes, enjoyed free flowing soft drinks, house wine or beer as we admire the island from the sea, bathed in the golden hues of the setting sun.
Hello! This is our Captain on board!
He stopped by the perfect spot for us to witness the breathtaking view of sunset on sea.
Also, he had very interesting stories to tell about the island too! Very entertaining.
The other side of PLR: The Estate.
Even more luxurious than you could ever imagine.
According to Captain Desa, once the sun touches the horizon line on the sea, it takes exactly one minute for it to go all the way down! Ok. I certainly didn't know that. Haha. We then count down all the way together!
This was a magical experience with the most breathtaking views of the island at sunset. Love!
#7 DINNER @ Fisherman's Cove
Right after our sunset cruise, we then walked leisurely to Fisherman's Cove for our romantic dinner for 2.
Sets at the wooden deck adjacent to the Spa Village, on top of the breezy sea, Fisherman's Cove made it a romantic scene for dinner. Live acoustic band that sets in the lovely environment, candlelit tables enriched by the sound of the sea & dimmed surroundings that bagged the winning ambiance for fine dining.
They also have an open kitchen where patrons can get to enjoy how the chefs hustle with their Western grill, fresh seafood, Italian cuisine and delightful desserts.
Please take note that this restaurant welcomes children aged 16 years and above for the comfort of all their guests. Proper dress code is required with collared-shirt, full-length trousers and shoes for gentlemen and smart casual wear for ladies.
Have to give a big shout-out to the Fisherman's Cove as their food was delicious and memorable. Furthermore, their excellent service is certainly worth another praise.
A selection of bread to start with, with homemade herb butters!
Amuse-bouche
Literally translated as "mouth amuser" in French. A single, bite-sized first course served before appetizers.
Appetizers
Seared Foie Gras
Looks almost like a mini burger, the foie gras was perfectly seared and mounted on the caramelized mangoes & fungus confit below it. Different textures and flavours on every layer has created a myriad of surprises to our palate.
Crystal Prawns
Served with rock melon & roasted walnuts. Once again, very fresh prawns with that crunch and this pairing with melon and walnuts was refreshing and the flavours are certainly not over the top.
Rock Lobster Bisque
Served with Lobster mash, saffron, sweet potato chips on the side. A very rich preparation of tummy-warming soup. Dip your breads into them!
Lime Sorbet served in between for "palate cleansing" 🙂
Main Course
Pangkor Laut Seafood Pyramid (for 2 to share)
A huge portion of chef's recommended seafood selections. Consisting 8 types of seafood that includes: Lobster, tiger prawns, crabs, squids, fish fillet, scallops, clams & mussels, they were remarkably fresh that night. So much crustaceans and seafood goodness in one plate.
This platter was also served with 3 different types of creamy sauce to go with the seafood.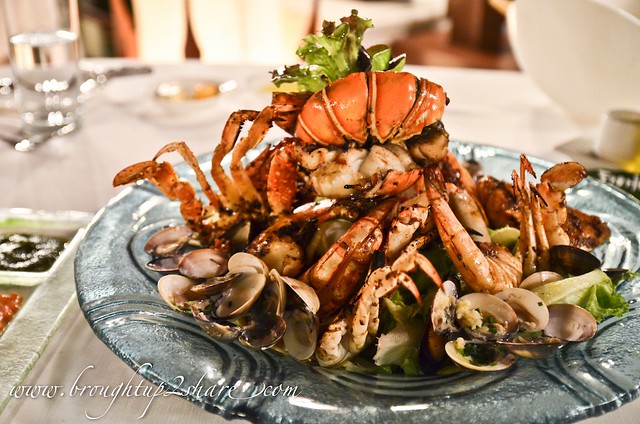 Desserts
Dark Chocolate Almond Cake with glazed cocoa topping and vanilla ice-cream
Spring Rolls
Wrapped with chocolates & topped with vanilla ice-cream
This ends our Day 2 with Pangkor Laut Resort. Awaiting more excitement on our last day with this luxurious resort on Day 3! Stay tune!