It has been almost 2 years since we last stepped into a temporary paradise at Pangkor Laut Resort for our MiniMoon 🙂 Well you could read more about it here by clicking the picture below. Also, you could learn about how their Resident's Package works, which is very worth it.
And here we are again!
Back to Pangkor Laut Resort for more indulgence and for our BabyMoon!
Thanks to PLR for making this happen 🙂 A much needed break to find relaxation from work and we're sure you'll need this too.
Imagine yourself, for an indulgent moment, sunbathing on their Emerald Bay, with trees that cast slender shadows along the stretch of golden sand, the sparkling, azure ocean beckons you in for a swim. Lush rainforest, glorious sun and sea. After your dip, stroll back hand in hand to your spacious villa for a warm bath overlooking the sea and fluffy bed. Before getting ready for a leisurely seafood dinner, you can wander out onto your private balcony and listen to the surf. We could do this everyday! 🙂
Such delighting the senses.
At the waiting area of Marina Island @ Lumut, waiting for our boat transfer and it was just a 15 minutes journey to Pangkor Laut Resort! Safe for preggers like me! Hehe. For the boat schedules, do check out their official website for the different time allocation: http://www.pangkorlautresort.com/
Also, just leave your luggage with them at the jetty and they will be with you in your room when you arrive!
The weather was just so perfect that day 🙂 Blessed.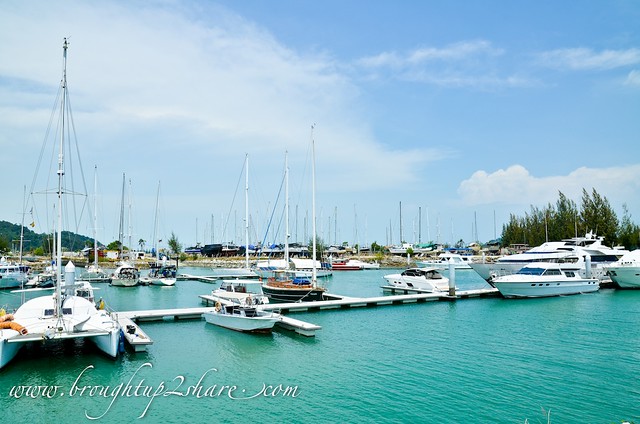 Time to board our boat and we just gotta take some selfie! 🙂
And also thanks to the beautiful couple who sat in front of us for a more complete pic. Haha.
On our way to being pampered at the YTL resort!
Upon reaching their Pangkor Laut Resort's jetty, we were greeted by one of their friendly staff, Loges. Ushered to their main lobby for another welcome drink and wet towel to refreshen up. Also, there will be a short briefing that were given personally to ensure we know our whereabouts, facilities and how to get around the island plus restaurants.
Before checking out our villa, we had lunch at one of their dining options:
LUNCH
Royal Bay Beach Club
The restaurant overlook the infinity pool serves a selection of Asian and Western favourites for lunch. In the evening, the restaurant will transform into a chic chill-out lounge serving cocktails and other beverages.
Appetizers
Mushroom Salad
Slow-roasted portobello mushroom on organic fields of greens and creamy egg dressing. Oh yes, we've had this during our last visit but we can't resist from ordering the same again as it's my favourite salad on the island. This time, much bigger portobello!
Rendang Quesadilla
Tortilla filled with slow-cooked chicken rendang , coriander-mint sour cream and guacamole , with heirloom tomato salad on the side. Highly recommended by the staffs, this tortilla was crispy and rendang were not too spicy too. Even children can take them. Love their selections of yummy dips with different flavour. Our favourite was coriander-mint sour cream.
Mains
Club Pizza
We selected three toppings: beef pepperoni, shrimp & mushrooms. Shrimps were absolutely fresh and the presentation was really pretty. However, their dough was kinda thick to our liking. Would have been perfect if it's thinner and crispier.
Roast Chicken
Rosemary Roasted Chicken, served with rustic potatoes & ratatouille. No complains, very well marinated chicken roasted to perfection and the sauce was delicious.
Desserts
Apple & Blueberry Crumble served with raspberry sorbet
Since Chris is not a very "berry" person, so I walloped the berries! Crumbly, sweet and sourish combination that we love. One side of the crumb is centred by apple while the other end with blueberry.
Daily selections of Ice-Cream & Sorbet (double scoop)
Vanilla ice-cream & Raspberry sorbet
Although I was tempted to choose over creme brûlée, but the weather calls for ice-cream! Our #minic loves ice-cream too. Haha.
After a round of tummy-filling feast, we were walked to our room which is one of the Sea Villas! Since our last visit was at their Hill Villa, our stay at their Sea Villa this time around is totally a different experience.
Time to check out their room on the sea!
Our Villa!
A beautiful wooden door opens to the first panoramic view terrace complete with reclining chairs and table. With charming interiors, wooden furnishings, nice comfy bed and a very spacious bathroom too! To be precise, a bathroom with panoramic window on the sea!
Mangosteen for bath & toiletries.
Love the different fruit flavours they used for shampoo, conditioner, shower gel & lotion. We smell like a fruit after bathing! And sea salt provided for a soothing, relaxing and stress alleviating bath.
An invitation to their cocktail session in the evening 🙂
Complimentary fruit basket! Just what I needed most. Constipation's a pain during pregnancy you know. Haha.
Too comfortable enjoying the sea breeze till #miniC says "Do Not Disturb" Lol.
Time for picture!
I
n between, you could take a dip at their pool near the Royal Bay Beach Club or take a walk on the beach.
Hello feet! 🙂
Time really flies and it's DINNER time already!
At Uncle Lim's Kitchen!
From our villa to the Uncle Lim's Kitchen, it's just a walkable distance away so we don't need to take their shuttle service provided 🙂
This restaurant is a spherical layed-out restaurant built on top a rocky outcrop overlooking the sea. It was named after the chef who has been with the Resort since its inception.
Uncle Lim's specialises in Nyonya and Hockchew Chinese-style home cooking. All dishes are inspired by the unique products available locally, and made to each guest's individual tastes and requirements. Love their exotic flavours of the East.
Many have asked, "Who is Uncle Lim?" "Does he really exist or just a name?" "Is he related to the YTL's family?"
Uncle Lim is actually Pangkor Laut Resort's oldest employee and head chef. This year, he is celebrating his 80th birthday along with 29 years of solid service at the resort!
In commemoration of this momentous event and appreciation for his years of dedication, his team of apprentice have prepared a special birthday feast incorporating Uncle Lim's favourite home-style recipes!
In conjunction with Uncle Lim's 80th birthday, Pangkor Laut Resort is offering guests the exclusive opportunity to enjoy this celebratory menu as:
Complimentary Dinner Upgrade for the Uncle Lim's Special Birthday Feast
For guests who book the ever-popular Resident's Package
Travel period to Pangkor Laut Resort from 1st September to 31st December 2014.
Uncle Lim's Special Birthday Feast
Available 1st September to 31st December 2014
MYR360++ per couple
**One Complimentary Dinner Upgrade for guests who book Resident's Package**
Four Seasons Platter
Lo-Bak, Sweet Sour Prawns, Foo Yoong Egg, Calamari with Peanut sauce
.
Hock Chew Fish Maw Soup
.
Select four from the following items:
Stir-Fried Sea Cucumber with black mushrooms and broccoli
Deep Fried Soft Shell Crab served with Kampung Koh Chilli Sauce
Fantasy Lobster – diced and stir-fried with Prawn paste
Aromatic Steamed Pangkor Grouper – fresh from the fisheries of Pangkor Island and fragranced with lemongrass and chilli
Stir-Fried Scallops with Ginger Wine
Braised Abalone with Homemade Beancurd
Herbal Chicken- steamed free range chicken with traditional Chinese herbs
.
Hock Chew Red Rice Wine Mee Sua
with handmade thin wheat noodles from Pangkor Island
.
Shanghai Pancake
Here are just some of the dishes from the above menu!
Four Seasons Platter
Lo-Bak, Sweet Sour Prawns, Foo Yoong Egg, Calamari with Peanut sauce
Such colourful appetizers! Love to dip the Lo-Bak with the Kampung Koh Chili they provide. Prawns and calamaris were very fresh too.
Hock Chew Fish Maw Soup
Tummy warming, palate igniting, and addictive. Chris isn't really a big fan as he doesn't like sour taste so much. I personally love it as it's tangy, sweet, spicy and sourish.
Braised Abalone with Homemade Beancurd
Silky smooth and the sauce goes very well with the rice.
Fantasy Lobster – diced and stir-fried with Prawn paste
Beautifully presented 🙂 The lobster were fresh but we personally prefer a less overwhelming taste to our lobster and we can taste their freshness more. The prawn paste was flavoursome but somehow overtook the freshness that one can indulge.
Too full till no more room for desserts! Lol.
Enjoyable dinner with the night breeze. Hand in hand, we strolled back to our room, carrying our tummies and #miniC! Haha.
Stay tune for our Day 2 experience! 🙂
For those who are interested in the Residents' Package, you book your stay with with Pangkor Laut Resort via:
Their website: http://www.pangkorlautresort.com/
Call YTL Travel Centre at +603 2783 1000
or Email travelcentre@ytlhotels.com.my.