Ever since the last gathering with many well-known floggers at My Elephant, we have been keeping in touch now and then. I could never feel more contented than having them around. Originating from different age and personality, we still can share laughters and issues despite these factors.
I admit.
I love hanging out.
With them.

Chris and I were once again enlightened when BBO is organizing another get-together. Another makan session, and this time…. the Potluck. The night was to denote a meal in which all of us have to bring a different dish to share. You know what that means… fusion of foods!! What's better than having a variety of dishes of your liking at one go?
We were late.
When we arrived at BBO's superlative and cosy apartment, our dear friends have already started to chow down ;P
*have to curi, I mean borrow some pics from them lo*
Lianne brought the Angel Hair Pasta with Portobello and Truffle Oil. It was a ignition to my palate. I just love having pasta with mushrooms and with Portobello.. it was perfect. Cooked till al dente, her culinary skills were worth all the laud she should get.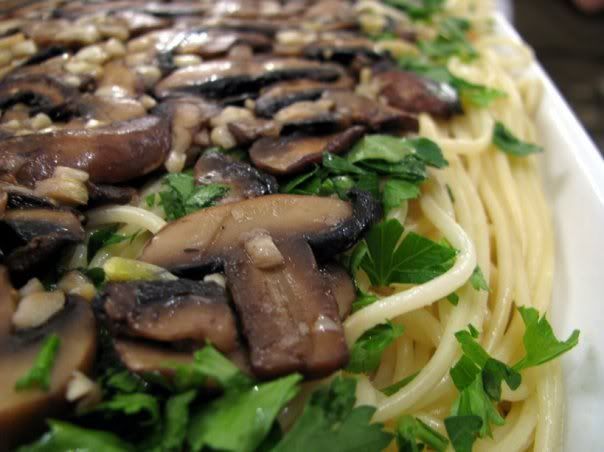 Her art of choosing, cooking and eating good food were shared with us through her another preparation; Canape Combo of Mango & Sardine. It's a rather special and creative blend in which the Japanese rice cracker was topped with mango mayo and pulverized sardines, garnished with some onions and basil leaf. I love it!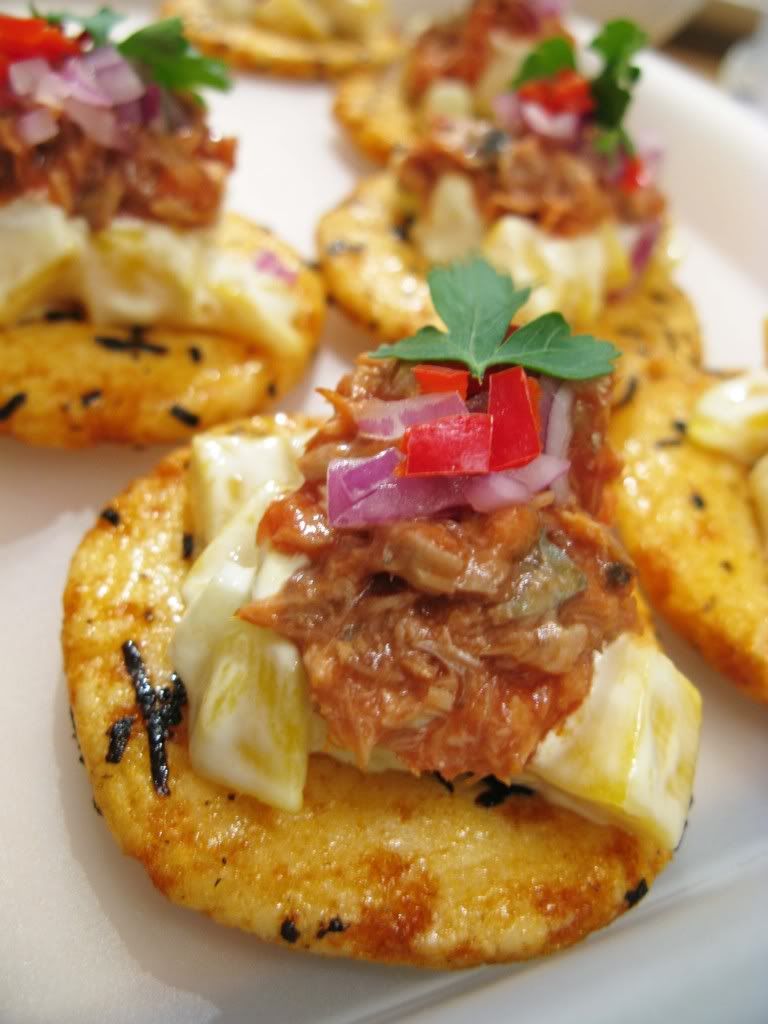 That was not just it. She also prepared Steamed Nian Gao! The nian gao was steamed and covered bountifully with fresh shredded coconuts. I have to say that she is awe-inspiring 🙂
Want a recipe for all her dishes for the night? Click HERE, HERE and HERE!
Ekeng brought the Roasted Pork Knuckle. It must be darn good since mostly the bones are left when we arrived! That's fast! Didn't really get to taste it properly.. Ekeng, we want more! ;P

We had 3 different types of curries preparations that night. This Chicken Curry was brought by Ling, along with some bread for dipping. Very tasty and aromatic, she was very thoughtful to bring along the soft bread to match her curry dish! And.. I love dipping bread into curries 🙂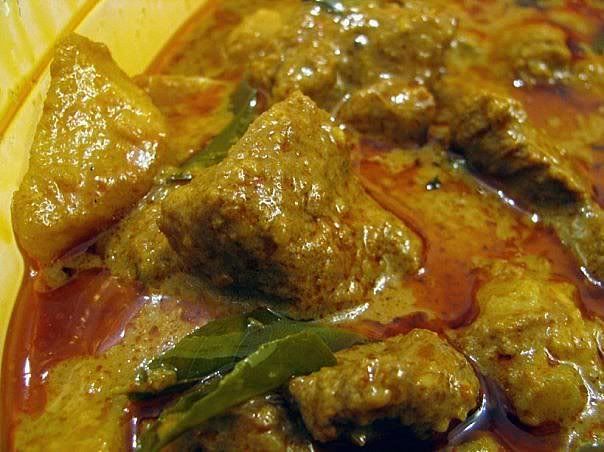 Jackson also brought Chicken Curry prepared by his mom 🙂 Though both prepared chicken curry, they had a scrumptious taste of their own. It was flavoursome and zesty definitely! A thumbs up.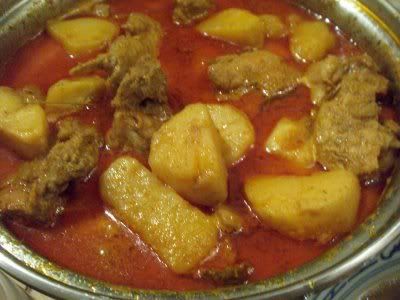 Here's another curry for us to drool over; the Pork Curry by Jennifer. As we mostly have curry chicken on quite a regular basis, this pork curry was a bomb. The curry sauce was again unquestionable.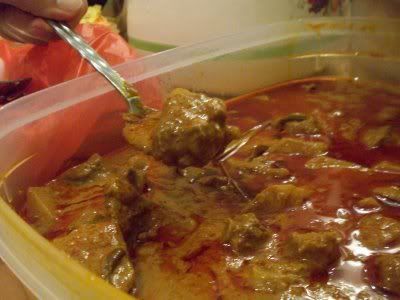 So what goes well with the pork curry? Roti Jala would do best! And Jennifer made these herself! How brilliant ;P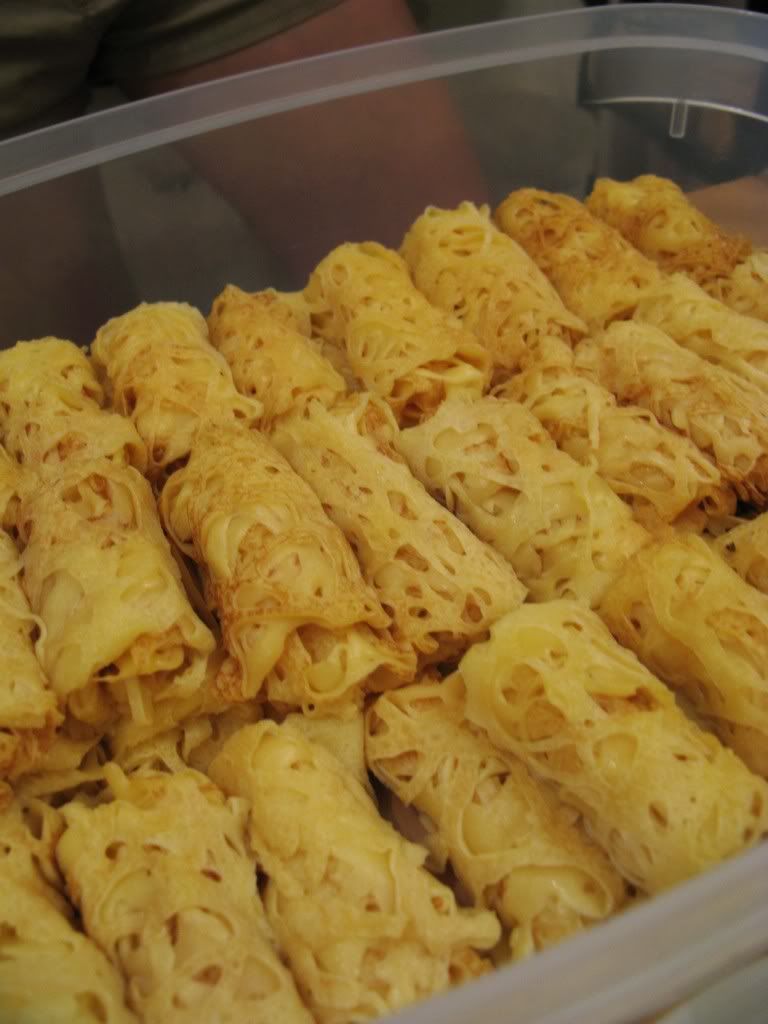 Having heard lots about the Anson Chee Cheung Fun *correct spelling?*, to try it for myself for the first time was no disappointment. Thanks to WMW for bringing these! I'm craving for more now ;P
As an honoured life-time member of the Japanese Food Kawan Association, XiuLongBao is indeed living it up to this title. She made us Assorted Sushi Rolls! Enfolded with cucumber, crabsticks, omelette and spicy tuna, these prevailing hand-rolled sushi was another sweetheart.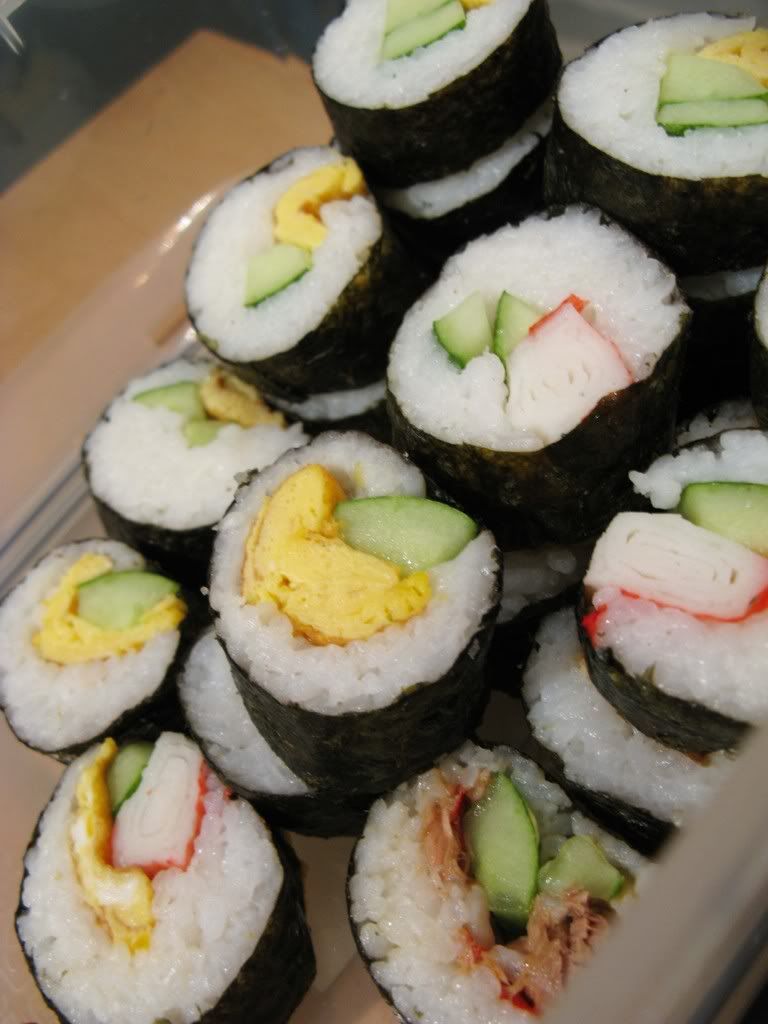 Bruschetta! Pakcik Nic who rhymes made us these. It was enjoyable to get a taste of the toasted Italian bread drenched in olive oil. Wonder what's inside? Tuna and cheese? Forgot to ask you that day la Pakcik ;P Mind telling me?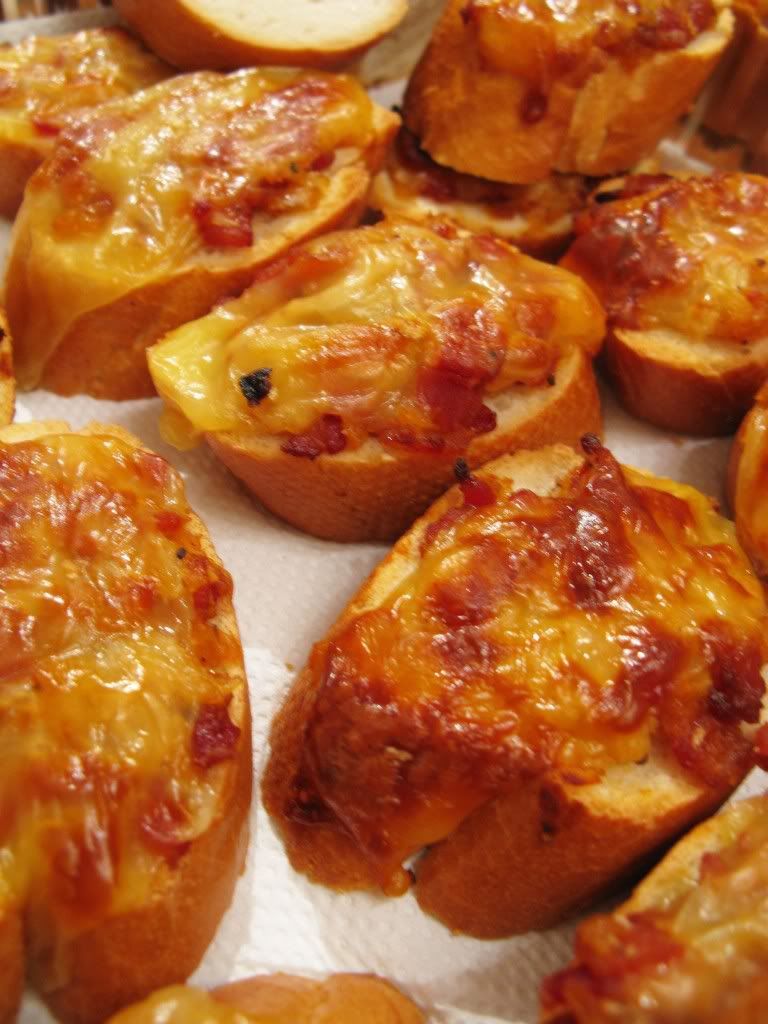 Watch closely, as you're about to witness another inspired and innovating dish by Teckiee. Caramelized Pork with Spaghetti Omelette was its name,
Making people drool and famished was its game.
We've never tried anything like this, and we loved it right away. This was cool ;P
Caramelized pork and spaghetti omellete layering abundantly on top of one another. You can check out her recipe HERE!
I brought these…
I'll named it the Sambal Spring Roll ;P Unconvincingly feeble eh? Lol.
I prepared these using crabsticks, prawns, pineapples, shredded cucumbers and most importantly the sambal belacan with dried shrimps. Hope you guys enjoyed it! I seriously need more practice in cooking since I'm still dim-witted around the kitchen ;P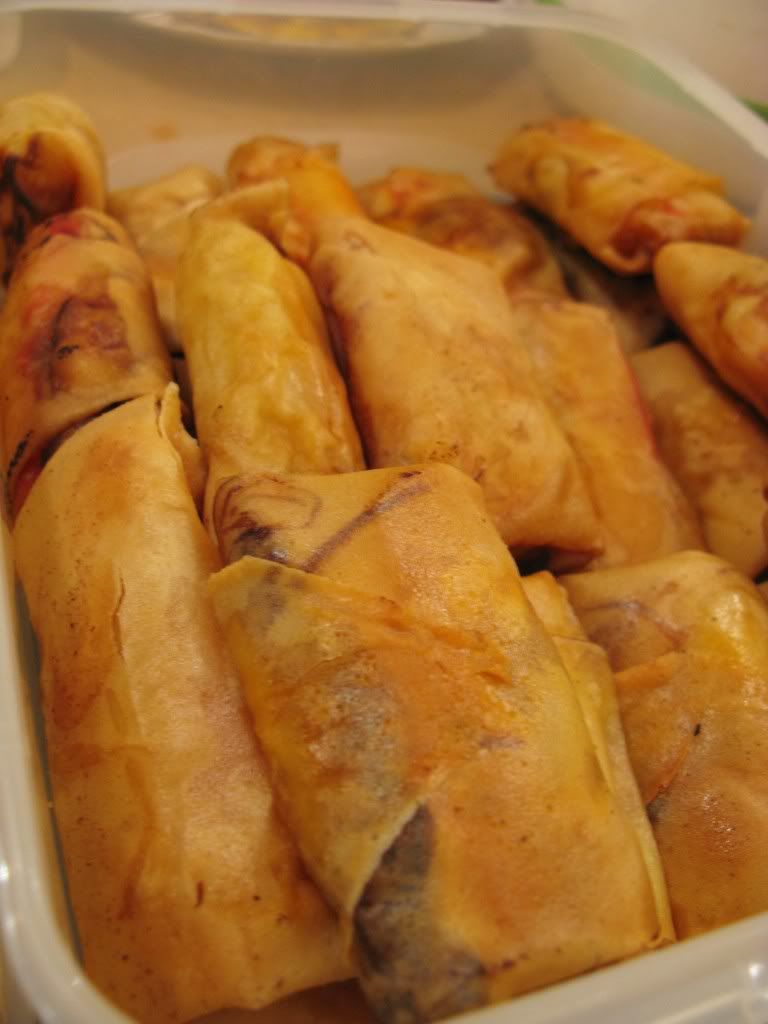 You'll know what the host prepared for us all. Desserts definitely! Getting to try Sunny's vibrant and delicate cakes and macaroons was bliss for the night.
The Passion Fruit Cake was a sweetheart. Creamy, sour and sweet at the same time, you'll get a varied taste and this was what I like about it. A coalesce of great flavours!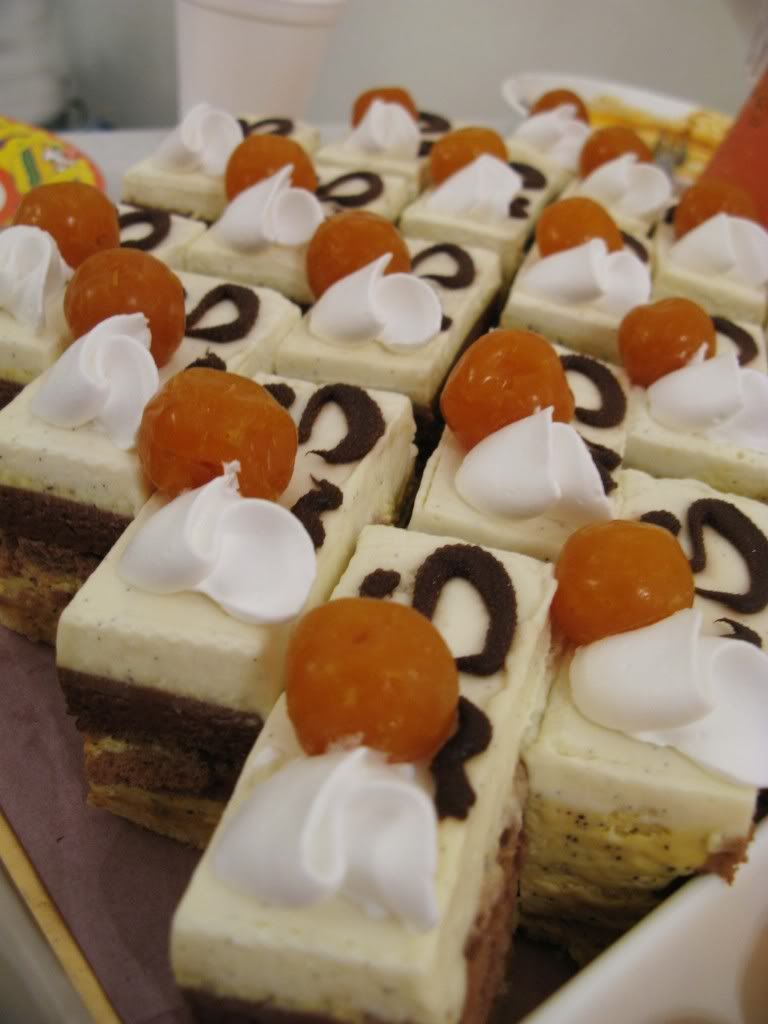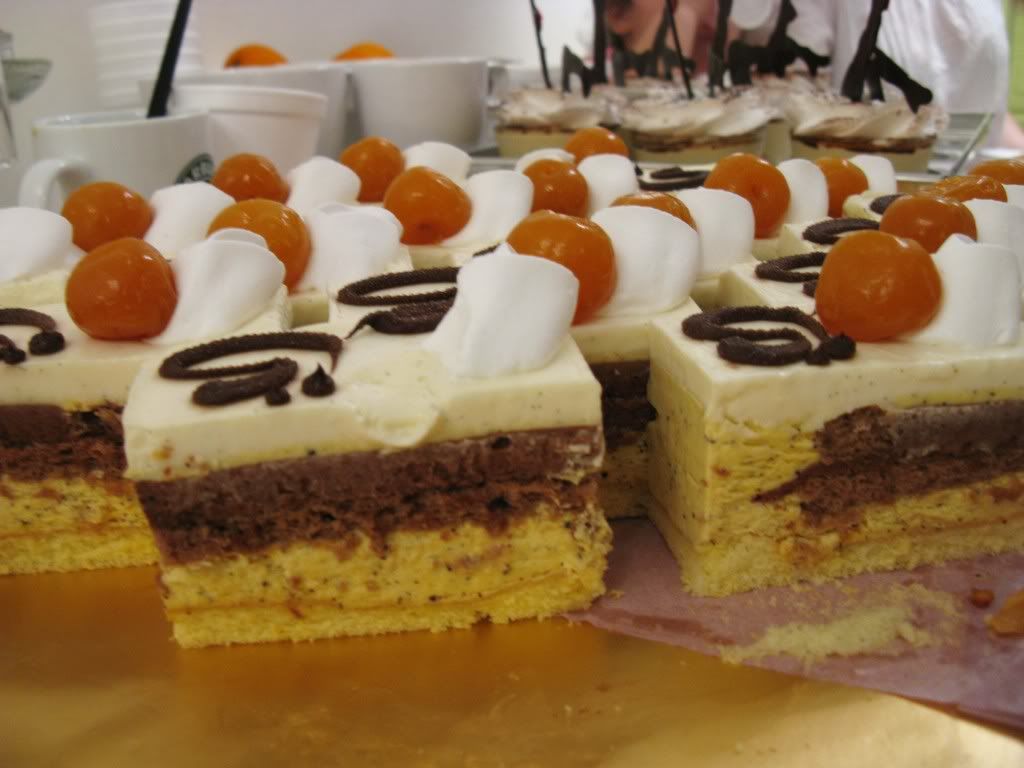 I heart this the most! Tiramisu grabbed my taste buds attention. It was creamy and so smooth. It was very inventive of him to adorn this dessert with a pair of sexy legs! So pretty and cute ;P
Well, since the Edison Chen's issue is so hot and pervasive now, we related this tiramisu to it ;P
How can we forego these cute mini Vanilla Cupcakes topped with nuts and some macarons? And I can't believe I did 🙁
I was just too full to stuff myself with anymore temptation. Looks good eh?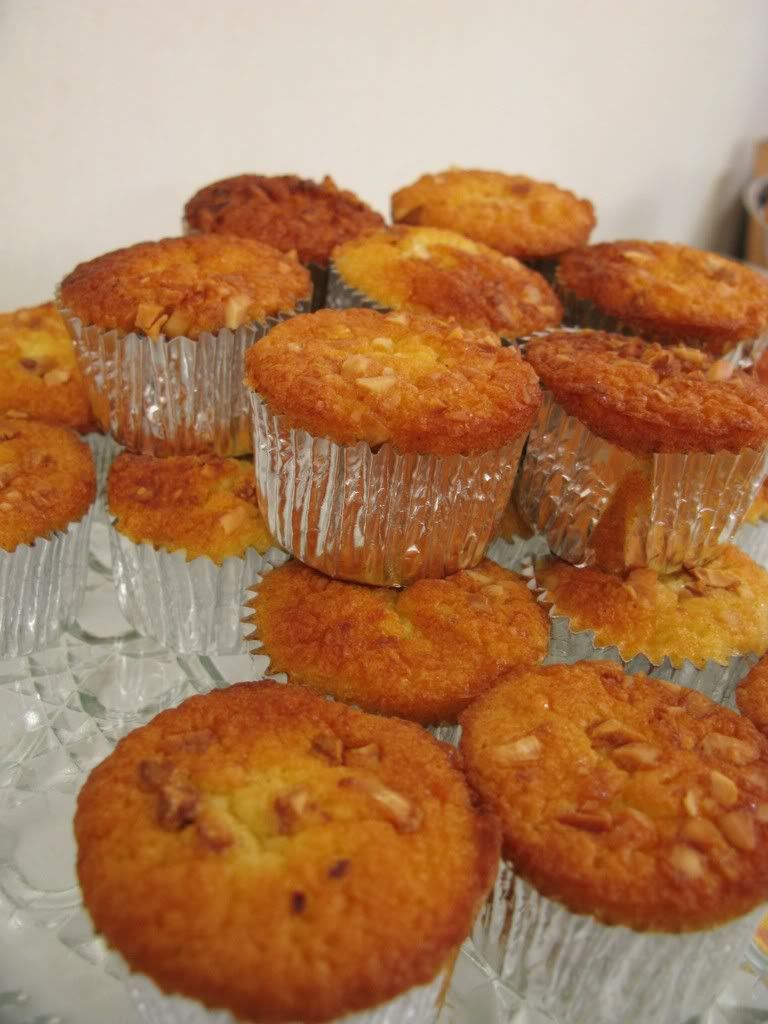 And last but not least, BBO's specialty; Macaroons with Chocolate filling to end the unforgettable night! Thanks again for hosting this get-together and gotta thank all flogger friends who brought so much good food to accommodate our appetite so flourishingly. Till next time! 😉

Blogs reviewed: