After procrastinating for quite some time.. here are my answers to this taggy!

Name one person who made you laugh last night?
HIM.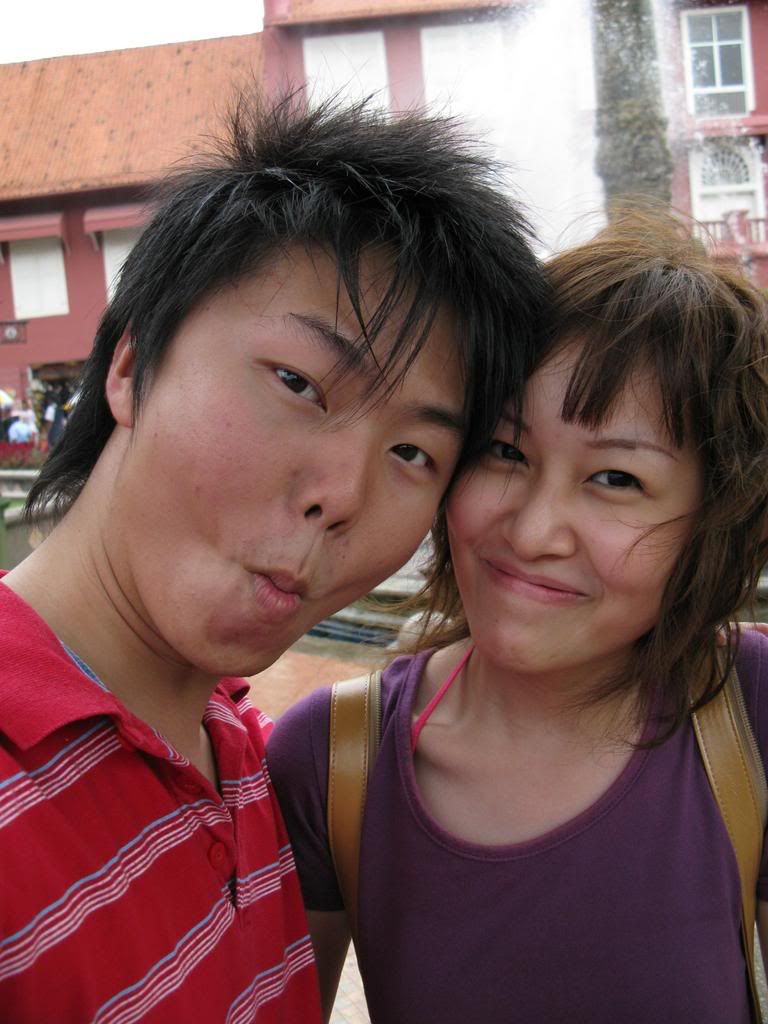 What were you doing at 0800?
Still dreaming in my sleep.
What were you doing 30 minutes ago?
Compiling my notes.
What happened to you in 2006?
Just started my course. Used to relax a lot back then and now… I'm struggling! ;P
What was the last thing you said out loud?
What!!??? *my bro's car kena scratched 🙁 *
How many beverages did you have today?
Water and Herbal Tea.
What color is your hairbrush?
I don't brush my hair ;P Just mess it up and I'm ready to go!
What was the last thing you paid for?
RM2.50 for lunch at cafeteria on Friday ;P
Where were you last night?
At home.. watching clips with Chris, gossiping with him.
What colour is your front door?
Brown.
Where do you keep your change?
My big purse.
What's the weather like today?
Sunny, cooling.. feel like it's gonna rain soon.
What's the best ice-cream flavour?
I fancy macadamia nuts in vanilla…but now I've better preference to green tea! cos..
What excites you?
Shopping, food, shopping, food… what did I missed out?
Do you want to cut your hair?
Cut it last month. Finally here comes the courage for a new look ;P Short hair rules. hehe
Are you over the age of 25?
Not yet.
Do you talk a lot?
Sometimes 😉 Used to be an introvert, readily sociable now *wink*
Do you watch the O.C.?
nope.
Do you know anyone named Steven?
Yes.
Do you make up your own words?
Yea… have to. My food blog urged me to do so ;P
Are you a jealous person?
Of course! heheh…
Name a friend whose name starts with the letter 'A'.
Audrey.
Name a friend whose name starts with the letter 'K'.
Kelvin.
Who's the first person on your received call list?

What does the last text message you received say?
I've reached my office dear! ;P
Do you chew on your straw?
Yes! I just can't scrape off this bad habit!
Do you have curly hair?
A little..
Where's the next place you're going to?
The dental clinic in Klang!
Who's the rudest person in your life?
There's no one so far….
What was the last thing you ate?
Wanton noodles ta-pao-ed by mom.
Will you get married in the future?
yea.. hope to.
What's the best movie you've seen in the past 2 weeks?
I've not watch any movies in the past 2 weeks! So outdated! wanna go for a movie.. so badly!
Is there anyone you like right now?
*nod nod* yes
When was the last time you did the dishes?
This morning.
Are you currently depressed?
moderately yes. I can't understand my pharmacokinetics! help ;(

Did you cry today?
No no no..
Why did you answer and post this?

Cos.. I was tagged by xiu long bao and AiWei.
I'm free now.
I don't feel like studying on a sunday morning.
Since most fellow floggers have done this. Decided to pass this contagiousness to my other dear friends 😉
Victims kena-ed: