I t was my second bro's birthday and he asked me to suggest the place where we should hold our family rendezvous. Initial thoughts of going for a Japanese meal, my family agreed 🙂 Mom suggested Kampachi… our family's favourite Japanese restaurant.

From there, we thought of going for their buffet at the Equitorial Hotel, but since there has been a rave on their latest outlet at Pavillion and sturdy recommendations from the staffs when called for reservations, we complied to it. Plus, we wanna check out their illustrious interior and stylishly decorated luxurious environment 🙂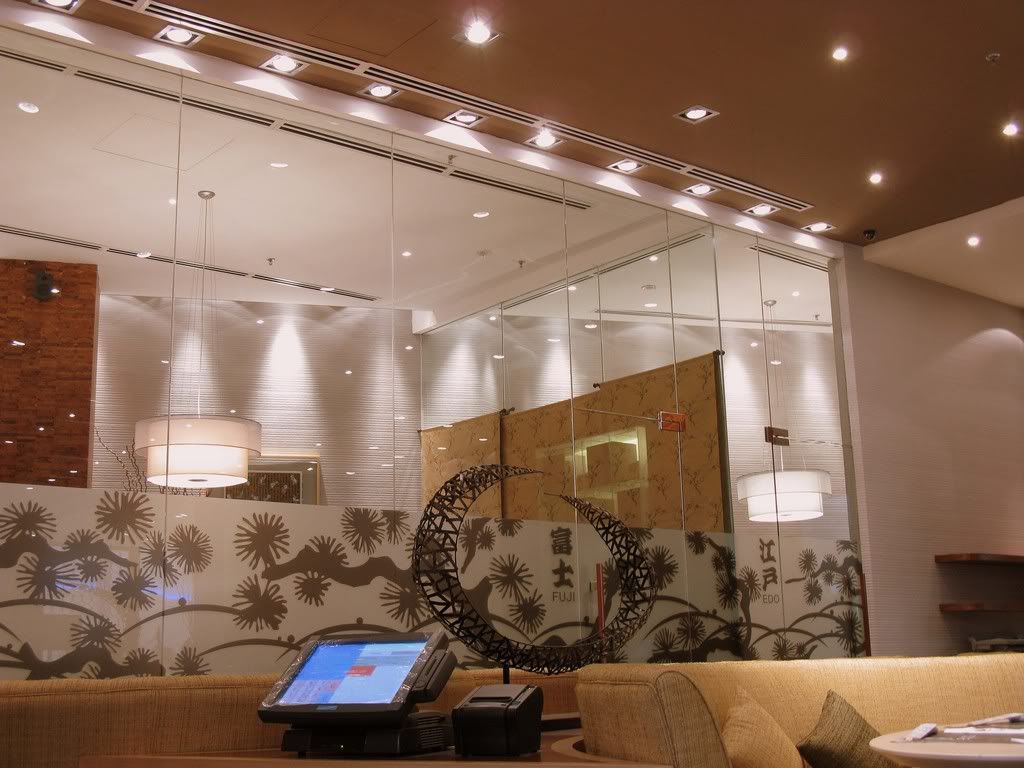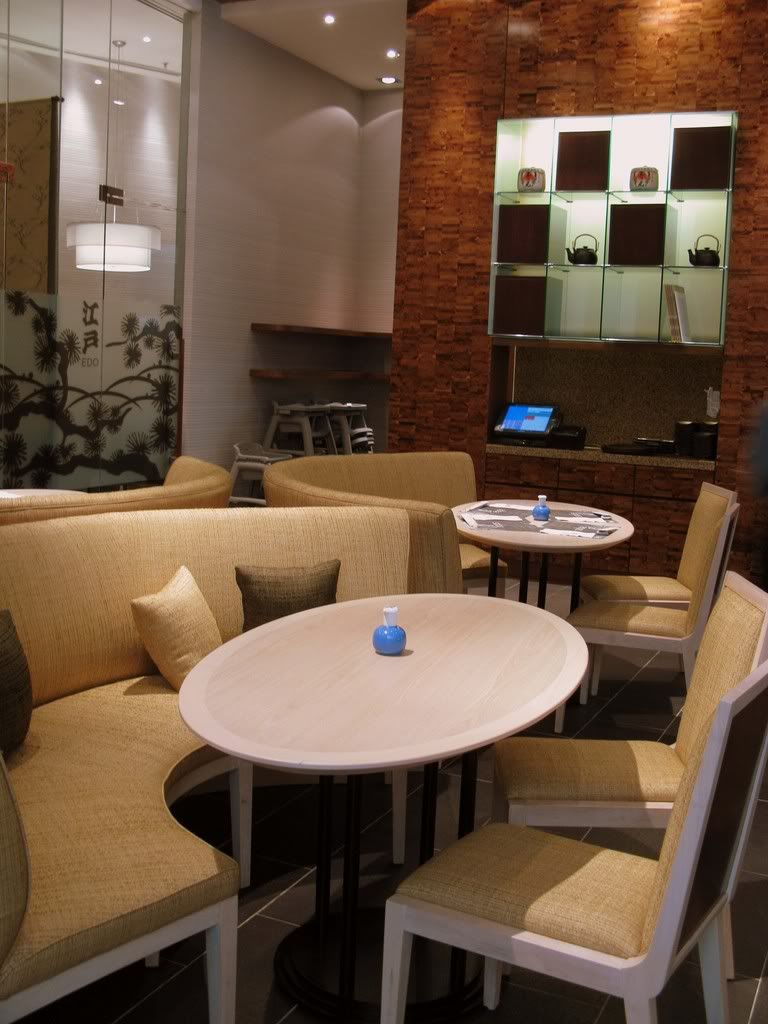 With no complaints and grievance, we just love the settings and surroundings. Along with the feeling of merriment *cos it's my bro's big day* we were contented 🙂

While walking in.. I'm already eyeing on those raw dishes! sashimis ;P
When I was hand round with the huge menu and began flipping through the engaging pages, my thoughts went blank. Too many to choose from and… 'nice price'! ;P
Mom and dad shared these:
Soft Kani Maki, which is the soft shell crab roll with fish roe and cucumber. Priced at RM36, this serving was endearingly delicate despite the exclusive price! Crunchy soft shell crab that magnetized dad's appetite.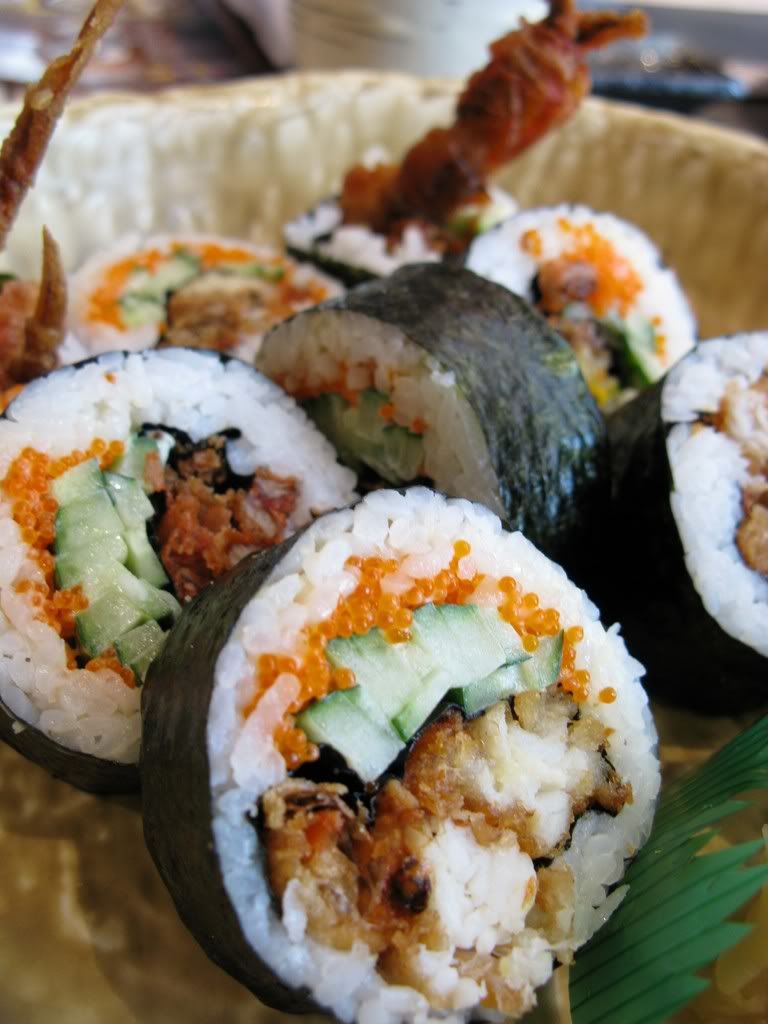 Kampachi Maki was also enchanting. This serving of tuna, prawn, avocado, crabstick that is topped with grilled eel is priced at RM48.
Ishikari Udon, with its udon noodles cooked with salmon fish and vegetables in miso broth. The broth was sweet and lovable. With the right amount of desired taste, dear mommy hearts it. Priced at RM25.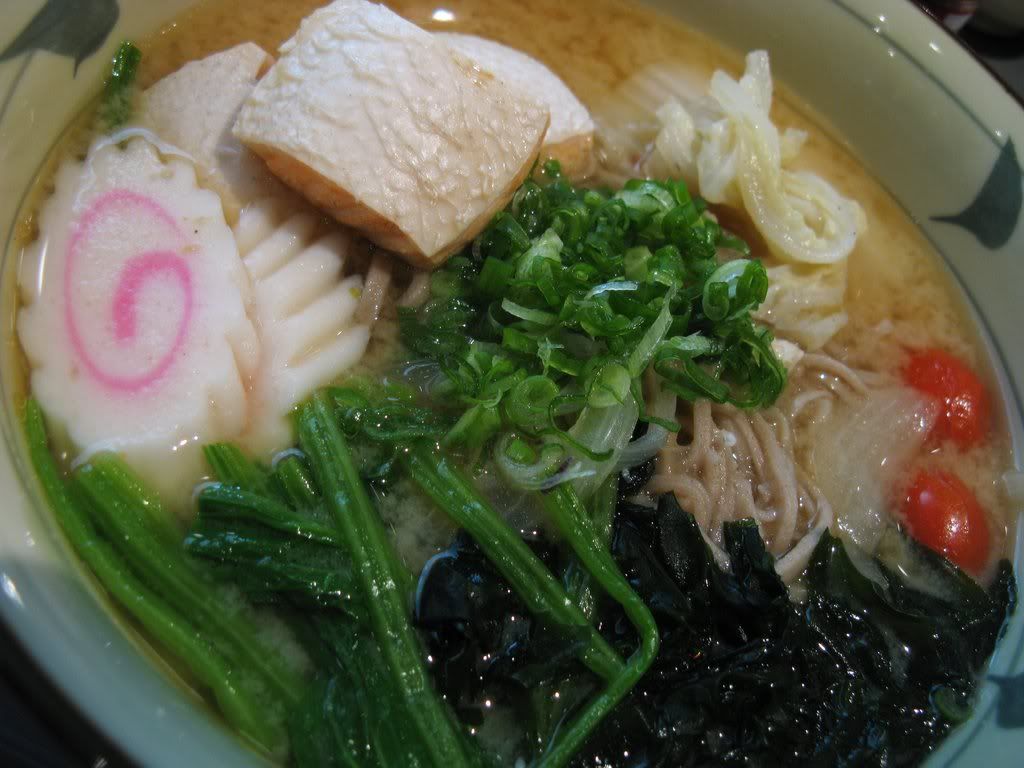 Since lil' bro have always find grilled unagi (eel) irresistible, he wouldn't wanna give it a miss for sure! For RM30, he had the Unadon and Salmon Sashimi, which is the grilled eel on rice with salmon sashimi. He wiped out his share real quick. Well… it must be good ;P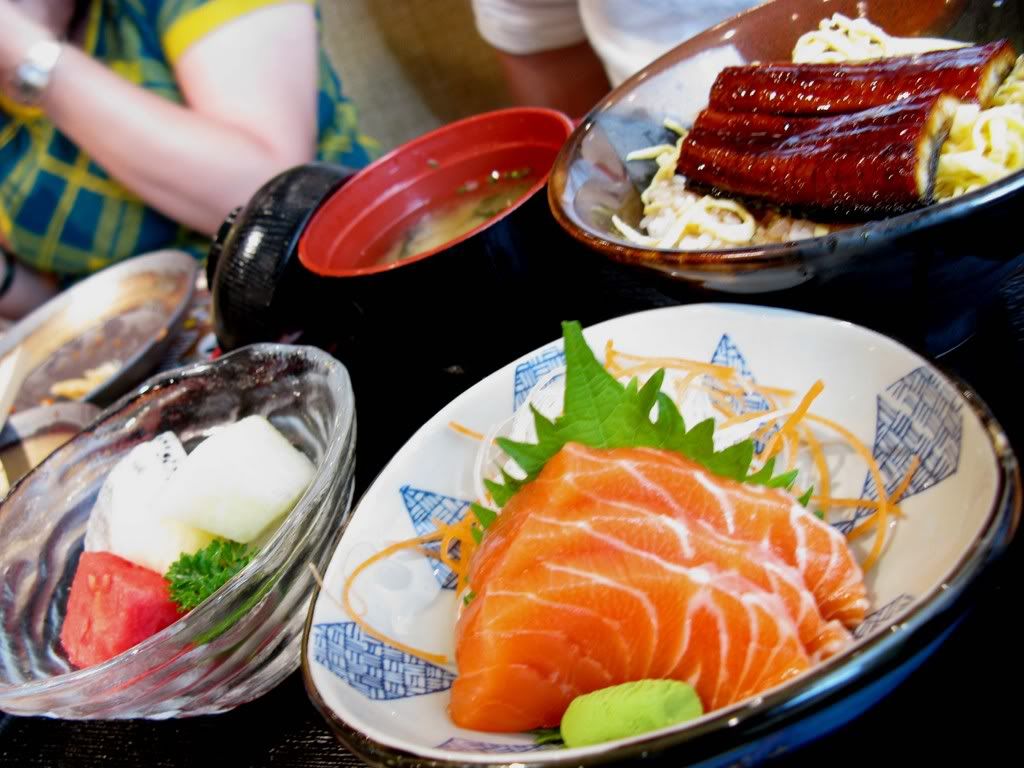 As he don't take raw dishes, the salmon sashimi was contributed to us! It was really fresh and those thick slices just generate the correct texture to be savoured!
As for me… I've been a fan of Kampachi's sukiyaki! I had their rice set as well, the Sukiyaki and Soft Shell Crab Maki for RM38. Sliced beef and vegetables sukiyaki with the accompaniment of soft shell crab roll! All my preferences in a set. That's a good deal 😉 The beef was tender and no complaints on their broth of course! Tasty and alluring!
All rice set are dished up with assorted fruits too.
When the egg was added into the sukiyaki, a soft and silky broth you'll produce. *wink*
Chris's choice: Gindara Teriyaki, the grilled cod fish with teriyaki sauce. Thumbs up for the cod fish. Fresh and salubrious, savoured together with rice and a salad of chilled sliced crabsticks. This set is priced at RM45.
The birthday boy, Kent, shared this generous portion of set meal with his gal; Udon with Grilled Eel and Curry Rice for RM36. Noodles and rice in a set, best to be shared, as all their sets are largely portioned. Even I had a hard time finishing my rice set ;P
Yes. We're satiated, but just couldn't forego their scrumptious desserts definitely!
We went for their Green Tea Ice Cream, served aside with the overwhelming red beans, and adorned with strawberries plus a creamed cookie! An exquisite preparation priced at RM16.
Though it tasted marvelous, we still find it overpriced. Without the red beans, it'll be RM12. An addition of red beans costs RM4! But.. I love having green tea ice cream with red beans unquestionably. Plus… it's only 1 scoop ;(
Another must have when we're in Kampachi, their Mochi! The Glutinous Rice pieces were showered with open-handed amount of peanut flakes and this sweet sensation did not went over the top. RM12 for this portion with embellishment of strawberries. Pretty.
It's still a bit expensive comparing to the buffet-styled session, we reckoned. However, tastewise, it was a lil' better here but… we thought that we'll stick to Kampachi's buffet instead 🙂
In spite of this again, we were never disappointed with this meal and this had been a lavish & boisterous celebration!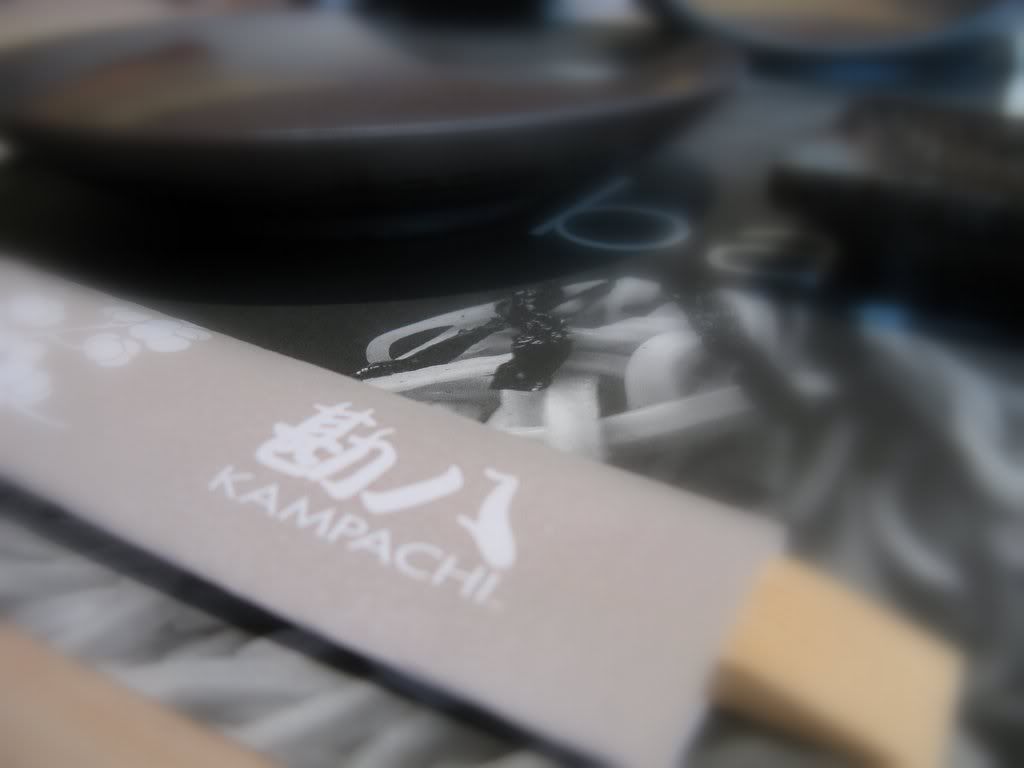 ~Halal~
Kampachi
Lot 6.09.00, Level 6
Pavilion Kuala Lumpur
Bukit Bintang
Tel: 03-21489608
Fax: 03-21482608
Blogs reviewed: