Heavy downpour dictated Glasgow most days last week. The cheerful spring was greeted by chilly times and dark sky in the midst of an exam month. Much better now, I hope Mr.Sunny will continue shining upon us, beating away my most hated rainy days.
Chris was having his day off on Saturday, so we decided to head out for a walk and grab some lunch. It started raining a little and we didn't bother much. Stopped by Oniel's and it was jam-packed with people! A match… no wonder. Didn't manage to get a seat, off we went out to greet the heavy rain this time. Kudos to my broken umbrella.
Hand in hand, we basically pak-tor-ed in the rain. *romantic song in the background* Did I mentioned I hate the rain? nevermind. The rain washed us to Ingram Street, which is awfully nearby, into Qua, after several let-downs from the cafes loaded with people glueing themselves there to watch football.
Qua, is an Italian restaurant, literally means HERE in Italian according to one of the staff. We were the only customers that moment. Ingram street and the streets nearby are populated with Italian restaurant and they are somehow… handy ;P and reasonable priced (especially lunch).
We settled down for their express lunch menu (£4.95) and also another lunch set offering an appetizer and a main course for £7.95.
Nothing beats a glass of hot chocolate for £1.95 after wrestling with a heavy cold rain ;P
I'm such a boring person and I can order hot chocolate all the time.
express lunch menu – £4.95
Risotto with mushroom and cream
The first scoop of risotto with melted cheese was delicious, but it tasted salty after that. Nonetheless Chris loved it.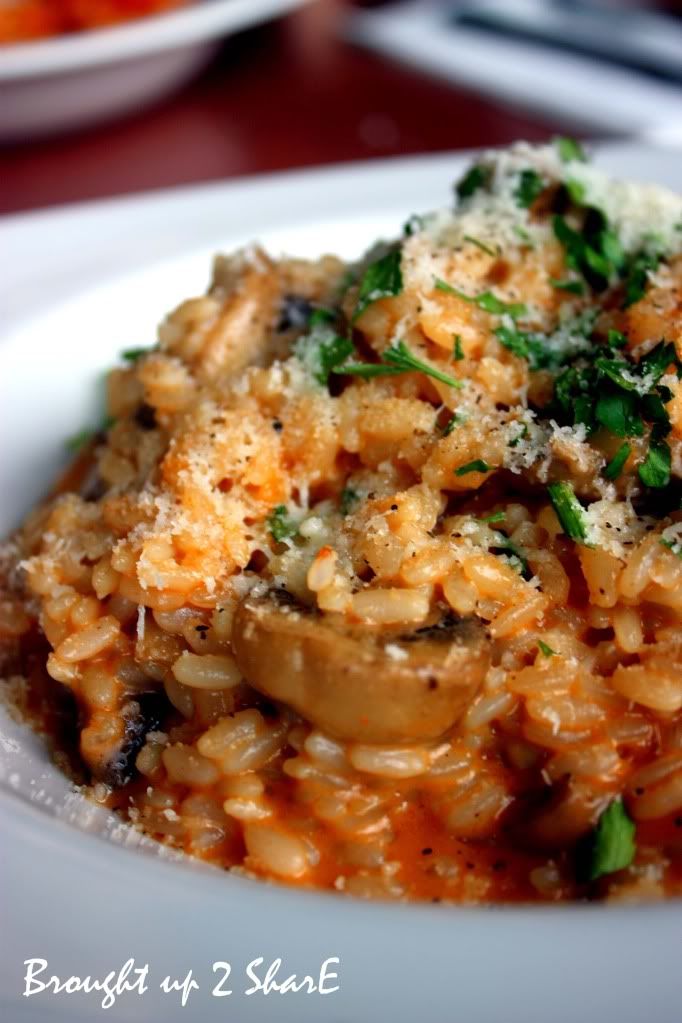 Lunch Set Menu – £ 7.95:
Mozzarella Fritta
Golden fried breaded mozzarella fingers served with tomatoes and chilli sauce. This was very ordinary. Just cheese.
Penne alle Cozze
Penne paste in sauce of Scottish west coast mussels, fresh tomatoes, mixed herbs, garlic & chilli peppers. This serving was weighed down with mussels. I counted. A total of 16 mussels overwhelming this plate of pasta.
By the way, we were seated on an elevated wooden floor, looking over the counter and several exquisite seats below. You can request to seat at the top floor too. Seating nearby the window, stretching our views out to the wet streets made us feel even warmer. I love Chris having days-off from work! Saviour from my constant worry syndrome during exam times.
Qua Italia
68 Ingram Street,
Glasgow, G1 1EX
Tel: 0141 552 6233