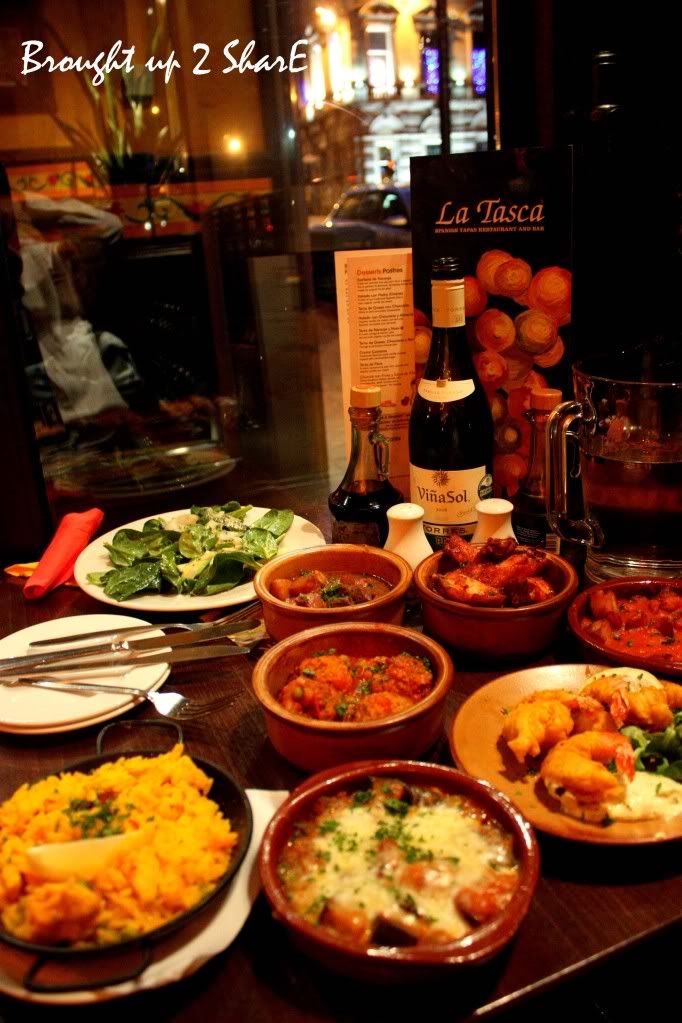 Savouring different types of cuisine is an ideal action to pursue.
From Scottish, Turkish, Chinese, Japanese to multiple types fares we've feasted our hunger on, exploring the vast field of gastronomy is one mission we love to undertake.
Spanish food is one of them.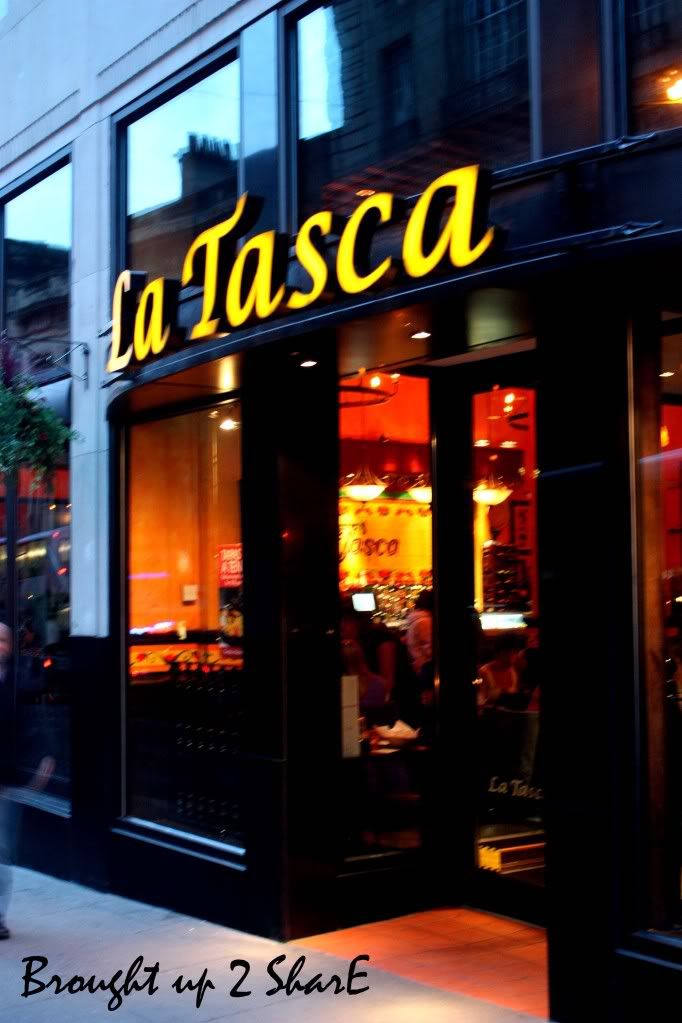 Yes, we are first-timers at La Tasca, a Spanish Tapas restaurant and bar.
Finally we decided to turn our appetite to some tasty and fragrant Spanish tapas that emphasized their taste more on hints of saltiness and spiciness rather than dishes with sugary sensations.
Tapas are small Spanish savoury dishes served from selections of meat, seafood to vegetables. I took note on the word SMALL… but a variety of small dishes can load my tummy.
Moving first to the environment:
Most restaurants in Glasgow are relatively dark. End of story.
For La Tasca, it was dimly lit, with candles & 'very yellow' lightings. Adding to the yellow factor, orange walls… Bad for photography.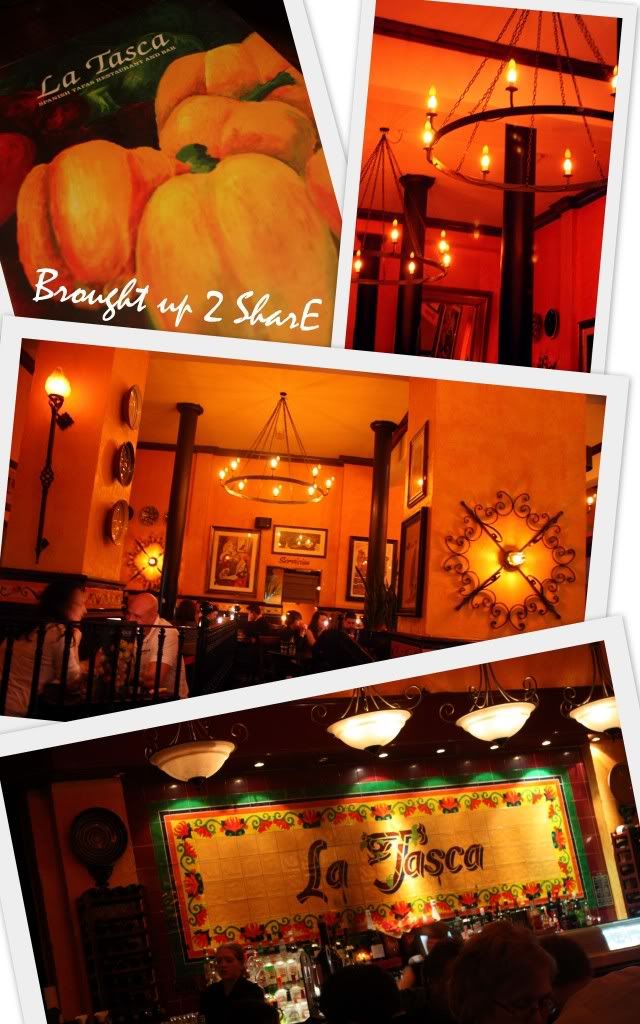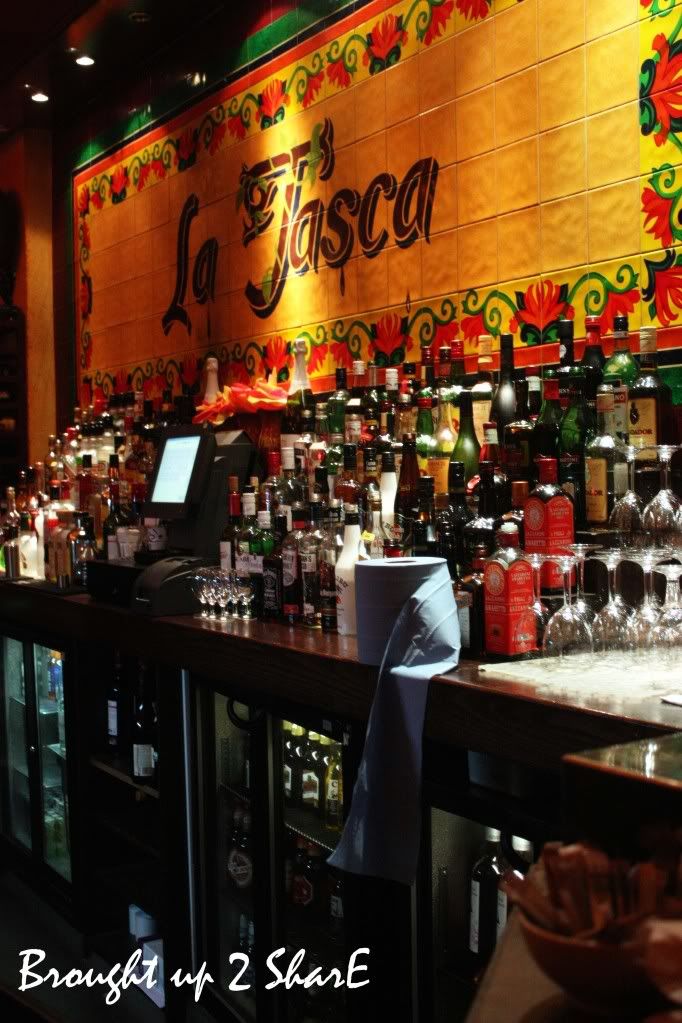 Btw, we're entitled for a 50% off the food bill with their promotion voucher! Good deal eh?
Being a newbie to tapas, we decided to go for their Chef's Selection of Tapas at £26.95 for 2 people. The portion is really stodgy and can accommodate our appetite really well. (After discount: £13.47)
Paella Valenciana – A Valencian style paella, with chicken and mixed seafood
We love this to bits. Flavoursome and I haven't got enough of it as its portion was kinda mini. But we still consider the portion OK considering many other small dishes served. Too much of it would be uninteresting.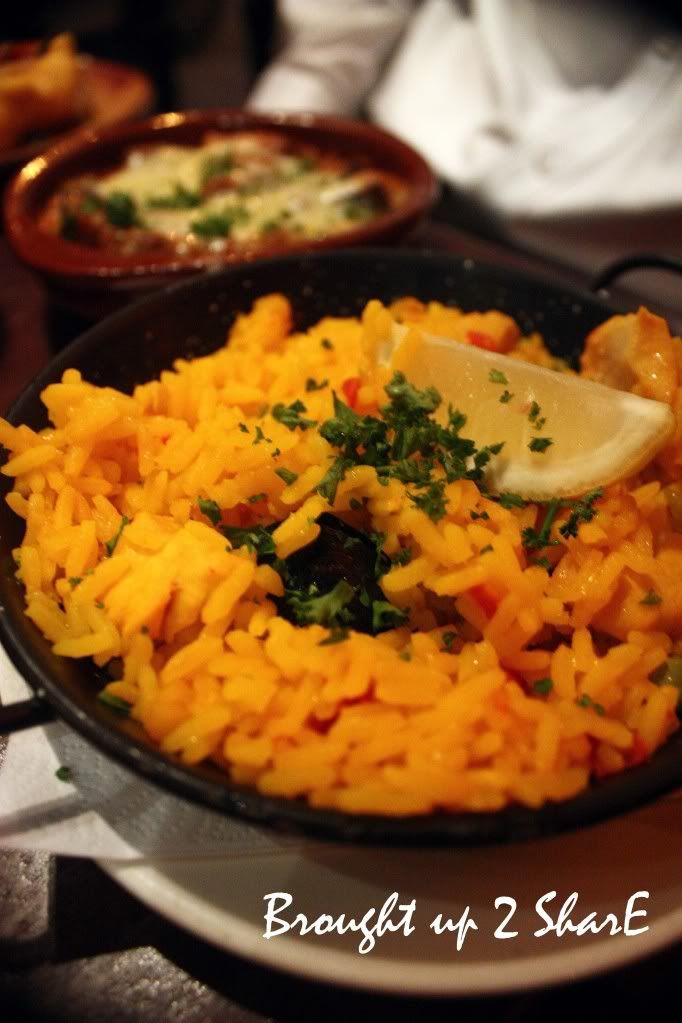 Alitas de Pollo – Marinated Chicken Wings
Not sure whether it was fried or grilled but they were tasty.
Cordero en Salsa – Lamb casserole
Stew lamb with gravy also served potatoes. We just wolfed down the lambs. Too much potato dishes already.
Albondigas a la Jardinera – Spanish-style meatballs served in tomato sauce
Hmm… Very soft and squashy texture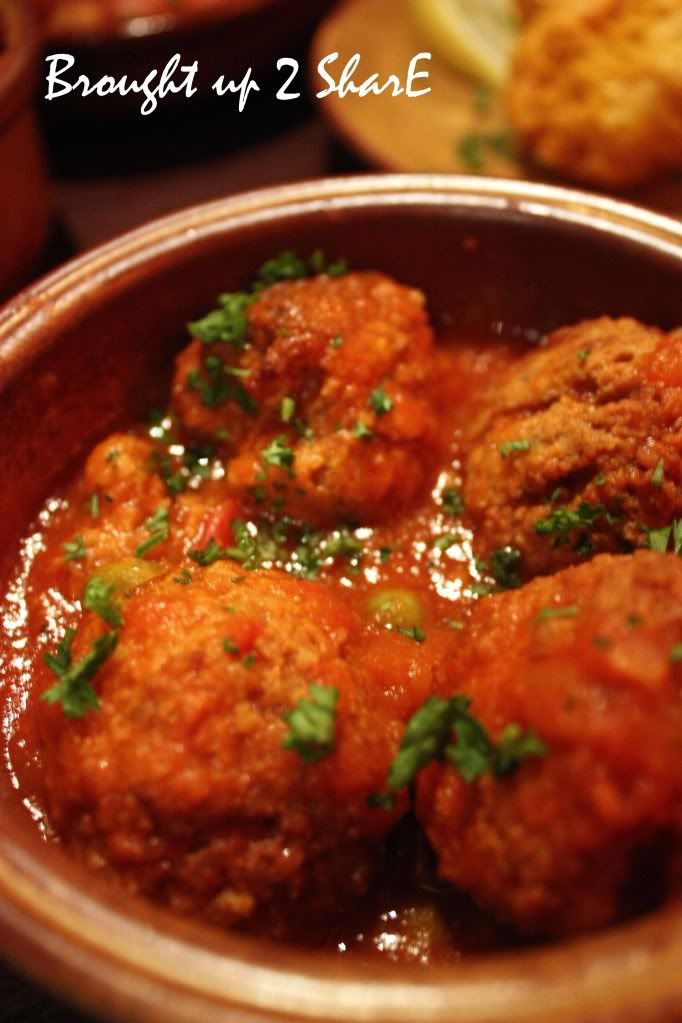 Berenjenas Gratinadas – Fresh aubergine topped with cheese and tomatoes
Aubergine is a purple egg-shaped fruit of a tropical plant resembling brinjals. Mistaken them as brinjals ;P
Ensalada de Espinacas y Aguacate – Spinach, avocado, cucumber & onion salad
Gambas Gabardina – Deep fried king prawns in their San Miguel batter
The prawns were fresh and kinda springy. Love dipping this flavoured deep fried large shrimps into their sourish cream topped with herbs.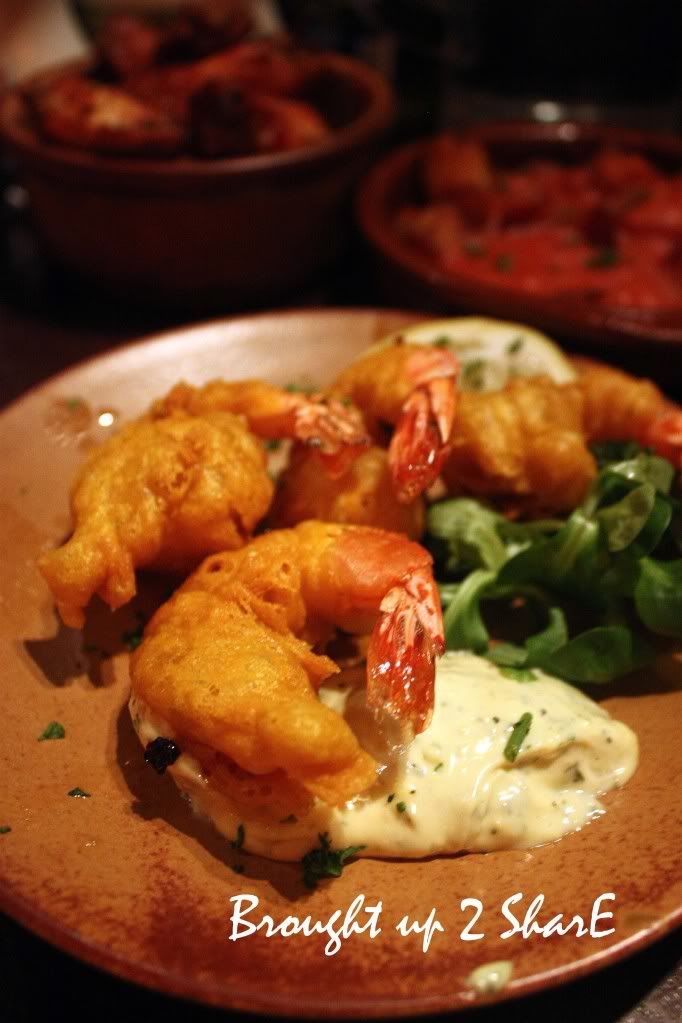 Patatas Bravas – Fried potato topped with spicy tomato sauce
Wasn't spicy at all. Just an appetizing serving of chopped carbs.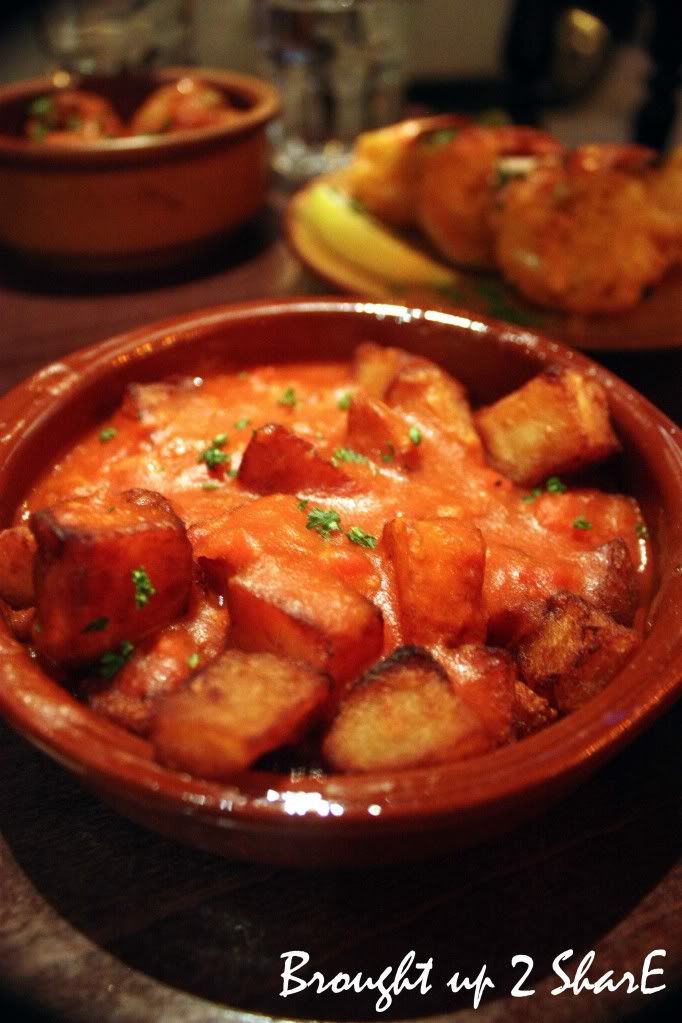 Licores de Frutas – A Liqueur for £2.85
Went for peach flavor and it tasted like Absolute…
We just need a drink in an environment like that. Haha..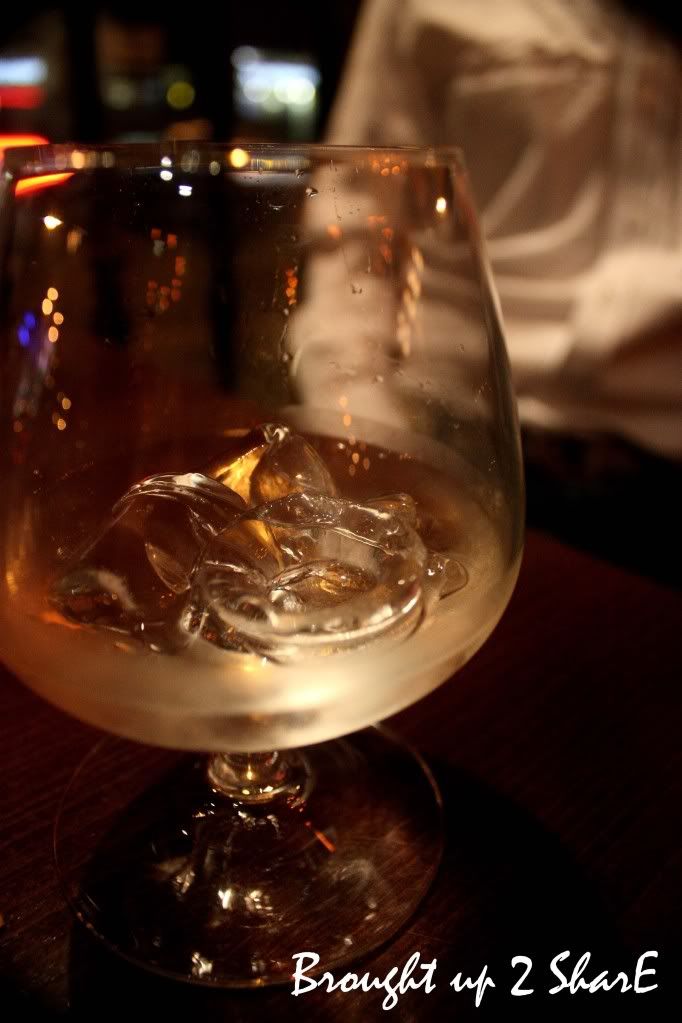 Desserts, desserts! How could we forego?
Had an initial thought of ordering their chocolate fondue but we're too full for that.
Instead, a simple order of Helado con Chocolate y Almendras – Organic vanilla ice cream served with Spanish chocolate and almonds gave some sweet endings to our dinner. Priced at £3.65 (discounted price: £1.82)
I just love simple vanilla semi-soft frozen dessert made with sweetened and flavoured milk fat.
La Tasca
Spanish Tapas Restaurant & Bar
39–43 Renfield Street
Glasgow
G2 1JS
Telephone: 0141 204 5188