– A lavish dinner attended by Chris while I was still in the faraway land of UK –
By Chris:
Not to forget the invitation from BBO, the accompaniment of Simon, Hwei Ming, Shirley, Sharon and Jennifer, it was nice meeting you guys and the adjunct of good food along with noble companionship definitely help kill my boredom.
Tai Zi Heen was the spotlight of the night, located on the first floor of Prince Hotel. Chinese cuisine have became prevalent and well-liked among many nationalities and chinese meals have already dwell in readily in our ambitious appetite. Different types of cooking approach, undeniable creativity in the preparation of each dishes is worth every applause. I enjoyed feasting on these delicious preparations and I'm giving thumbs up as well for their appealing food presentation. Clutching on to the principal of "色香味聚全", it would not go wrong.
Here are some of the lip smacking dishes that we tasted that night.
Talk about creativity, inventiveness and resourcefulness!
Left: Sweet & Sour Crab Sauce on Fried Mantao (Chinese Bun)
Right: Herbal Chicken Soup with shitake mushroom, dried fish belly, tong kwai, red dates, kei chi and dried scallop. Very soothing and flavoursome.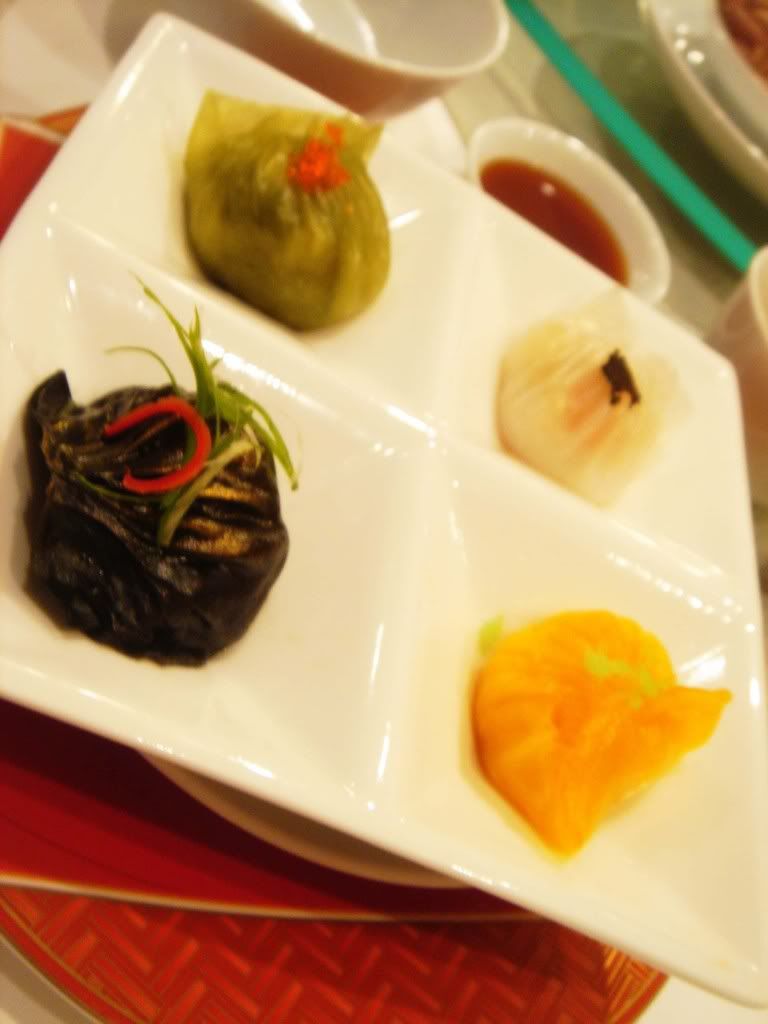 Dim Sums. We just can't miss it when you talk about dining in Tai Zi Heen. We were served with a special treat: the Four Season Prawn Dumplings 春夏秋冬. This serving has not been launch just yet. No worries, it will be out in no time!
Each colour of the dumplings represent different seasons.
Green-Spring, Black-Summer, Yellow-Autumm, and White-Winter.
Four Directions Siew Mai 东南西北. And again, each directions is made up of different ingredients.
East-Abalone, South-Rendang, West-Tuna, and North-Fresh Hokkaido Scallop.
Such special siew mais… it was my first time tasting and encountering these.
Left: Crispy Roasted Chicken Topped with Szechuan Sesame Sauce.
Right: Oven-Baked Black Cod Fillet with a Butter and Parmesan Cheese Crust.

Ying-Yang Prawns. Crispy prawns tossed with Asian dressing with garlic pepper sauce. This was really appetizing and palate triggering. The orange coloured sauce covering the fresh prawns generously was the essential thousand island dressings, while the other type was cooked to perfection with marmite.

Wok-Fried Diced Beef Tenderloin with Black Pepper and Crispy Garlic. High quality Australian tenderloin was a star!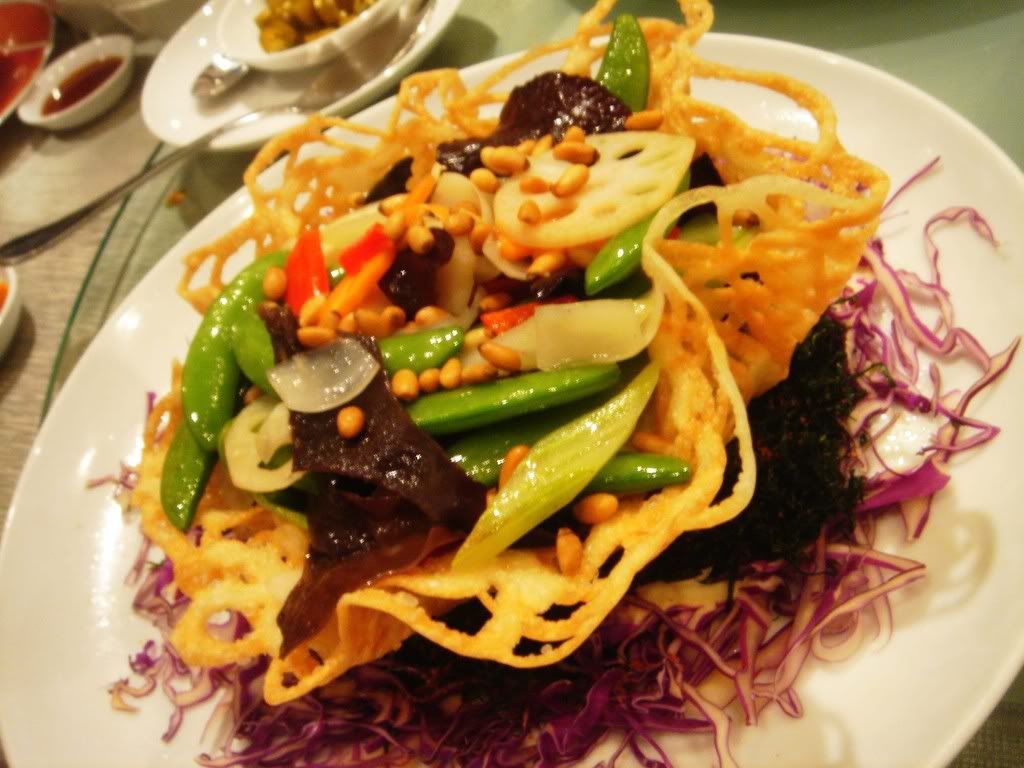 Stir-Fried Honey Peas with Wood Fungi, Pine Nuts and Lotus Root was served on the right time as we wanna go easy on the amount of meaty dishes earlier.
Chilled Mango Puree with Ice Cream, Sago and Pomelo. Bet Christine would love to savour this as she hearts mango a lot. Something to refresh and enlighten us up as this dessert is quite decent.
The Mooncake festival is just around the corner (it's tomorrow!) and we were also served with the icon of the festival. What's more? Mooncake for sure. Below is some of the traditional servings of mooncake; White Lotus, Pandan, Assorted Nuts and Red Bean.
Snow Skin Mooncake was also on the menu. The deviation of many different flavours made me indecisive on which on I should go with first. Some of the creative mooncake spread they have include: Gummy Bear, Lavender, Mango Cheese, Custard Corn.
FYI, the Star have appraised their creation of Chocolate Whiskey as one of the Top 5 mini snow skin mooncake in the Nouveau Bites category.
Thumbs up to Chef Ricky Thein who has more than 20 years of gastronomic practical contact and knowledge!
P/S: There is a promotion that is still currently on, from 1st August to 30th September and from 6.30 pm to 10.30 pm, you'll get to enjoy 50% discount from the a la carte menu except for premium food item.
~Halal~
Tai Zi Heen
1st Floor
Prince Hotel & Residence Kuala Lumpur
Opposite Pavilion Kuala Lumpur
No.4 Jalan Conlay, 50450 Kuala Lumpur, Malaysia
Tel: +603 2170 8888
Fax: +603 2170 8999
More detailed reviews on:
Happy MoonCake Festival to all!
Best wishes to you and your loved ones!