I had a long weekend.. 2 days of public holiday made me even indolent. Tests are drawing nearer and it's kinda hard to accept that I am finishing my semester 6 in about 1 and a half months time. This means a tight confrontation with my books!!

Glasgow River End Festival took place this weekend and I just wouldn't wanna miss it!
Apart from the many events of water sports and catching sight of boats and ships wandering around, Glasgow Tower and the Science Center was where we exhausted time on.
Amusing myself at the Glasgow science center
Tend to get hungry faster here…
This couldn't be happening…
I could gain weight in no time if this carries on.
Or, I already did? ;P
No bother, I'm still grabbing a Beef Burger for lunch for £2.50.
An addition of onions with ketchup and mustard… Oh, these restored my energy. Just mediocre, bread was kinda hard ;P

The Jumbo HotDog was also priced at £2.50. This was just half of it.
Killing time at the festival drained out lots of our oomph. We're once again back to square one and so quickly, it's time for dinner again. Aiming for Mussel Inn, we headed there straight away. Although we got kinda lost when trying to track this eatery down, our determination was not a mere waste.
Four hungry souls studying the menu eagerly, scrutinizing which mussels flavour we like to indulge on.
Decided to feast on 3 Half-kilo pot of mussels at the price of £5.45 for each pot. And the best thing was we had refillable crusty breads for sauce dipping!!
1. Natural – cooked with the mussels' own juicy essence.You can just tell the freshness of mussels. A mild to moderate taste and the mussels flavour just boost the activity of our palate.
2. Shallots – a creamy preparation of mussels with white wine, garlic, shallots and cream. This went perfect with the bread. Loving every spoonful of it with the springy mussels.
3. Tomato – sun blushed tomato pesto mussels churned out to be an aromatic one. Very strong flavour, a lil' salty if eaten alone, but an ideal combo with the bread ;P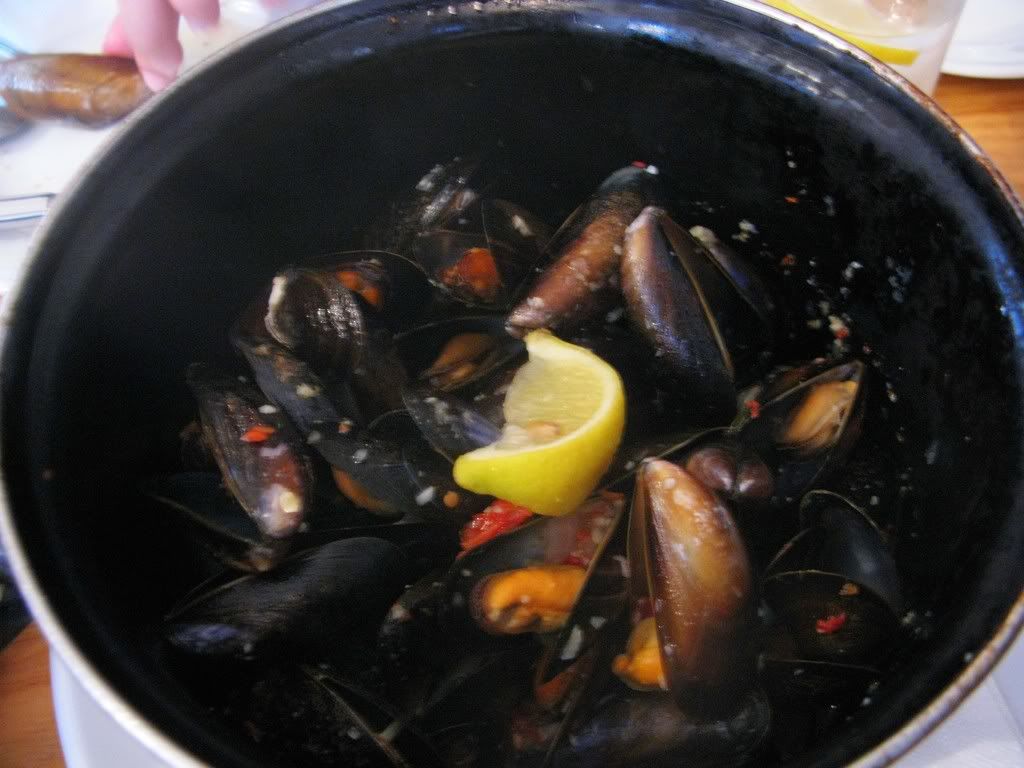 Only mussels?? Can be satiated just like that??
Definitely.
You try and see ;P
We're overdosed.
Mussel Inn
Seafood Restaurant
157 Hope Street
Glasgow
G2 2UQ
Tel: 0141 572 1405
Email: info@mussel-inn.com
Check out their website HERE