I woke up one morning with a question from Chris asking whether I would like a 'porkie-licious' dinner. And of course I wouldn't refuse to turn him down when it comes to another lovely evening with him… and his family 🙂
Ever since his sis went into raptures over her previous meal at El Cerdo, she have been wanting to ask all of us here.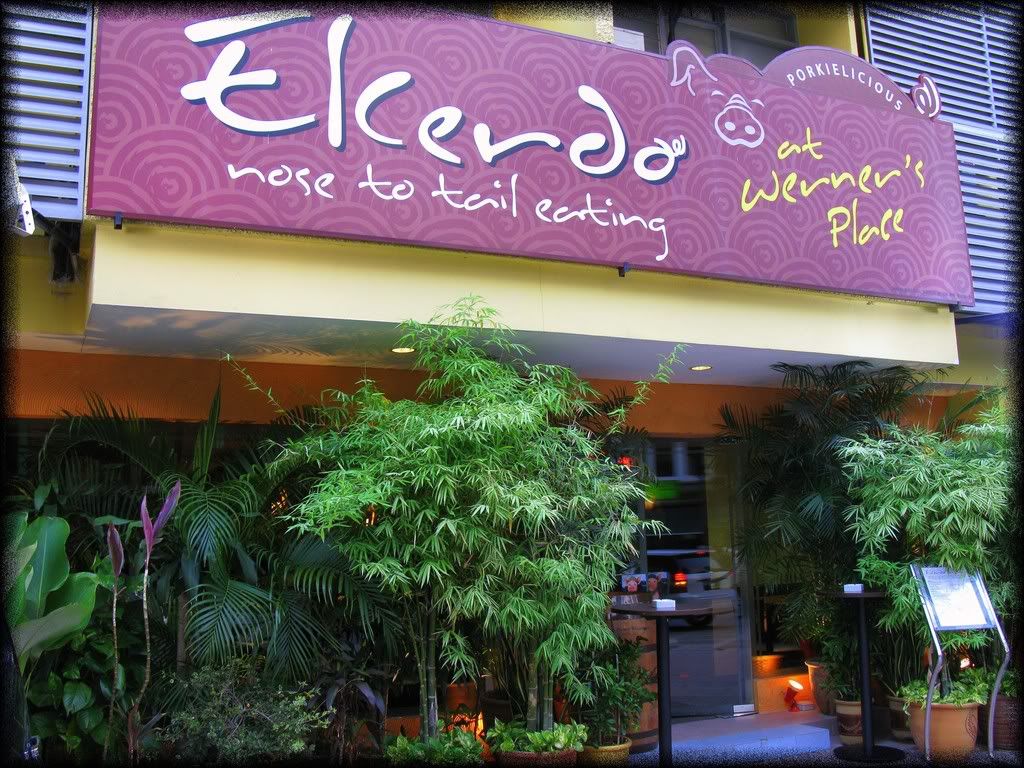 El Cerdo, (means the pig) used to nestle around Tengkat Tong Shin but was shifted nearby, at a walking distance I suppose to Changkat Bukit Bintang. From its exterior, you couldn't tell it's serving a rather exclusive meal, but the poshy interior laid down with dimly lit environment, sophisticated furnishings and most importantly the adornment with little piggy figures as well as piggy paintings to match with it.
Heard of this place being over-rated and by some means it was sorta true.. As in price wise, there are lots to pay for! ;P
I was feeling a bit warmed up and needed something to just cool me a lil'. One of El Cerdo's Elegant Cold Tea was perfect. For RM7.90, the Cooler Sunset Dream tasted moderately sweet with just mere sourish taste that'll give the refreshing experience. I would say it tasted better than a typical… ice lemon tea? ;P
And this drink's quote caught my attention as it reads "It energises you, lower cholesterol levels & gives you bright smiles" Just what I need 🙂
While I am the only one having TEA, all of them had the Weihenstephan Hefeweissbier "Dunkel" for RM29.50 per bottle of 500ml. German beer to go with the hearty meal… it was soothing and easy to drink! ;P Cheers!!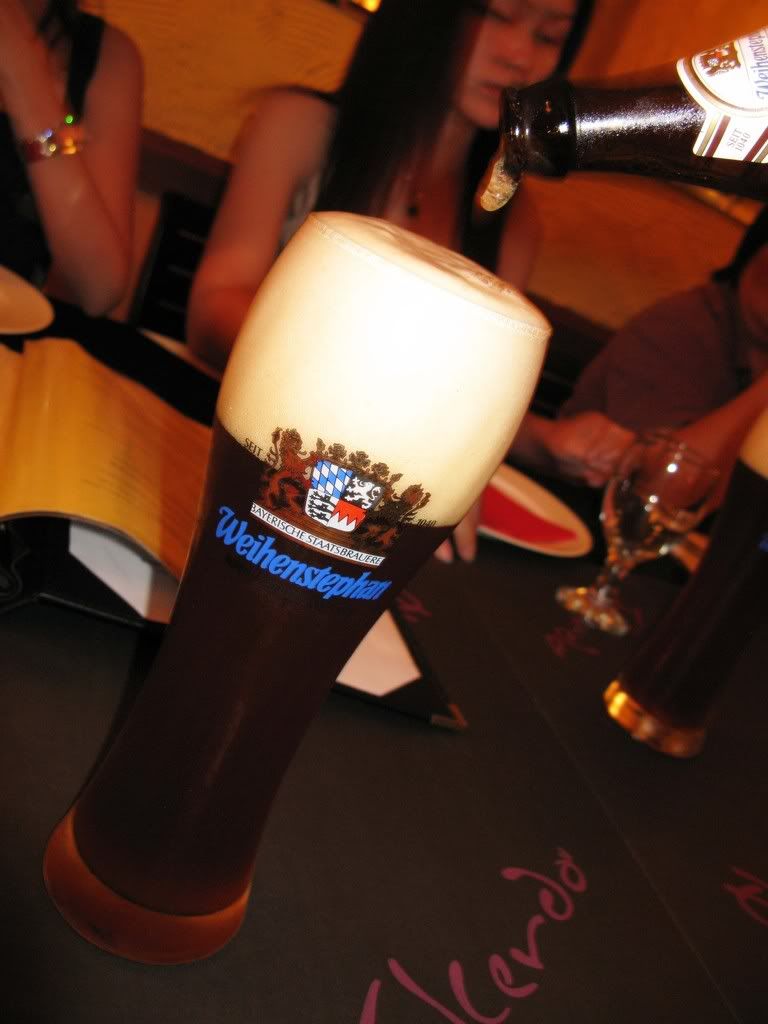 Coming back to the main topic: Food.
The dinner was initiated with servings of complimentary Potato Soup and Breads 🙂
For starters, we had the Jamon Serrano from Spain for RM38. It was a serving of imported Spanish cured and air dried ham served on rock melon and salad with Balsamico dressing. I have to say this is one of the best dishes served. Thin slices of ham, with the salty taste to savour with sweet rock melons were a flawless combo 🙂 I loved it.. very much.
You can even try having the ham with the bread. Still as good.
Salad with the Balsamico dressing and roasted baby potatoes with parsley as side dishes for the Jamon Serrano and the suckling pis as well.
Another must-order while you're at El Cerdo is the Oven Roasted Iberico Spare Ribs served on Pineapple Salsa for about RM 115 (for 9 pax). Tender meat, tasty and juicy spare ribs that'll make you go carnivorous… like me! ;P You should get your hands on. Fun eating like this!
Next up, the Pork Knuckle was rather over-rated. The meat was good, but somehow not as tasty as the ribs. Sorry ppl, I forgot the price for this ;P
Almost every table would order this. The "Cochinillo Al Estilo Segoviano". Beautiful, but certainly not English ;P The Roasted Suckling Pig was the star of the night. On the menu, it stated RM215 for 4 person. What?! It only take 4 person to finish the whole piggy? Certainly big eaters the westerners are ;P We went on having only 1 whole suckling pig for 9 of us since there're other dishes to finish.
When the suckling pig was served the one of their staff will start introducing about this dish. According to her, the piglet was placed 48 hours into the spanish white wine before roasted and if the chefs were good enough, you can simply cut the piglet up by just using a plate! Crispy outer layer of the skin and soft, tender meat is what they intend to present upon us to feast on. After cutting them up, the plate used earlier have to be broken by tossing it into a wooden barrel prepared. This action will bring good luck to us all, she claimed 🙂
So, don't be surprised if you heard shattered sounds of plates everywhere in the restaurant!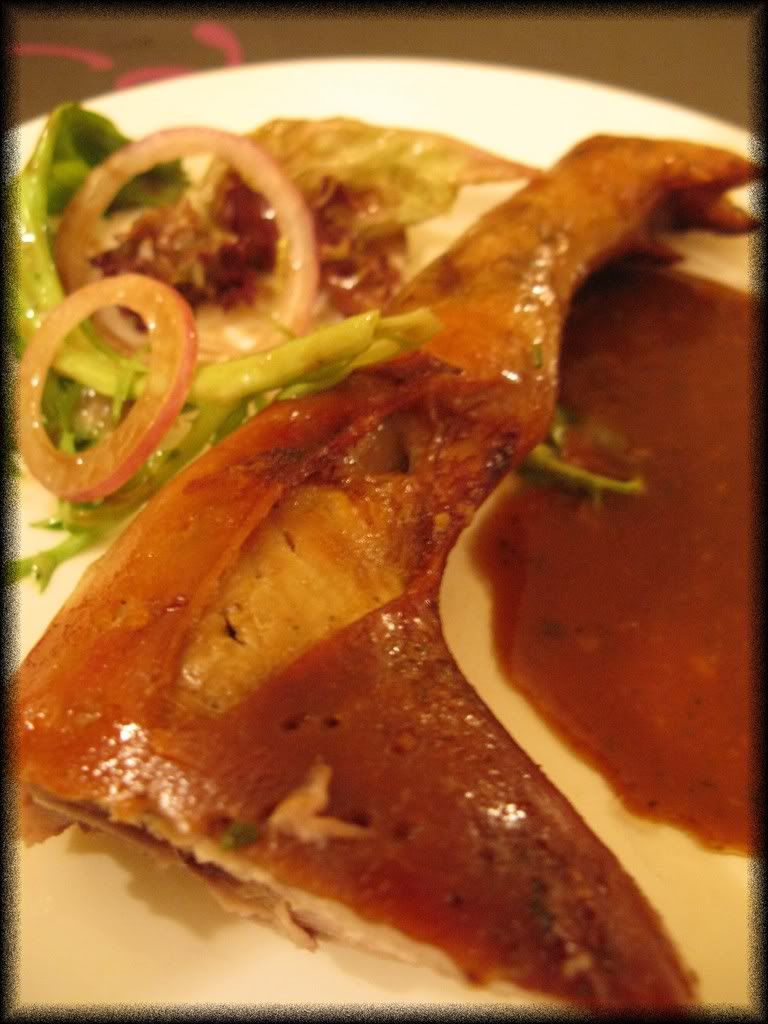 Paella with Seafood, Chicken & Chorizo Sausage & Pork for RM88 (for 2-3 person). This portion is really enough since we've consume so much… meat! The rice was fragrant with all these ingredients but a lil' moist, perhaps due to the sauces mixed together with it. Overall, it was still uniquely tasted 🙂
The dinner ended with another complimentary serving of lime juice with Martini to ease our digestion after such hearty meal! Cheers.. again!
The total bill came up to about RM961. Expensive I know, and what an experience with the whole lot of pork! 🙂
We couldn't finish the piglet and went on to take away! Their take away bag was so cute!
~Non-Halal~
El Cerdo
43 & 45, Changkat Bukit Bintang
50200 Kuala Lumpur.
Tel: 03-2145 0511
Blog reviewed: