When I thought I was one of the most obsessive crab lover, imagining myself most of the time tasting away with many finger licking good, fresh crabs, guess someone proved me wrong ;P She's even way fervent. Yea… Precious Pea, the Queen of King Crab, a crab fanatic.
And everytime I have crabs, I have her highness in mind! ;P
Craving for some fresh crabs, we headed for Hau Kee once again. From our last visit, we had an incredible mealtime and this revisit was another worthwhile one.
Can't wait to have more crabs!
Initially, our makan gang planned to drive all the way to Port Klang to feast on seafood, but due to some reasons, the plan was cancelled… aww…
Luckily, a dinner at Hau Kee managed to compensate this ;P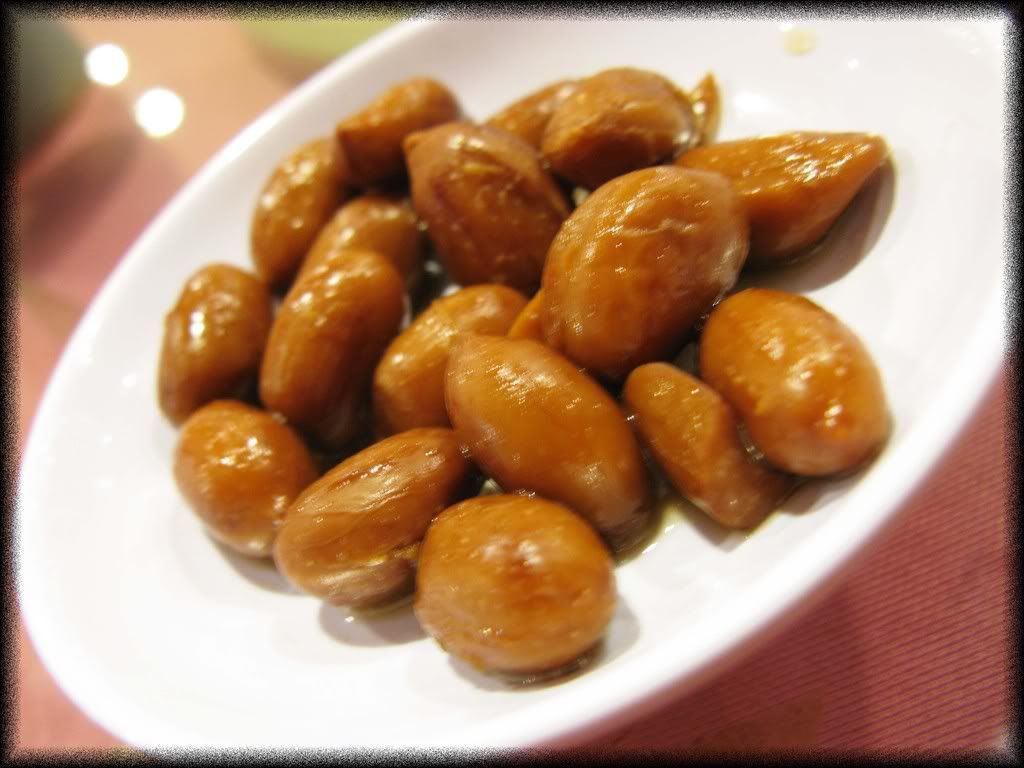 Boiled peanuts served once seated
Decided to go for some different dishes to savour, the recommended Guinness Stout Spare Ribs was unforgettable. Marinated in the Guinness Stout beer, the ribs was then fried and stir fried with adequate amount of tangy tasting sauce. Kinda unique 🙂
Opting for a rather healthy dish, then you should go for their Stir Fry Lotus Root with Macadamia Nuts. The lotus root was sliced narrowly and it was really crunchy! Highly voted by the restaurant, and as I a big fan of macadamia nuts, there's no reason for me to forego it ;P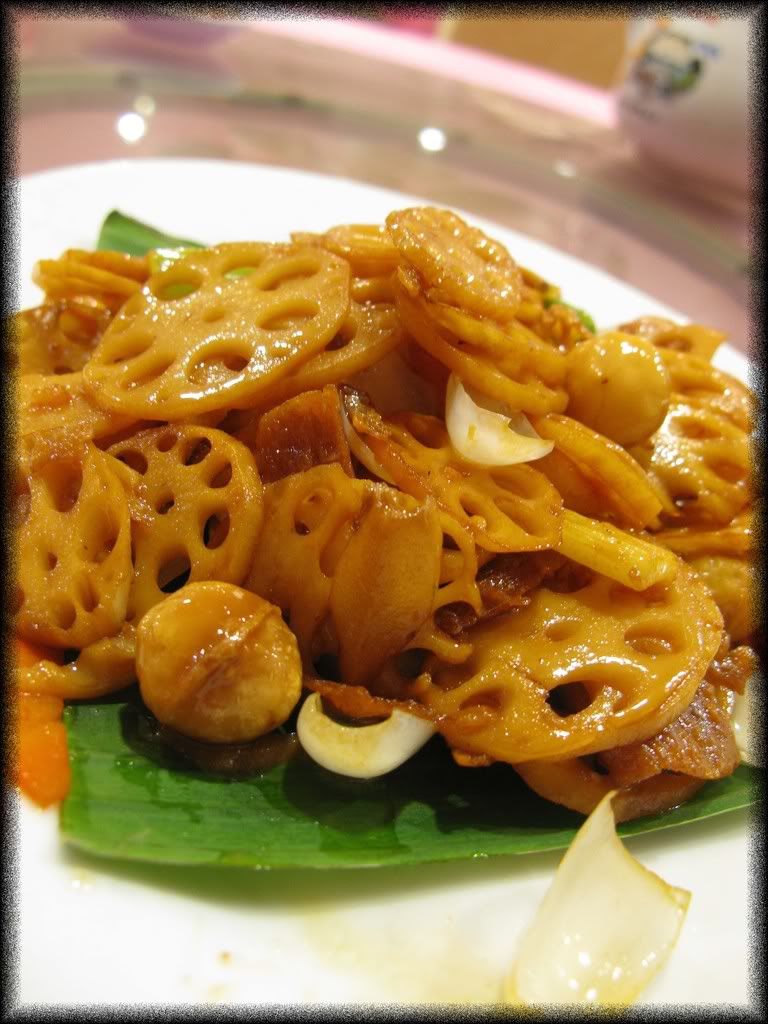 Let's indulge on lalas! Clams in piping hot soup (Seong Tong Lala) warmed our tummy with its gingery and parsley tang in the soup. Kinda spicy with the pepper added in, the clams was kinda small too *not as big as they look* 😛
But the soup has the kick!
The Beancurd with Minced Pork is best accompanied with our staple food. Tasty gravy and silky smooth tofu to go with it. However, this was something more ordinary.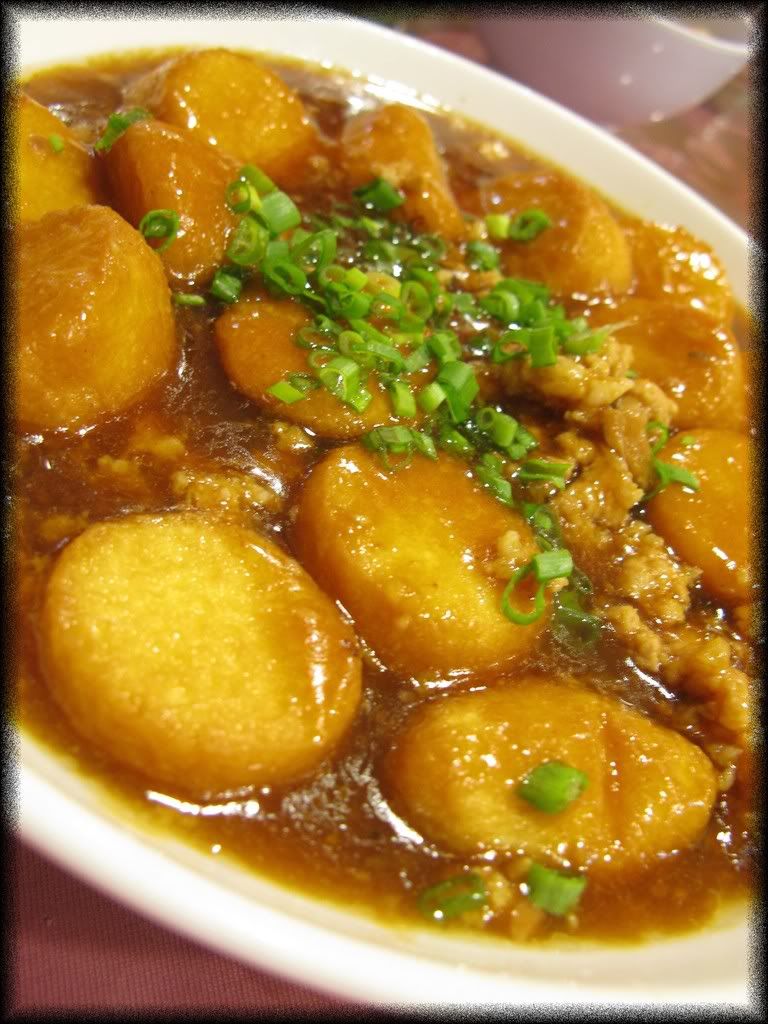 Here's one of the star that ignited my hunger all over again.
The purpose we're here for.
Butter Crabs! Still living up to its standard, cheesielicious! Flavoursome and we just love dipping the bread excessively into the buttery sauce. *managed to put behind the artery clogging factor* Oops.. we forgot about cholesterol and calories. Yea, right! ;P
Wanting more crabs, we had Marmite Crabs too. Compared to the butter crabs, this preparation have to take the second place ;P
Though the huge crab was delectable as well, I would still prefer the first option. Sticky, dark brown paste with a distinctive, powerful flavour to be savoured with fresh crabs. Finger-licking good 😉
Hope I'll get to feast on more and different types of crabs coming up, like her highness. You'll know why I called her 'your highness' from after reading THIS. lol.
Crabs….. reminds me of my crab catching trip in Gold Coast!
By the way, the total bill came up to about RM164 including govt.tax, rice, tea and towel.
Let's start getting your hands dirty and dig in with crabs at this eatery!
Heard the prawns were good too. Well, there's always next time 🙂
~Non-Halal~
Hau Kee Seafood Restaurant
No:12, Jalan Kaskas 2,
Taman Cheras,
56100, Kuala Lumpur.
Tel: 603-9130 0113/ 9131 2013
Fax: 603-9132 8218
For location map, check out my previous visit 🙂