When I was to blog about another food post, this crossed my mind. Decided to show you guys something even more delicious and luring. ;P
What's your decisive factor to describe a model in your mind?
tall?
pretty?
stylish?
great figure?
potential?
Dear friends & readers,
If you're currently following the vogue over the net, you'll be hearing the bits of the existing Malaysian Dreamgirl program every now and then. Girls from different places grouping for auditions and to ensure themselves a place at the Top 12 wasn't an easy affair. Malaysian Dreamgirl is the first reality model search in Malaysia to be fully broadcast over the internet. You can check the details out HERE.
Coming back to the criteria mentioned earlier, I hereby urge you to vote for HER. You know why you should as you scroll down… as she has what it takes to reach a further level 🙂
This is Jean, currently a pharmacy student who is always self-potraying herself as the confident one. I'm so proud to say that she's my classmate! ;P and.. I'm pretty confident that she'll win this if all of you help her to 🙂
She is poise, speaks well, met the criteria above, and she's got the brain! *show them what you've got gal!*
Wanna help her win? Very easy!
Just SMS
'DREAM 08' to 33001.
You've got the nice number Jean! 🙂
The details regarding the SMS voting contest are available HERE.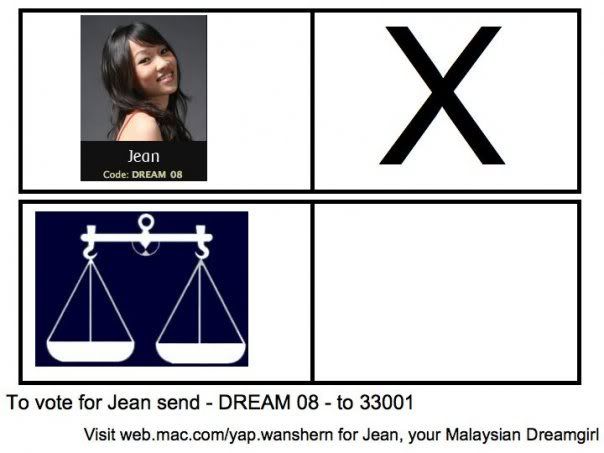 Written by Jean …
"Jean will be making a public appearance in One Utama Sunday 16 March at noon!
Be there!
To vote for Jean, SMS "DREAM 08" to 33001."
Blogs reviewed:

Click to watch her video!