Time flies… for sure.
Leaving the festive mood behind and moving on with life.. I mean books.
The finals is drawing near, and yet more self-confidence need to be built to prepare myself for the upcoming states of affairs. Sometimes I wonder, is it just me or everyone do sometimes won't get what they expected to. Well, this happens to me all the time.
"I think I worked hard enough" I told Chris.
He replied, "As long as you did your best, it's good enough" "Don't give up"
Stress is accumulating in me. I can see my batchmates progressing resourcefully. So afraid they'll leave me behind. But I can't afford to lose my grip. I need to graduate from here. I need to make the grade for… somewhere further.
and… I need more luck. Seriously.
Hope these good food I had during the CNY will fetch in more luck for me. 🙂
This meal took place on the 7th day of CNY, known as the common man's birthday.
For the set meal of RM725 nett, we feasted on…..
Salmon Fish Yee Sang, wonder how much of these my stomach say hi to during CNY.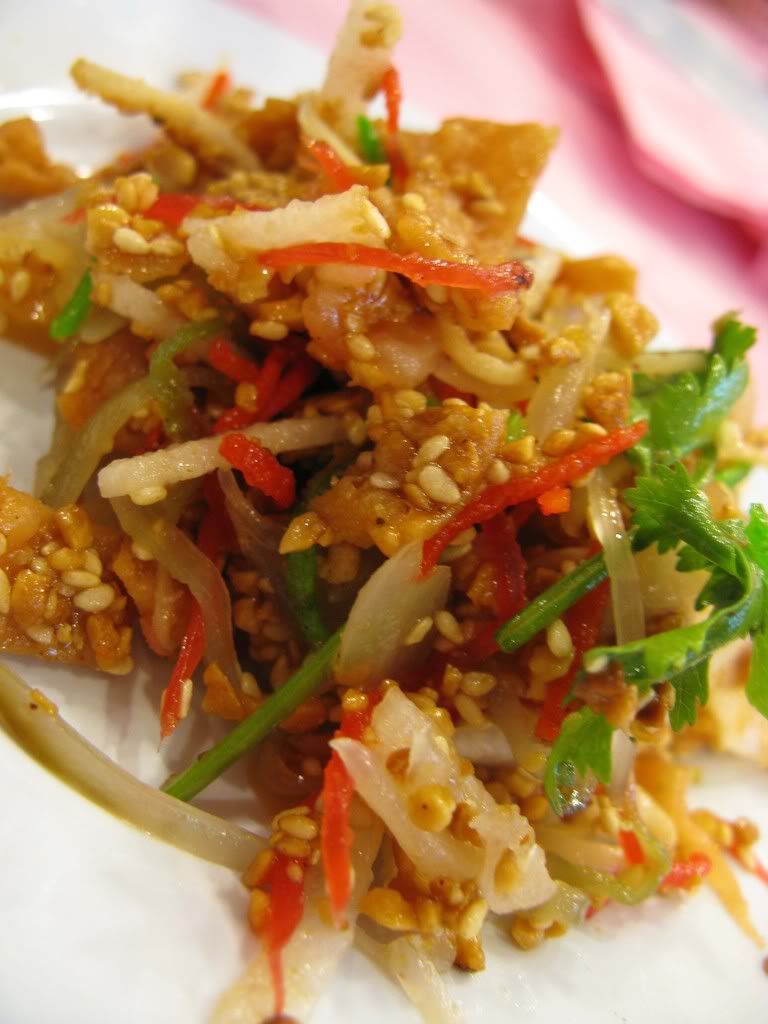 The Four Hot & Cold Combination was delectable. It was a serving of prawns, fishballs stuffed with clams, scallops and a spring roll-like preparation with stuffings of otak-otak, seaweed, crabsticks.
Dry Scallop Seafood Shark Fin was tummy-warming.
Whole Suckling Pig. The skin sure was cripsy! Best eaten with the accompaniment of the sweet sauce definitely!
We can't resist the freshness of the Steamed Garoupa Fish with Superior Soy Sauce. The white meat was steamed salubriously. Even more, it's fresh taste was not run down by the soy sauce that gave the fish more boost 🙂
Fried Prawns with Special Sauce was another tasty preparation. Flavour orientated with garlic and curry powder, it was really appetizing .
Braised Mushroom, Fish Maw and Mini Abalone. When we first glance through the menu, we stopped at the line that read 'mini abalone'. Once this dish was served, we know what they meant.
It was really mini!!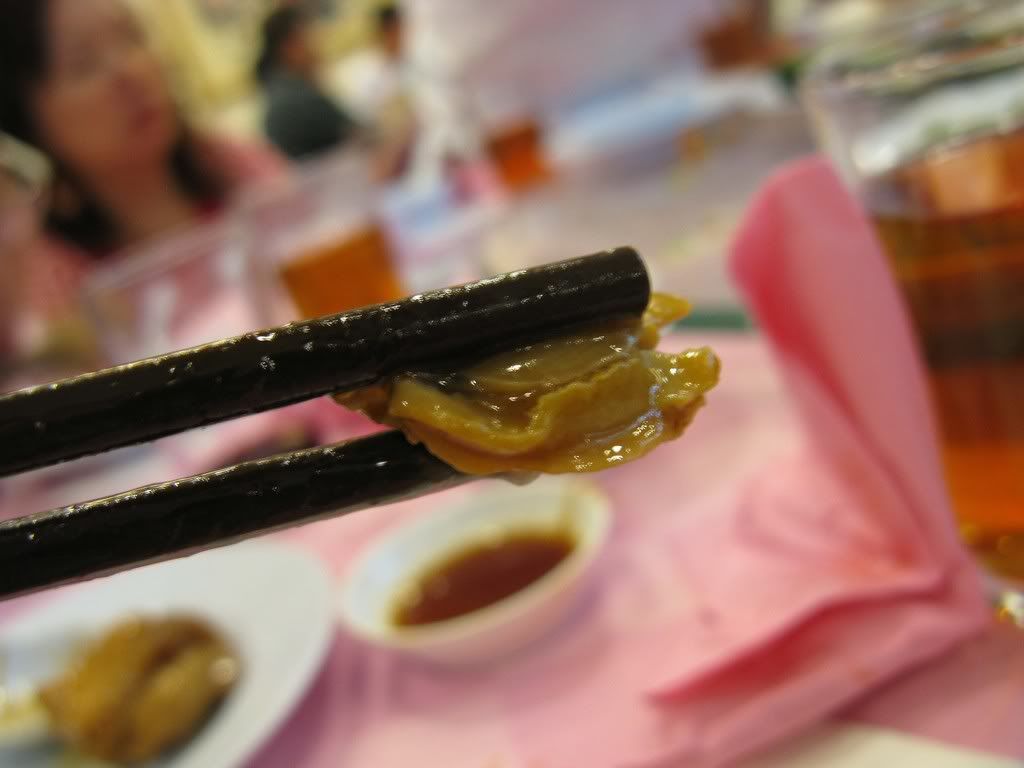 Our last main course for the night was the staple food, the Wax Meat Rice. I find the rice rather tasteless. Or is it supposed to be tasteless and all the taste originate from the flavoursome wax meat.
A sweet treat at the end of the meal….
Chilled Longan with Sea Coconut to soothe us a little, accompanied by the Mochis known as the Sweet Fancy Duets.
Non-Halal~
Hee Lai Ton Restaurant
12, Jalan Muhibah 3,
Taman Muhibah,
Seri Kembangan,
43300 Selangor D.E.
Tel: 603-8942 5561 / 5548 / 5549