Sushi Zanmai, one of the most affordable Japanese eatery that charges reasonable fares, we thought, often advertise and offer quite a heap of promotions!
More than a month ago…..
While reading through The Star, a glimpse of the Sushi Zanmai logo caught my attention. With the statement of 50% off on selected food, it lured me to dine in so badly ;P What a bait.. Hehe.
With an extra excuse of girls day out and shopping, Yen, AiWei and I were out to grab this deal ;P
We headed to The Gardens, Mid Valley…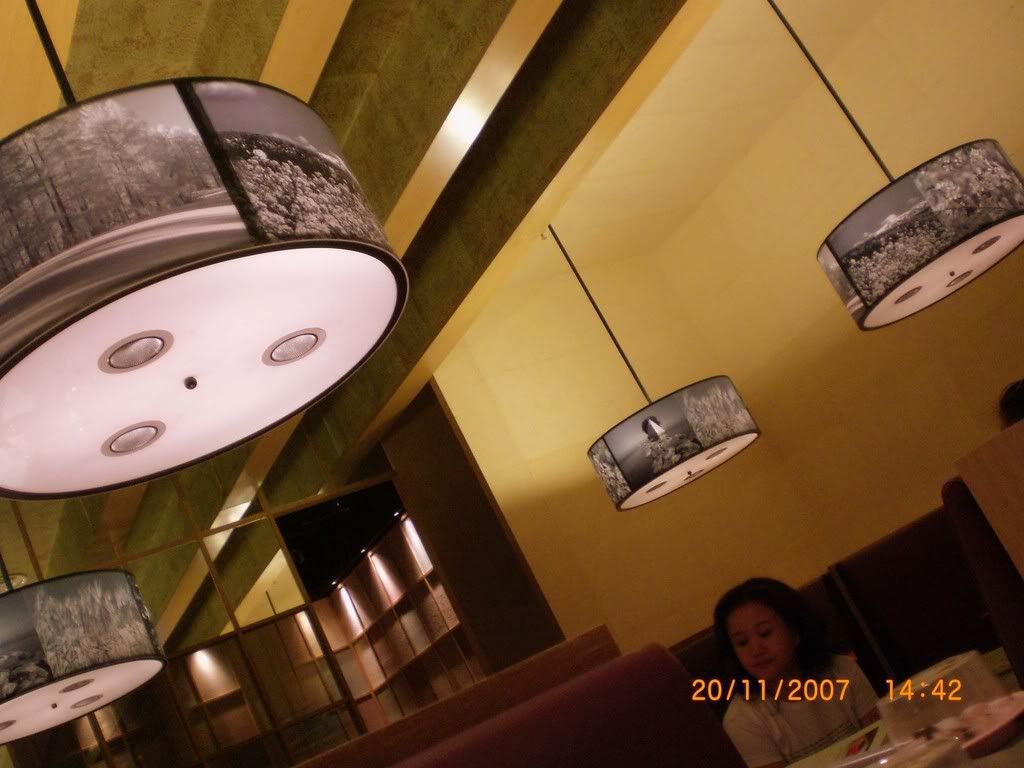 What's for 50%?
Five thick slices of Salmon Sashimis for only RM5! Fresh and thick! What more could you ask for? ;P Fulfilled my cravings for sashimis!
Dragon Roll was only priced at RM6.40 after discount 🙂 It's quite a steal isn't it? *we're really pleased with ourselves for notifying the vouchers in the papers* The prawns were deep fried and were enclosed into a sushi roll topped with avocado. A decent combination it was.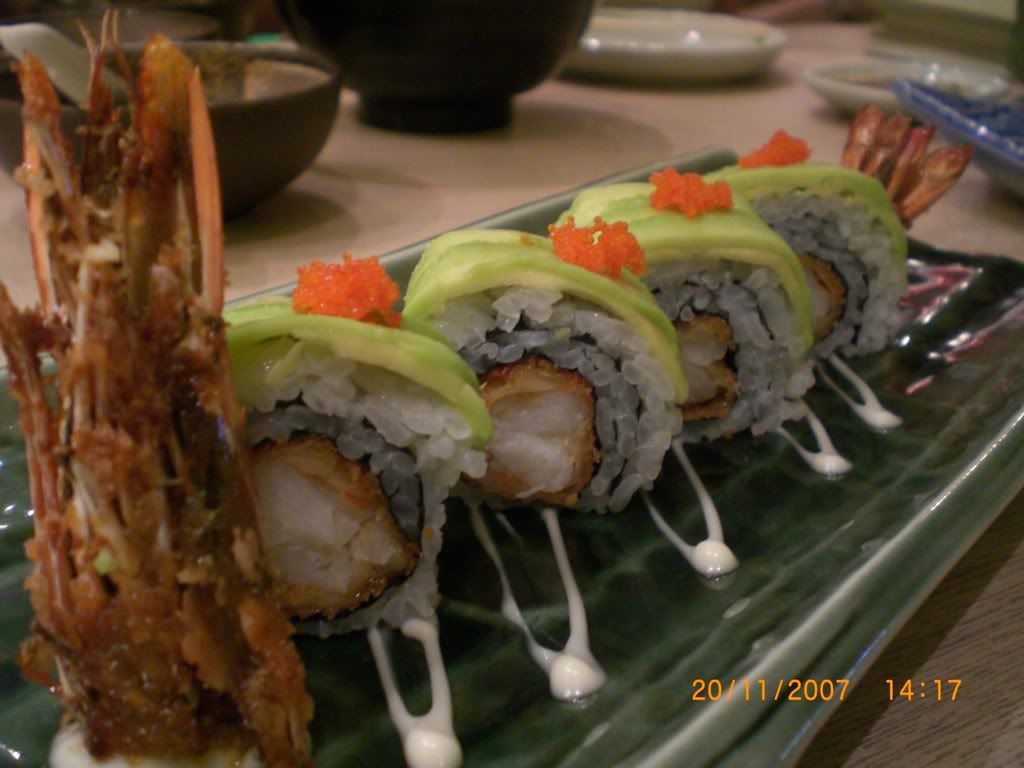 Other than these, we had additional orders that were not applicable for the use of voucher.
Ebidon was an order made without regrets 🙂 Deep fried prawns with egg on rice. Sounded tempting to us, the serving was even better! Served piping hot, the prawns were properly fried and were covered generously with eggs. Priced at RM8.80 for the small serving.
Since Japanese curry was something AiWei and I had been frenzied for, a bowl of Curry Ramen for us all helped us put aside our constant worries! haha. Priced at RM10.80 for the small portion, the ramen was served with Japanese curry chicken. Liked it immediately after the first spoonful as it was really flavoursome and a pungent curry odour just couldn't be missed!
Just a few weeks ago…. Headed to Sunway Pyramid.
Another makan inducement, thanks to Sushi Zanmai again ;P
And this time, free selected sushis or dish, one voucher per order. Chris and I managed to get 2 vouchers from the Star *again* *claps claps*
What's on the house? *grin widely*
Soft Shell Crab Maki! Excites the crab lover, yours truly, definitely! Crunchy crabs in the core were complimenting well with the soft rice and julienne fresh vegetables.
Salmon sashimis again, but this time only 3 slices. Not as thick as the last visit from the outlet in Gardens, they still tasted superb. However, Chris and I still prefer thick salmon slices; can sink our teeth into them deeper! ;P
The Ebiten sushis were also another heartfelt request 🙂 Never enough for the 2 of us ;P Delicious and… it's free! *wink*
I was missing the Curry Ramen from the previous dine-in session with my girls and persuaded Chris to share it with me. A disappointment it was, as this serving was not as good as the provision at the Garden's outlet. Lack of "oomph" somehow, we thought.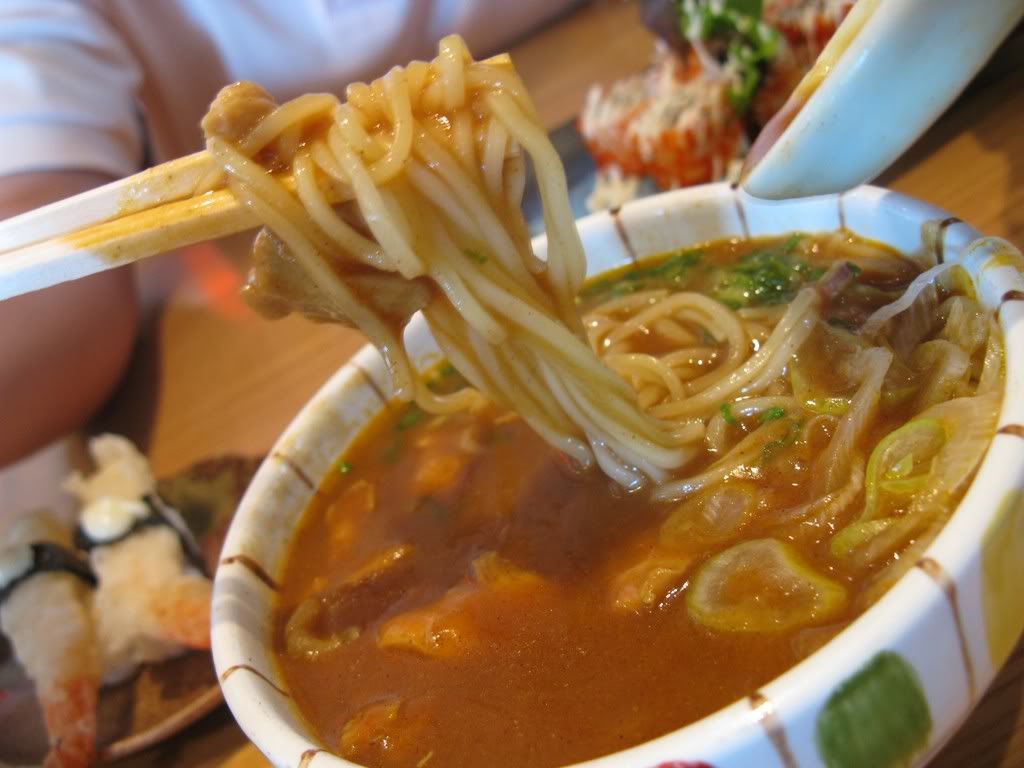 Zanmai oh Zanmai…
I'm still eyeing on your kind & munificent offerings,
The promotions I'm talkin' about,
Pasta Zanmai @ 1U,
You're Next!
I proudly say,
~Halal~
Sushi Zanmai

3rd floor,
The Gardens,
Mid Valley.
Business Hours: 10am – 11pm (daily)
Japanese Street,
1st floor, Oasis Boulevard 2,
Sunway Pyramid, Bandar Sunway
Tel: 03-74923080
Mobile: 012-9893080
Business Hours: 12noon – 11pm (daily)
Blogs reviewed: