It's always good to start your day with a nice set of breakfast. Here was what the Rez 252 Restaurant by Courtyard, Marriot Hotel had offered.
Breakfast buffet is what you'll get 🙂
I'm smiling to these…..
Day 2 and 3 were just filled with high spirits! Just these 2 different worlds can get us bushed 😛 Well.. not us, maybe our parents! Spent almost the whole day at the Movie World and Sea World watching shows, hanging out, and boarding thrill rides!!!
Need not elaborate much… here was the FUN!
We feel like a kid again.
Movie World
Warner Bros characters were astonishing, thrill rides got us scared stiff but at the same time euphoria was achieved ;P, foodwise… we loved it *although we're just satisfied with fast foods*
Lunch time won't be missed. Stomach calling out loud and a piping hot Chicken Mushroom Pie will just do enough good.
Crispy outer layer wrapping up the aromatic fillings of chicken, mushrooms, corns, carrots and peas with thick, mushy gravy!
The Ham and Cheese sandwich was something ordinary… but it was filling!
Accompanied by a cooling weather although it's summer, we topped it up by treating ourselves with some rewarding desserts; Ice Cream!
Went for the Raspberry and Vanilla Ice Cream and it was a lovable, sugary indulgence. The pretty blonde staff was friendly and insisted that she take a picture of us both after we took a pic of hers ;P
Streets Ice Cream = Wall's Ice Cream in Malaysia *no wonder the logo looked familiar*
Sea World
Time to fascinate with the ocean's gems! Of seals and dolphins to the mighty but cute polar bears!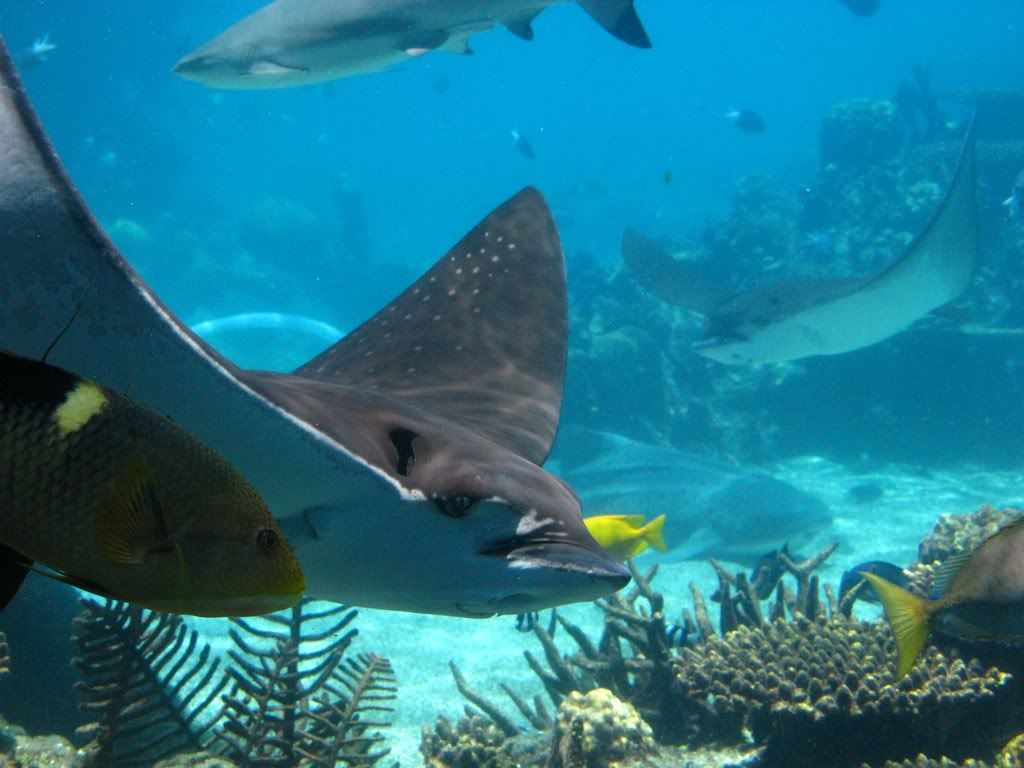 Guess what we had for lunch?
Ta-Da! Seafood Platter from Sea World!
Fast food I know, but i think it's the best stuff you can get in this ocean theme park ;P Most restaurants here served this kind of deep fried platters.
Surprisingly, the fish fillet and the deep fried scallops were good! Thumbs up for them.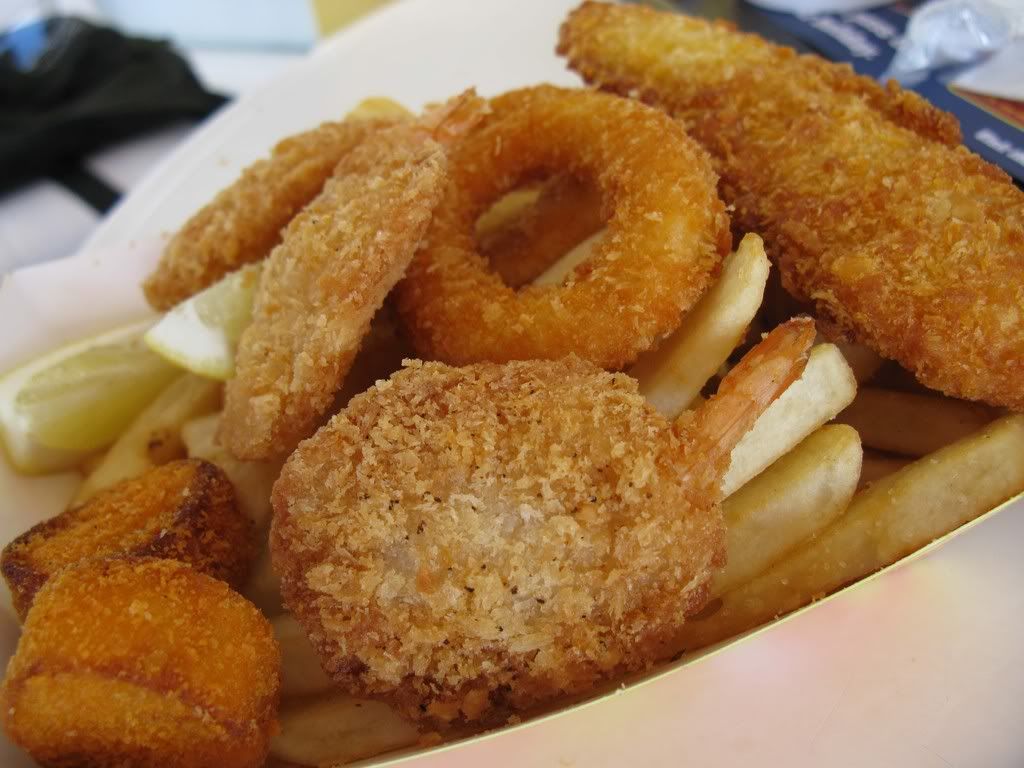 This weird little preparation wasn't that good to me but bro just loved it.
Apple Wedges it is known as; coating on the outer layer were just mere sugary substances. Sourish i thought, on the inside and sweet on the outside.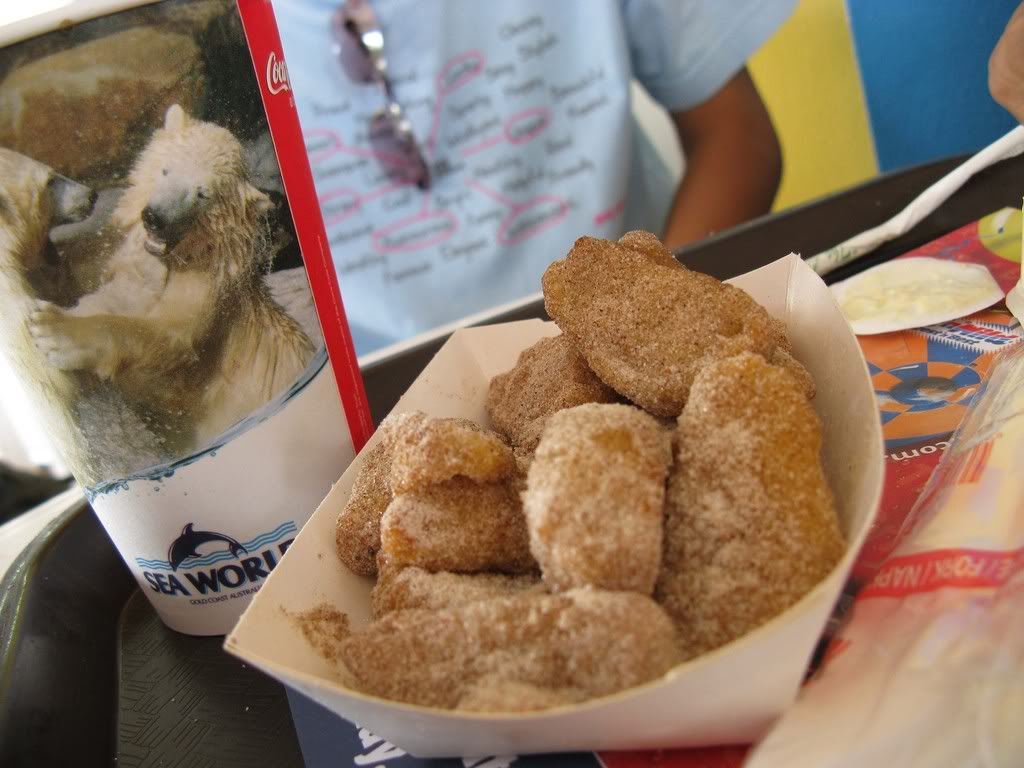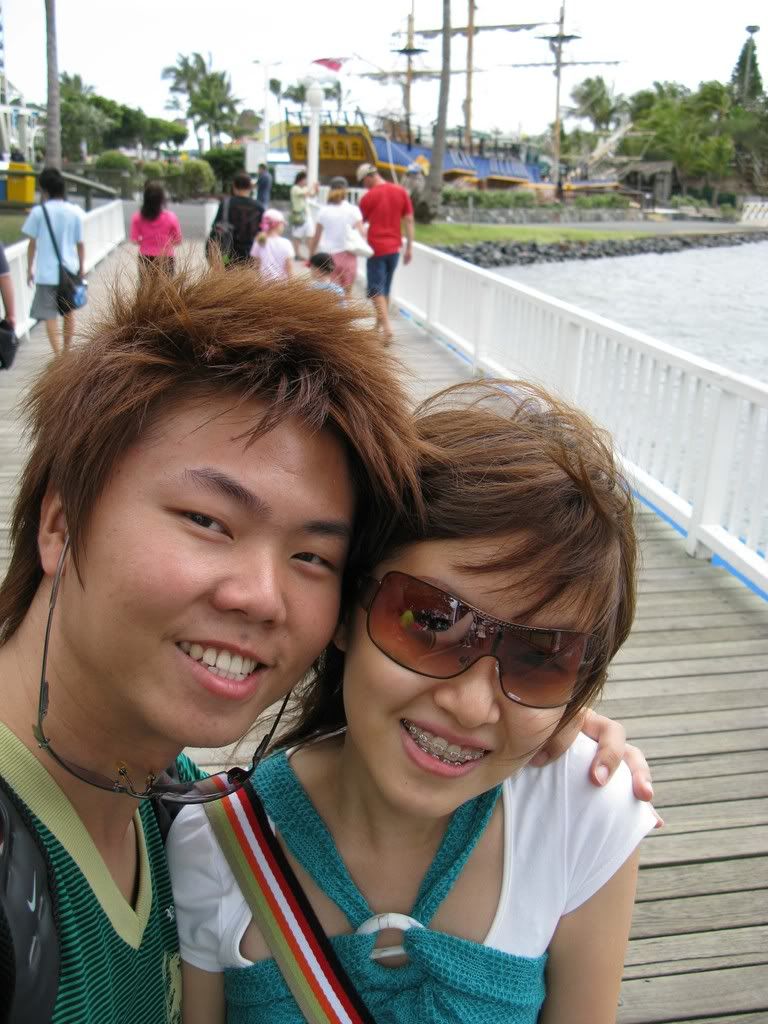 Gonna blog more on the food in Gold Coast in my next post!
I'm missing the place now ;P