Cafés… a prevalent and predominant hang out place for most of us in this day and age.
Another great discovery at Dataran Sunway, Kota Damansara, this town is getting well-liked and acceptance for another notion as "eateries haven". More and more restaurants are letting their business emerging from here.
This certainly did not ruled out "Fork & Spoon". A cafe that offers a wide range of food to suit your likings, their food recommended in the menu was undeniably good and worth a try 🙂
It was my first time hopping and dropping by Dataran Sunway and I was amazed by its development 🙂 Another place that I should look out for when I'm out for a meal!! Thanks to AiWei who drove me there, we were stuck in a terrible jam before that. Hate congestion!
A dinner organized by Sid, wanna thank him again for 'exposing' me to Dataran Sunway! LoL.
When we arrived, we were greeted by KampungboyCitygal and TummyThoz, another flogger that we've not met 🙂 and also… Xiu Long Bao, who arrived later! Nice meeting you guys! What I love about food blogging is that besides food, getting to meet and make new friends is the best repay! 🙂
We were welcomed by Jaee, the person in charge and the friendly guy, who arranged the food to be served for us all. Extended hospitality and services are the best expectations from patrons 🙂 Pretty sure that other customers and you will enjoy the services here as well 😉
Upon ordering our thirst-quencher to help us gain back relaxation of nerves due to the awful traffic, my Tropical Blend which was made up of apple, orange, pineapple and carrot do lend a hand! Tasted just nice, not too sweet or sour, RM5 for this regular drink is worthwhile.
Special Honey Lemon Juice for RM3 was just satisfactory.
We were served with some of their specialties and All-Time-Favourites:
1) Fork & Spoon Nasi Lemak Special
This is served with Rendang Chicken, Assam Prawns, Sambal Sotong, Sambal, Anchovies and Egg. The fragrant rice was in sync with all these ingredients surrounding it. Simply flavoursome and no complaints on this. Another plate please! 🙂 Priced at RM11.
2) Lamb Chop with Rosemary sauce served with Mashed Potato & Coleslaw
Tenderly grilled, the meat was yielding a juicy sensation. It was well coupled to the servings of mashed potatoes and salads including coleslaw Too bad I didn't get to taste it to satisfaction! haha..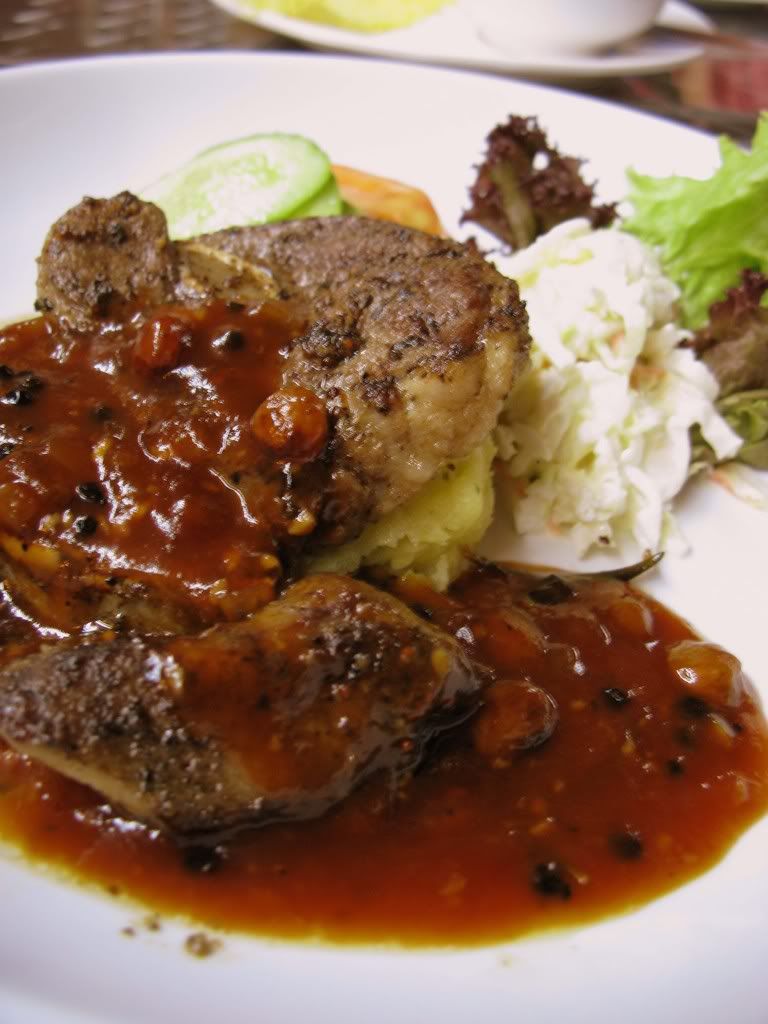 3) "Yut Sek Har" Vietnamese Style Prawn with Rice
One of their new dish, the prawns were fresh and the gravy penetrated into them really well… What's more? Tasty!!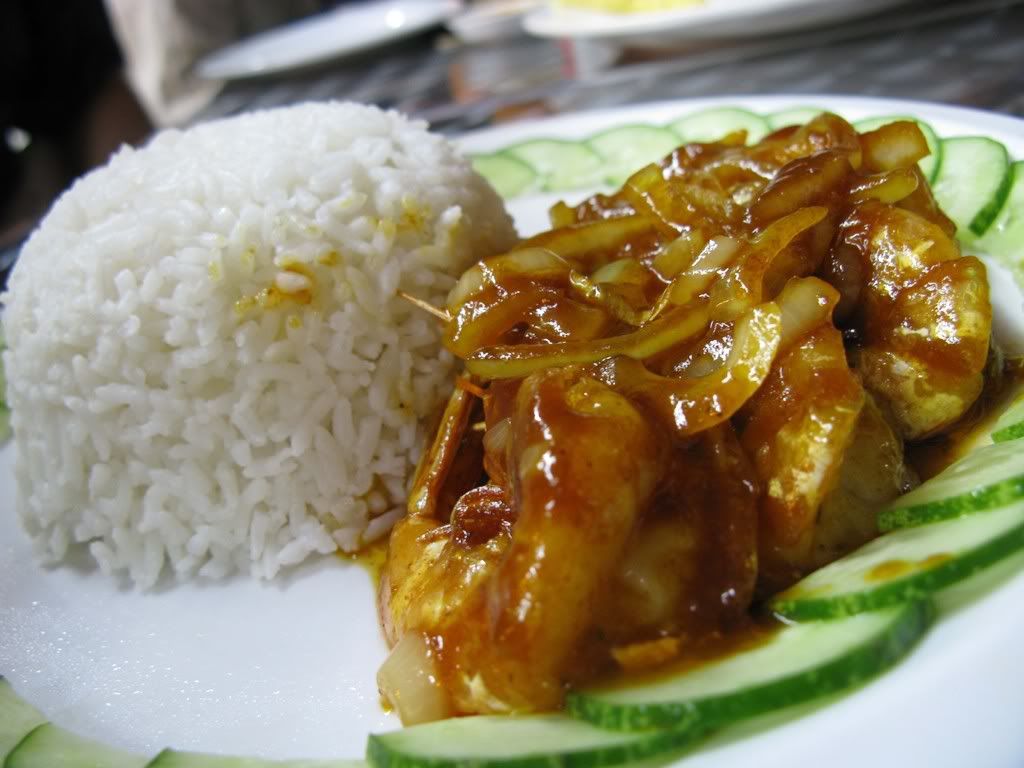 4) Roti Jala with Curry Chicken & Potato
One of my favourite as I love curries! Resembles to eating those typical and conventional roti canai, this is something otherwise atypical. The curry preparation was aromatic and appetizing. In contemporary with the desirable curry chicken and roti jala, they're perfectly harmonized. Priced at RM6.
5) "Kum Kong Kwat" Pork Ribs
Deep fried spare ribs covered and penetrated with sweet taste and a lil' sourish lime sauce. Not just ordinary sweet and sour pork ribs but it'll definitely give you the taste that you can hardly describe 🙂 So not why try it out yourself? ;P
dish which taste very unique, deep fried short ribs coated with a sweet and lime taste sauce. A taste that somehow will stay in your mind.
6) Stir Fry Petai with Prawns
Petai, also known as the twisted cluster bean, was prepared in combination with the fresh prawns. As I don't take petai, the flat edible beans with bright green seeds that generate a peculiar smell, I thought, some might find them scrumptious, but not me.. LoL ;P
Just took the prawns instead and it tasted appetizing, with a lil' resemblance to the taste of Yut Sek Har, except for the additional petai aroma, it was still well-accepted.
7) Penang Prawn Mee with Spare Ribs
Well, we would normally have our Prawn Mee that include pork slices in our bowl of noodles, but as for this portion, it was cooked up with spare ribs! This gave the extra kick to the modest spiciness of the broth! So full of flavour, thumbs up for this 🙂 This preparation is priced at RM7.
8) Fork & Spoon Thai Laksa
Too bad I didn't get to try this out. Bet it's good too as this portion finished in just a while ;P
RM7 for this bowl of piping hot noodle served aside with the thick prawn paste.
9) Fork & Spoon Assam Laksa
Wonder what's the difference between this and the Thai version. Like what I had in mind, sourish fish-based soup, served with thick rice noodles. Also priced at RM7.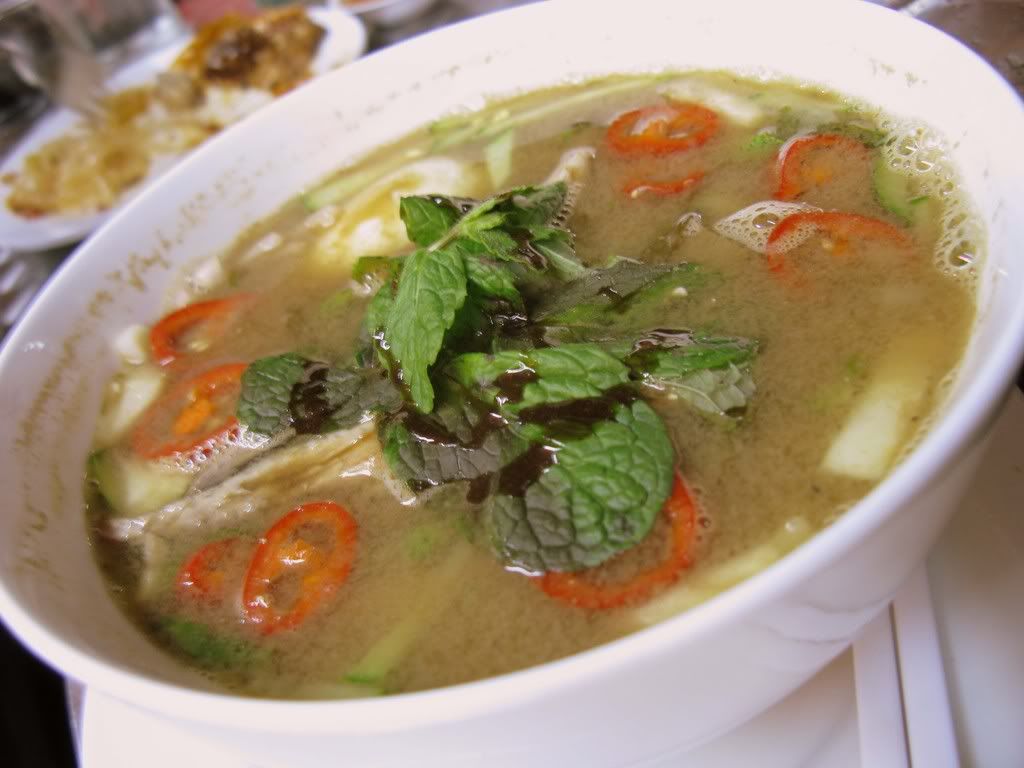 Guess what other drinks we had besides those we ordered earlier?
Gigantic and affordable when considering going out for drinks with friends.
10) Ku Hiong Snack
Priced at RM8 for 2-4 persons and RM15 for 5-8 persons.
The deep fried anchovies were crunchy and brittle. According to Jaee, it goes well with beer and liquors. Ahh.. a creation to match our tower of beer! We really had a great time enjoy this nibbles of ikan bilis! Know what? the anchovies were actually coated with caramels! Thus, it gave a lil' sweet impression 🙂
11) Dessert: Pulut Hitam
A sweet ending with drizzles of black glutinous rice accompanied by coconut milk. We were really too full to finish this up! This will be available for order at RM2.50.
An extra sugary temptation! Donuts from Big Apple. A belated birthday gift from AiWei, Chris and I to Sid, we shared these right away after our mains.
Sid~ the birthday star for the night.
That was not just it, Jaee then came out with a bottle of Xango, poured us some for a try out. A unique bottle of juice, I liked it immediately. Kinda sour, but exciting at the same time! ;PIt's actually a blend of mangosteen aril and pericarp puree with juices of eight other fruits: apple, pear, grape, blueberry, raspberry, strawberry, cranberry and cherry. Lotsa berries huh ;P Mangosteen juice is something that I've not tried and glad I had now 🙂 Accumulated with lotsa benefits to one's health, pretty sure you will like it too! Can check out for the further details here.
A gentle reminder: for those who are interested in purchasing or wanna involve in the retailing business of this Xango product, you may contact Jaee Ong at 017-3669 394.
Fork & Spoon is also selling assorted kuihs or the bite-sized food items. Seems like they have anything! haha ;P
Here are just a few of them 🙂
In favour of Fork & Spoon, they are now offering a discount for their patrons. Just print out this coupon for the entitlement 🙂 Hope you'll enjoy your meal here!
Fork & Spoon
26, Jalan PJU 5/11
Dataran Sunway Kota Damansara
47810 Petaling Jaya
Selangor
Tel: 603-6140 8832
Fax: 603-6140 8332
Email: forknspoon.cheah@gmail.com
or contact Jaee at 017-3669 394
Blog reviewed:
Will be off traveling elsewhere for a week, for~~~~ Christmas!! and… more food! ;P