Guess I'm still suffering from the over-shocked and mania syndrome.
Well you see, I was anticipating for the night to come, where Chris had promised to take me out for a nice dinner which he refused to tell me where it'll be. Let it be a secret then 🙂 I asked lotsa questions at the beginning, but got tired of it and gave up asking. He kept his mouth shut real tight! Diverging topics… he's good 😉
A night before, had this conversation with mom and dad:
Mom: You have plans tomorrow night right? So we don't need to celebrate with you ya.
me: Yea. Have plans
Dad: I thought of asking you to treat us a meal some more, since every year I'm treating you instead.
me: Haha.. I can't.. Chris planned already. Next time ya ;P
The day arrived and after class, Chris and I went for a movie at Cineleisure and bought home 2 dozens of donuts from Big Apple. It's unlike him to buy so many donuts at one go! Convincing me that he's buying them for his family, I believed him 🙂
After that, we collected the birthday cake from Big Boys Oven. Our first order and it turned out 'no regrets' of course! I just love the macaroons and chestnuts coated and brimmed with chocolates adorning above the cheese cake! My favourite type of cheesecake which ain't too cheesy and sour. Just heavenly good 🙂 Thanks to Sid and Sunny! 😉
Headed home and rested ourselves for a moment, before grooming up for the dinner! Even while I was bathing my thoughts were distracted. "Hmm.. where we'll be eating?" Giggling to oneself, I think I'm improvident! lol.
When I opened my wardrobe to pick my dress, a card from him was clipped securely together with my dress! So sweet of him! (Surprise no.1)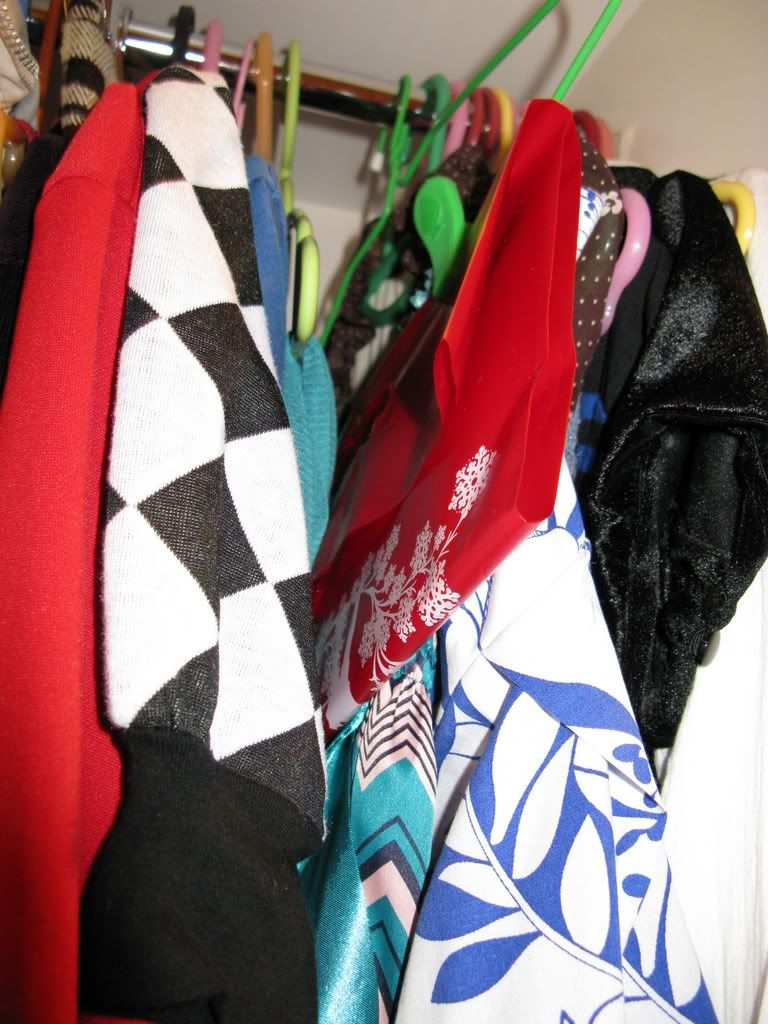 While I was busy make-up-ing myself, I could sense Chris was busying with something since he went up and down the stairs a several times. Nonetheless, I couldn't care more. Just have to move quick with my make up.
I went downstairs and picked my favourite pair of pumps. When I placed them down on the front door, I NOTICED…. a few pairs of SHOES!!
Ok.. something is not right. I then went to the kitchen and my high school buddies jumped out abruptly!! Sorry to say that.. I wasn't really surprised. I tried to act I'm surprised, but I can't! But I'm really happy and they came by!! Just a minor flaw…. Anyways, still love you guys and the effort to surprise me.. priceless! (surprise no.2)
Chris then came down with a bouquet of flowers.. Roses and lilies! Definitely beautiful and Thanks again dear!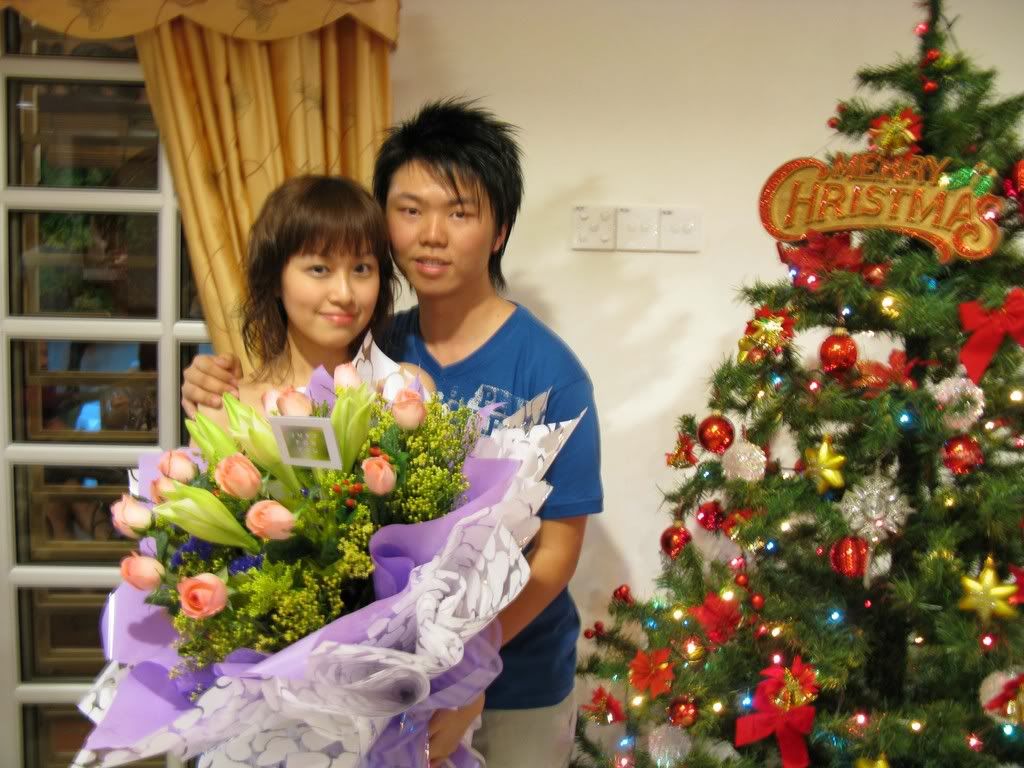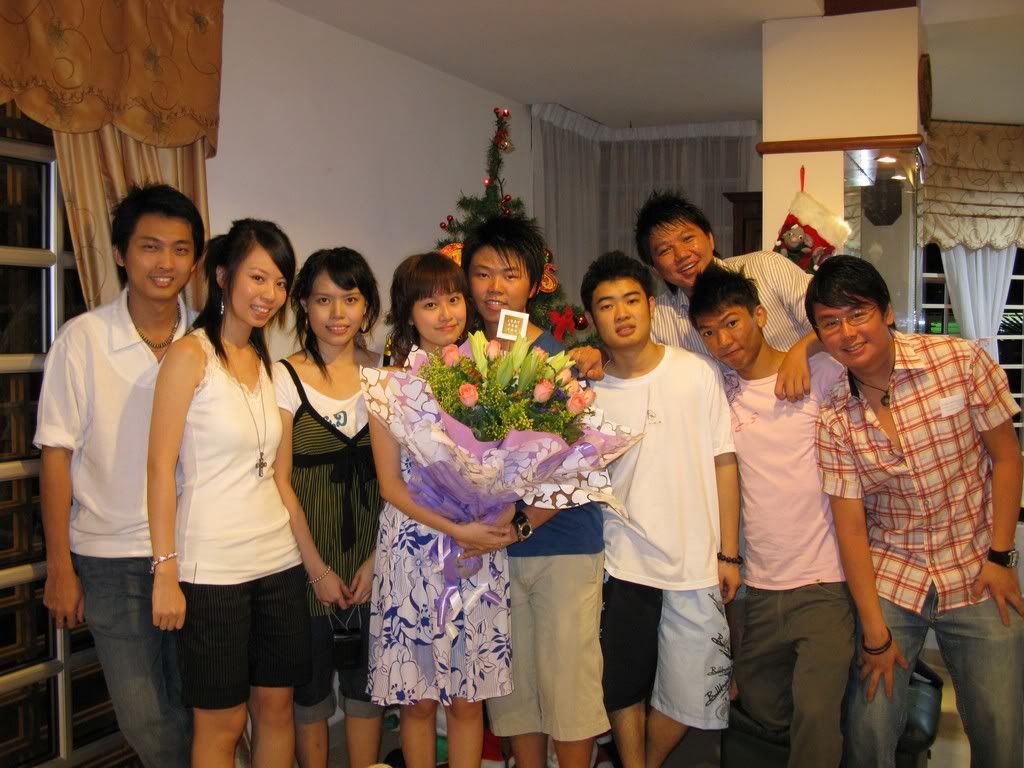 Bro then asked me to take group pictures at the garden, where I saw my uncle seated there with my grandpa. Greeted them and when I turned around, OMG..
my uni friends stood there…. arranging themselves, resembling a choir group, and sang me a birthday song!! I was startled, and shocked and… yes.. I cried 🙂 *blush*
Thanks to all of you again! (surprise no.3)

To all my friends, you guys celebrated with me in advance and there you were at my house with Chris… and my family to set me up!! I can't express more. Just so overwhelmingly surprised and was on cloud nine!
Another turn, foods were prepared by mommy dearest! Mom and dad.. both of you were in the plan too! Thanks for everything. The food were simply delicious. (surprise no.4)
Due to the syndrome that I was suffering from at that moment, and was busy taking pictures, I didn't get to capture any pics on the food served. Pictures on the food were from the courtesy of AiWei. Thanks gal!
Other than these, mom also prepared Nasi Lemak, dried Birthday noodles, curry chicken and fruits 🙂
Everything was so unforgettable that night.
A very big thank you to Chris especially… for arranging everything just for me! Hiding stuffs from me was a torture right dear? Cos I kept bugging you! haha…
My family… for being participative! Love you all!
All my friends who cared for me! Thank you so much!
Siblings