A themed party:
A Very Retro Christmas
Date:

28 December (Friday)
Venue:
My Elephant
, Section 17, Petaling Jaya
Time:

7.30 pm
Dress code:

Retro

lah
A jamboree to attain an ebullient atmosphere.
A soirée organized by Lyrical Lemongrass and Precious Pea, catering food bloggers a dinner of Christmas affair.
An awesome get-together for floggers, bloggers and friends who share the same passion and obsession for food 🙂
A place for the assembly of rapport friendship.
Having heard of good reviews from flogger friends who had previously dined in here, we forseen a classy restaurant with upright environments and fancy foods from the wide range of Thai delicacies that they offered.

The first official gathering that Chris and I were joining, we're kinda nervous before stepping into this social gathering square. Upon arrival, we were greeted by friendly organizers: LL, Precious Pea and WMW. Confidence level built up right away and a sudden sociable feeling readily assembled in us. Another benefit gained from this gathering was that each and everyone who were present, brought a christmas gift to be donated to an orphanage to cherish orphans with gifts of kindheartedness. A charitable trust organized by Jackson, let just hope we can bring merriment to the children's lives and brighten up their days.


The Thai restaurant was dimly lit and along with pretty candles that created an idealistic and dreamy atmosphere, we find it romantic 🙂 Suitable for an evening party catered for conversations! Tables were adorned with daisies and glasses wrapped up beautifully with banana leafs. Elephant icons such as paintings and toys were also found smartening up the place.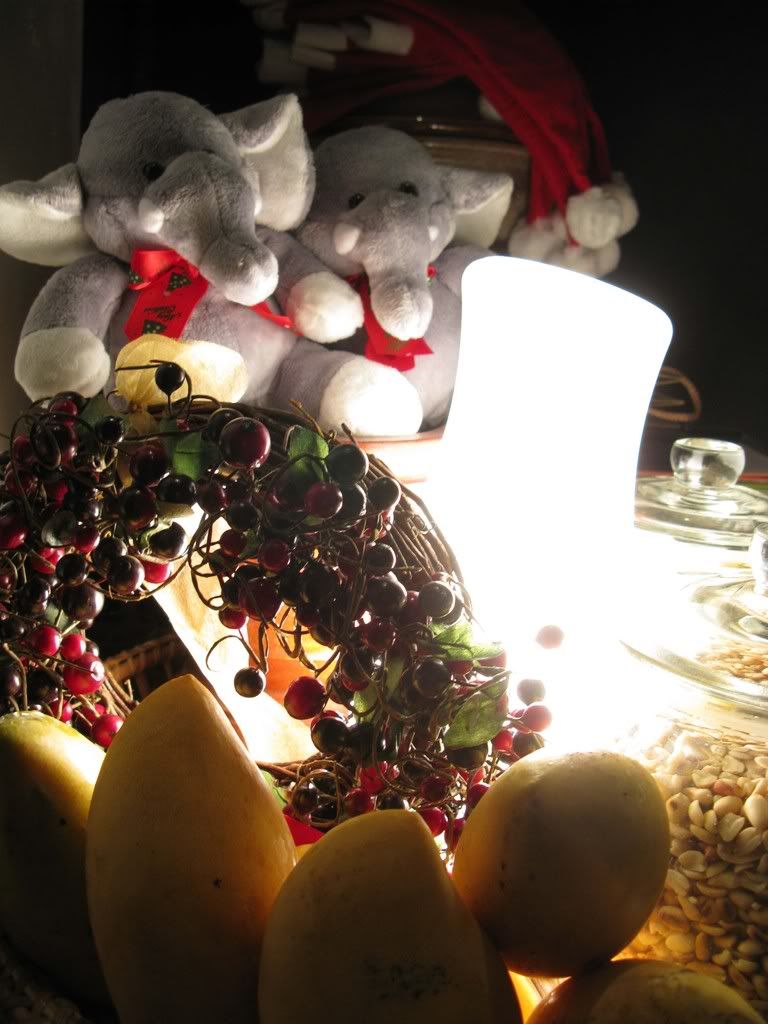 We were served with some of their well-known dishes that were also offered in their ala carte menu and also free flow drinks of Pandan and Krachiap Coolers

1) Fragrant Brown Rice
2) Kom's Chicken Wings with Mango-Kiwi Dressing
3) Choo Chee Goong (Thai Yellow Curry with River Prawns)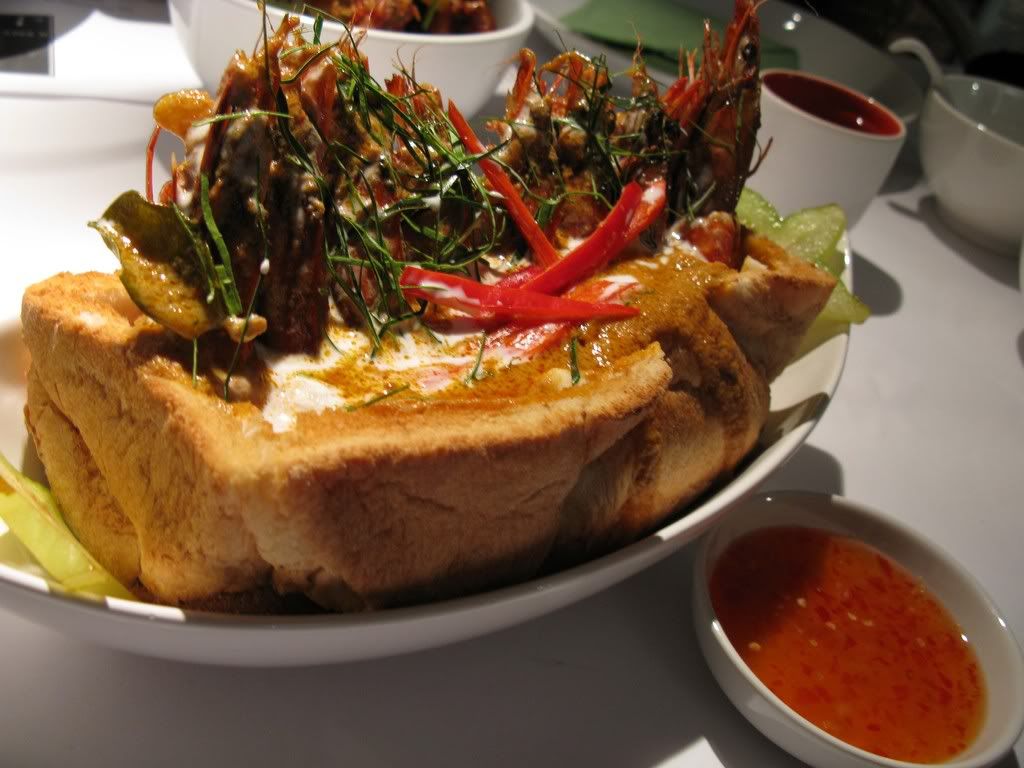 4) Pak Choop Pang Tod (Thai style vegetable tempura)
5) Som Tam Malakor (Green Papaya with Dried Prawns with Peanuts)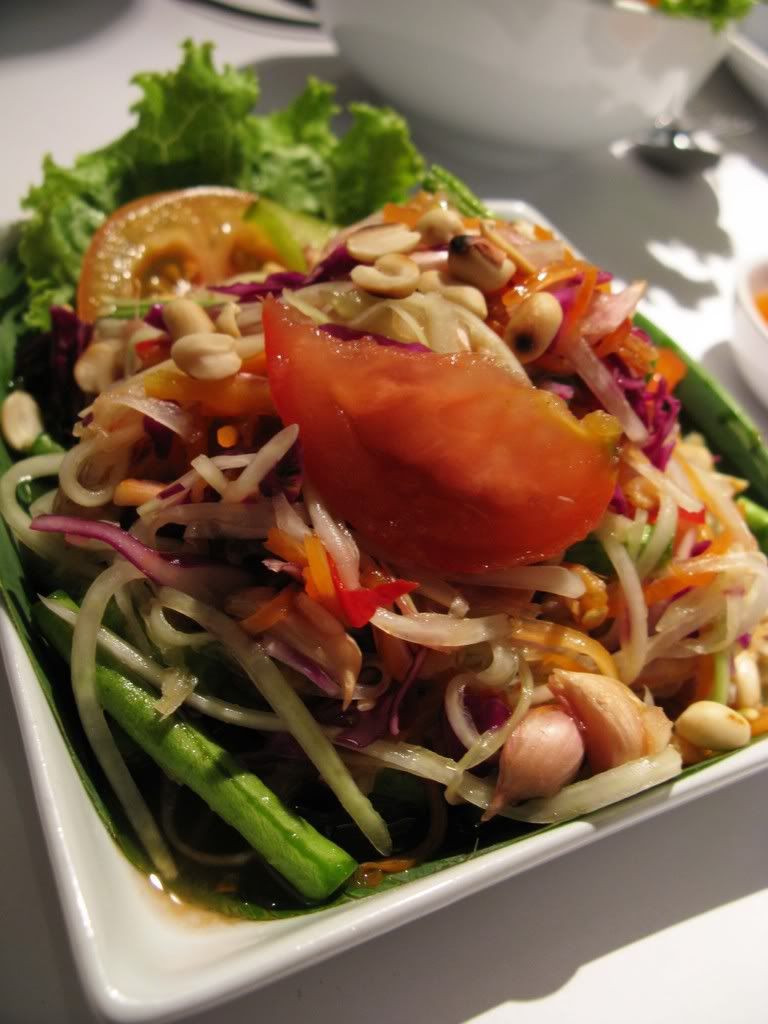 6) Tom Klong – Northern Thai Tom Yum with Fish Cutlets
7) Steamed Fish ala Thai Style
8) Chillied Lamb
9) Red Duck Curry with Konnyaku, Avocadoes and Rambutan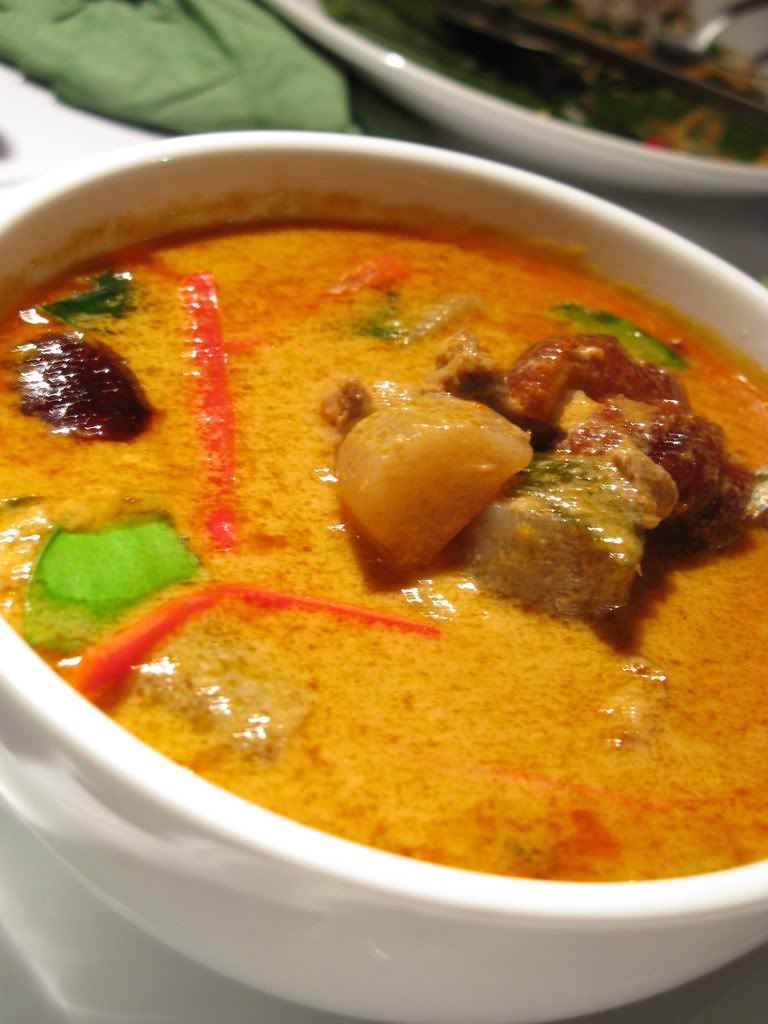 10) Sago Pudding with Thai Mangoes


Just can't miss taking some momentary pictures with friends that are worth amass 🙂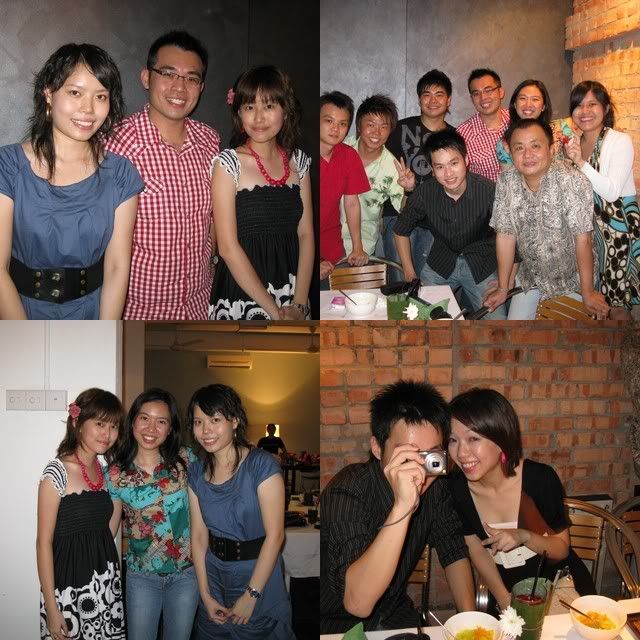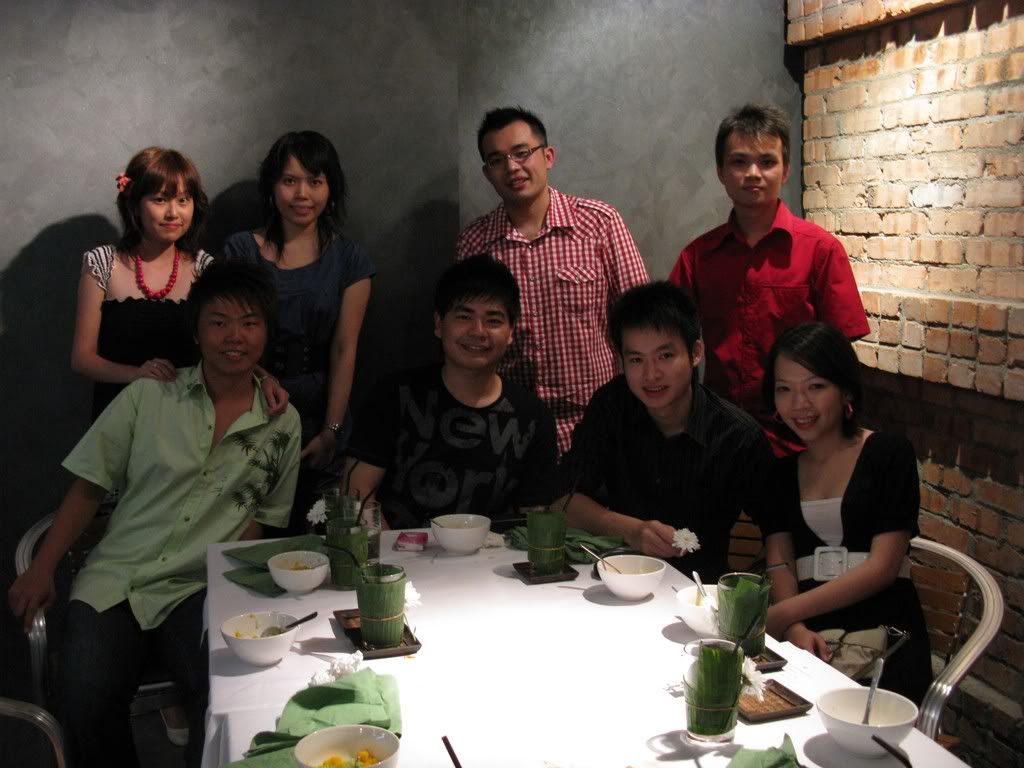 Us with AiWei, Jackson, Jason, Ekeng, KampungBoy and Citygal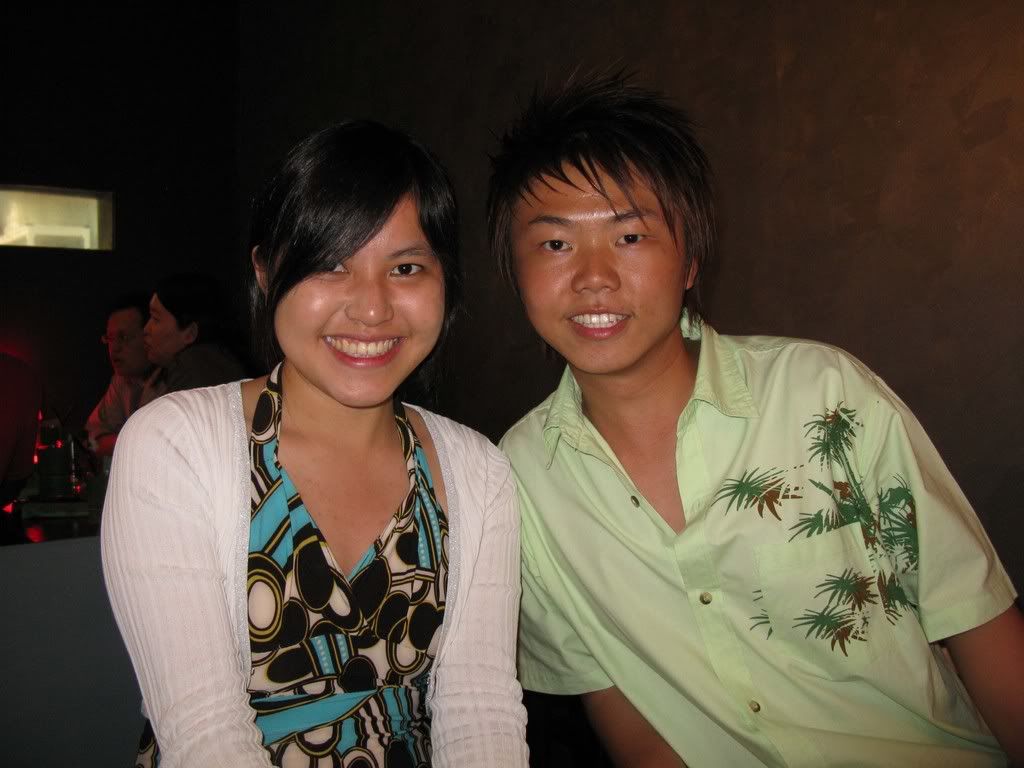 -Old friends meet- Xiu Long Bao & Chris
Chris fooling around with Jackson's cute specs
After the dinner and chillin' out session, we were surprised by the organizers with an Award Presentation Ceremony. Like what KampungBoyCityGal had mentioned, "It's pretty obvious which flogger should go with the title because we just know each other so well."
Here is the award list: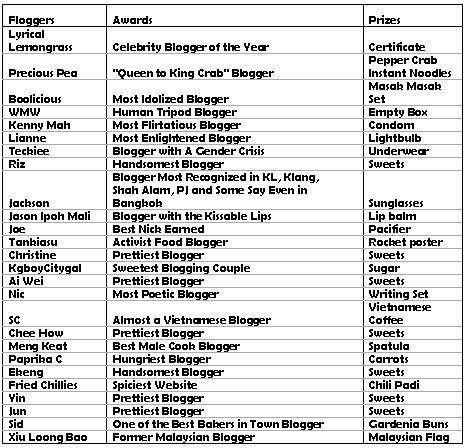 The ideal gifts that suited every "winner's" title, I won the award of "Sweetest Female Blogger 2007" that gained me a pack of M&M Chocolate! My extra dessert to end the dinner 😉 Glad.
Nope. The party had not been put to an end yet. All of us sang a birthday song to SC from Food4Thot and deary Chris to celebrate their big day. An added celebration to mesmerize!
Chris with the luscious Durian Cheese Cake by FatBoyBakes. Delicious!
A big thank you to the organizers again: LL and Precious Pea.. and to WMW as well during the award ceremony who kept us entertained.
To fellow bloggers and floggers, it's nice meeting you guys in person finally! Hope they'll be more to come and we shall group together and mingle around to achieve more association! ;P
Chris and I really enjoyed and… we value the friendship built! A perfect event.
A great event to help me write-up this post to end this incredible year of 2007!
We hereby wish everyone:
Click for enlarged map
My Elephant
Block C-G4 Happy Mansion
Section 17/13
46400 Petaling Jaya
Business Hours: Tuesday to Sunday (except Sunday lunch)
Lunch: 12.00 p.m. – 2.30 p.m.
Dinner: 6.00 p.m. – 10.00 p.m.
Tel : 012 328 5028 (Patrick)
Blogs reviewed: