Time flies by real fast especially when you're on a vacation. Often caught in between on where to eat.. This did not happen to us in Malacca, as we've already planned where to dine in next 🙂 Chris and I suggested satay celup, seconds later, Denny and Audrey agreed to us with no buts. We walked along the street and found this outlet….. the Capitol Satay. I've been here once, and this is the only place with satay celup that I've tried.. serious! Don't laugh at me ya..

After this trip, only I've came to realise that there are some restaurants that offer similar options at Jalan Ong Kim Wee. Was reminded by my friends. Well, will try that next time! 😉 However, we find this outlet serve good satay celups too. I'm pretty confident to say this as……
Look at the queue! Can you spot me? ;P
We waited about up to 45 minutes to cure our augmenting cravings for these satays culprit! Nearly gave up but on second thought, we didn't as we would not want to waste our effort for doing so. Finally manage to get seats and after settling down with drinks, we grabbed our trays and start picking up the skewered ingredients and plates of other items lining up temptingly at the open-shelves fridges.
Satay Celup…
Resembling to typical steamboats, the broth that they used to cook up the raw ingredients is the satay gravy itself! Very flavoursome and no extra dipping sauce needed.
With a variety of ingredients ranging from fish balls to even large fresh prawns, RM0.50 per stick is very reasonable when comparing to the lok-lok at pasar malams nowadays.
We have to bear with the consequences of getting a sore throat after such heaty meal. Nonetheless, we didn't restrain ourselves from having more. What's the solution? Audrey and I had their iced herbal tea while the guys had…
Yes.. a good option 🙂
Quenched their thirst with a throat soothing property!
With just a hint of spiciness, the sauces were constantly prepared and boiled for every new group of customers. The thick and fragrant satay sauce penetrated profoundly into the ingredients and we find them enticingly well manoeuvred when the staff added in the ground peanuts, sugar and spices. *they prepare this right before you*
A few shots of what we had..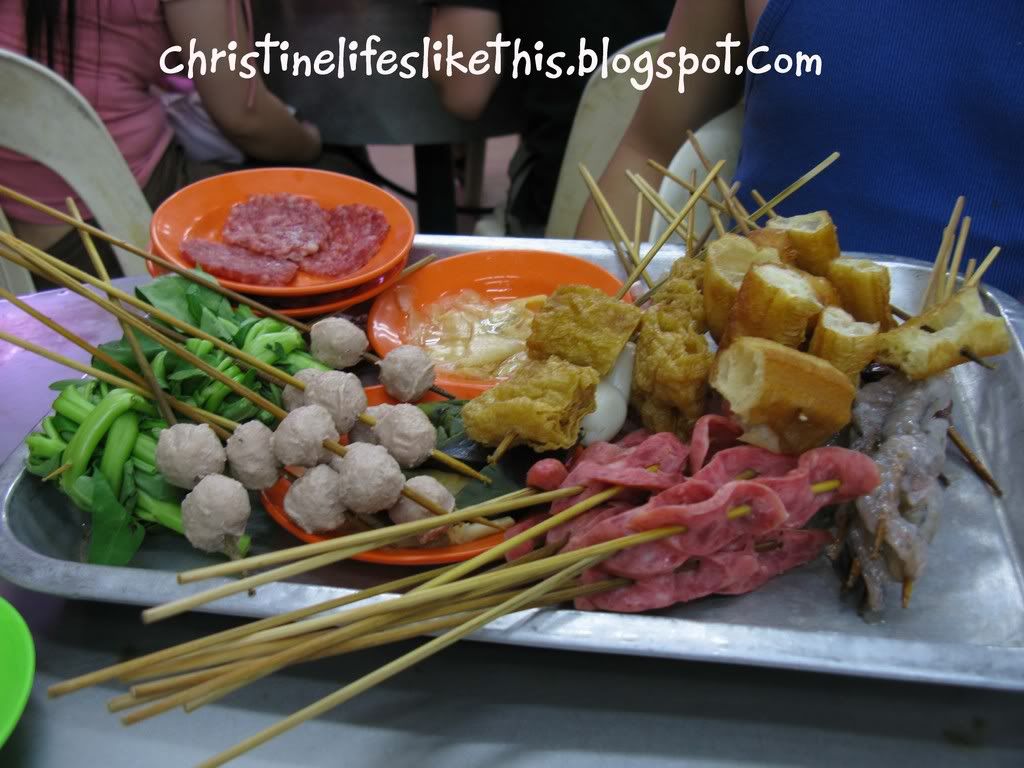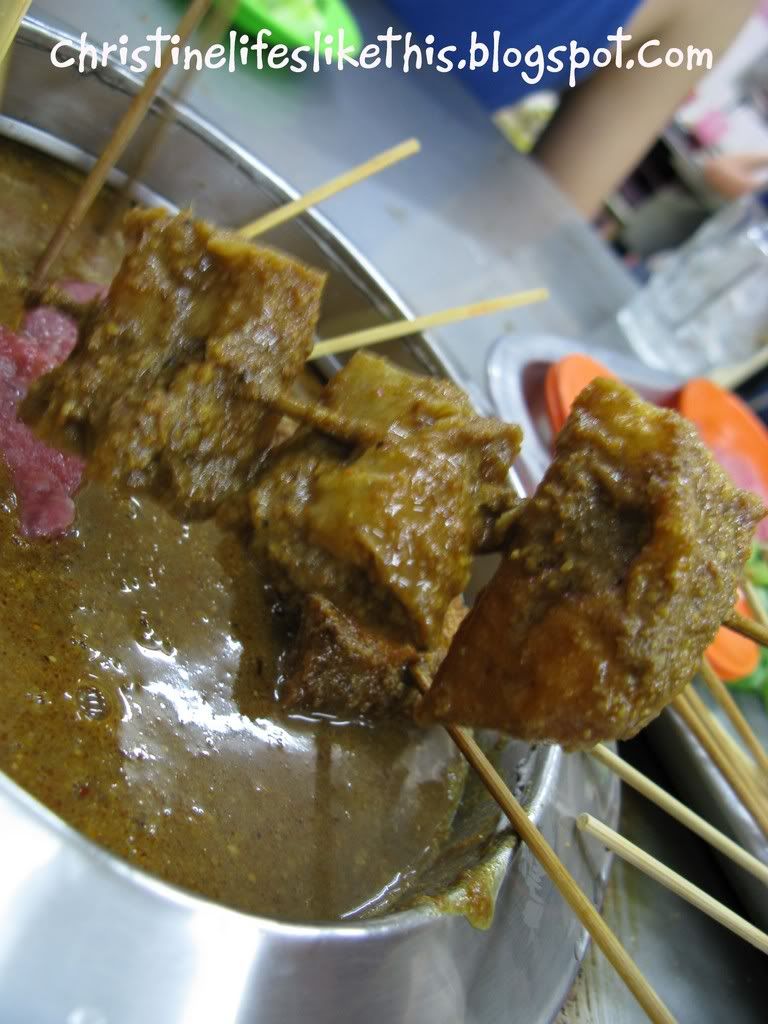 They even have something like a bonus hour. Serving larger prawns to each tables.
After feeding ourselves with countless sticks of satay celup foodstuffs, we make our way to the Jonker Walk. It's a weekend, so there are lots of sightseeing to do. Souvenirs, clothes, pets.. and snacks! We're too full to stuff ourselves with more treats ;P
We were exhausted after some time and my sweaty body accompanying the thirst just made me uneasy. Took a respite at a stall number 88. I'm sure everyone knows where it is. Located at the Jonker Street, you wouldn't miss this as there'll be either a long queue or people jamming up the tables till the outdoors at night.
Another irresistible inducement, the shaven ice (ice kacang) with gula melaka! Chris and I shared a bowl of normal Ice Kacang priced at RM1.70. The fine ice incorporating the subtle taste were just memorable. I still miss their durian ice kacang! Gonna have this for sure in our next visit ;P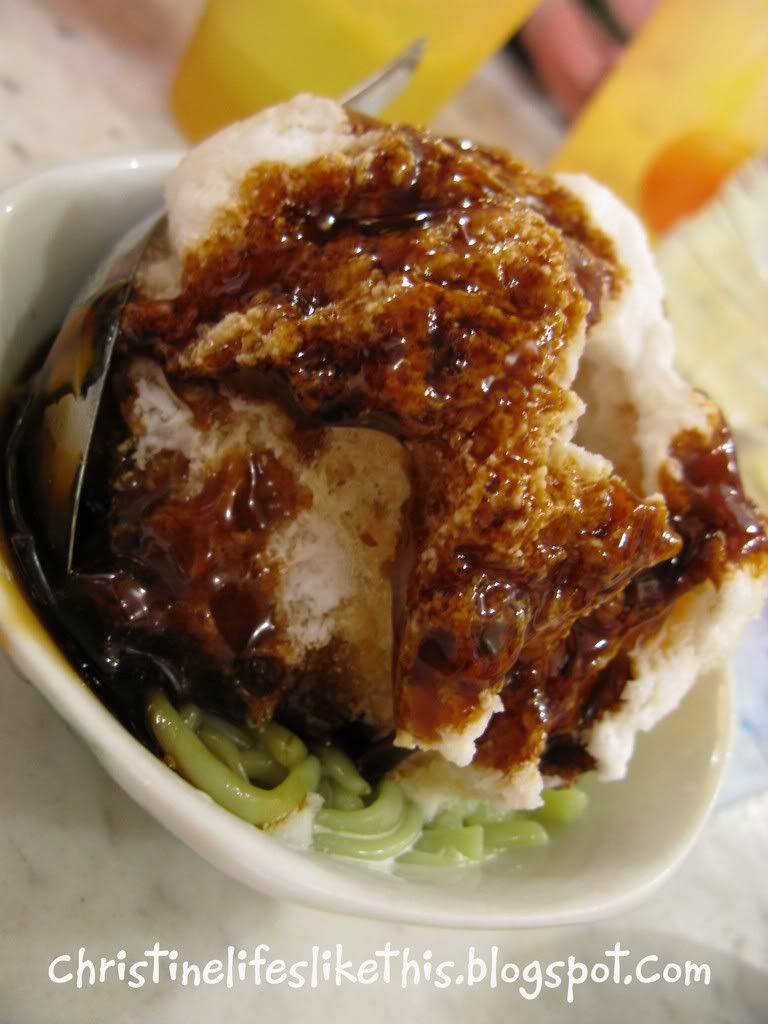 Audrey and Denny opted for Ice Kacang Special for RM3. With additional peanuts , they claimed it to be nicer as it has the extra brittle, grain consistensy 🙂
We had fun eating out and hanging around strolling, photoshooting and crapping!
More reviews and pictures to share soon!
Click on map to enlarge

Capitol Satay Celup
41, Lorong Bukit Cina,
75100 Malacca
Tel: 06-283 5508
Mobile: 012-205 8877
Business Hours : 5.30pm 1.00am.
Closes on Mondays.

Blog reviewed:

See also: