Personal favourite sharing *hands up*
After Spanish fares, our personal favourite would be French cuisine 🙂
Well, French cooking isn't fancy or snobby. It's all about layering flavours and savouring every bite. France is famed as a world leader when it comes to fine eating – known to the French as "gastronomy"
The bottom line is that French cuisine is not just about fancy plates of food and elaborate presentation. One can never tie French cuisine down to a small box as it has too many varieties!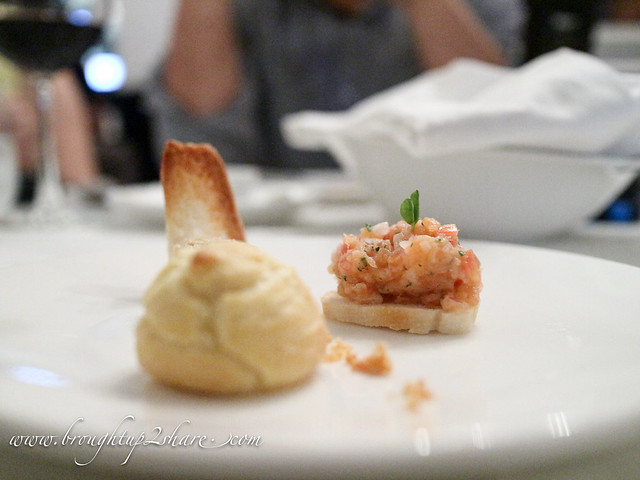 Like wise, it's the main reason why we just have to drop by Maison Francaise again.
To check out their new dishes on their extensive menu by Chef Thierry.
His cooking may seem sophisticated, but it's not rocket science – It's ultimately about creating a harmonious dish that elevates the quality of the main ingredient. So many good reasons for revisiting.
Fine French cuisine, elegant private dining, bistro and bar, extensive wine list, banquet and catering options, wedding parties, business luncheons or events, you name it Maison Francaise have it.
Maison Francaise takes pride in serving the freshest ingredients brought in. All dishes are freshly prepared on premise, using classic French cooking recipes. So if you are ready for French cuisine (in which we always are!), join them for a dining experience in their cosy restaurant.
Bon Appetite!
Amuse bouche
Kicked start our dinner session with a medley of salmon tartare, profiterole of cheese gougere and goat's cheese nougat.
Every little bite is appetizing & flavoursome.
Lavilla Cabernet Sauvignon
It's all about pairing good wine with food in a harmonious way.
Cold Appetiser
Carpaccio de poulpe, gel de yuzu – RM75
This is a heavenly portion of octopus carpaccio with yuzu gel.
A delicate octopus carpaccio in wafer-thin slices, with a particularly tender and palate-pleasing texture.
Terrine de Foie Gras au porto – RM98
Foie gras terrine flavoured with port wine.
Our first try on foie gras terrine rather than the traditional pan seared. Chef Thierry's terrine switches it up, alternating dense, creamy layers of foie gras mousse with soft, almost jelly-like slices of seared foie gras. Textures and flavours meld together so well.
Crepes vonnasienne au saumon fume, creme aux citron confits – RM70
Homemade smoked salmon on a Vonnasienne crepe with confitated lemon cream.
Such pretty presentation of the colours.
Warm Appetiser
Le bisque de homard, saute de homard confit au beurre Breton – RM65
Lobster Bisque with sauteed lobster in Brittany butter.
Luscious bites of lobster are complemented perfectly with a light and creamy based bisque. Flavorful marriage of the ingredients as each spoonful was so good.
Escalopes de foie gras poellees aus raisins – RM125
Seared foie gras scallops with grape sauce.
Chef Thierry's pan seared foie gras never fail to impress. It has a silky, melt-in-your-mouth texture and a very subtle taste. Savoury, rich, bit buttery but not so much. The grape sauce that complements this delectable seared Foie Gras, helping to provide an excellent balance of sweetness and acidity.
Coquilles Saint Jacques poellees, puree d'artichaud a l'huile de truffes – RM72
Pan seared scallops with truffle flavoured artichoke.
The delicate sweet flavour and tender texture of scallops are undeniably appealing, making them one of my favorites when it comes to seafood!
Aile de raie pochee, puree de pommes de terre, buerre noir aux capres – RM120
Poached sting ray, potato puree and black butter with capers.
Definitely a palate opener to our taste bud as it was my first time having sting ray ala French atyle, beating my usual "ikan bakar" indulgence.
Le poulpe grille, croustillant de pomme de terre epicee frite, saute de pak choy – RM115
Grilled octopus, crunchy spicy potato & saute pak choy
The gorgeous Galician Octopus is succulent, tender with just enough bite to chew.
The black object is edible too and worry not as it's not burnt. Haha. That was the spicy potato, and is so yummy!
Filet de lotte rotie a l'ail, fenouil et echalottes, sauce aux crevettes – RM148
Roasted monkfish with garlic, fennel and shallot with prawn sauce. It has a sweet flavour that is mild in nature. The monkfish has a flavour similar to lobster & has a texture that is medium in firmness and is somewhat chewy.
Filet d'agneau roti, pure de pomme de terre, sauce grand veneur – RM135
Roasted Lamb Rack, sweet and Normal potato puree, grand veneur sauce.
Though they look very rare, these lamb rack slices have a juicy, succulent and tender texture which is absolutely delicious.
Supreme de volaille farcie de foie, peau croustinllante, sauce poulette – RM130
Chicken breast with foie and crunchy skin, poulette sauce.
Even chicken breast haters would love it as the meat was definitely not dry at all.
Magret de canard legerement fume puis roti, lentilles de puy etuvees, jus de canard – RM135
Roasted Smoked Duck Margret, lentils from Puy and duck sauce.
What is Duck Margret?
It is the juicy breast of a duck, and it cooks up much like a steak – which is why we most people name it the duck steak. It is sliced so thinly looking almost like beef!
Desserts
Le Souffle au votre choix – RM45
Chocolate soufflé
Eating soufflé should be like eating a cloud.
This dark chocolate soufflé has a delicious molten center and a light, springy exterior—pure chocolaty decadence from the inside out. This recipe of Chef Thierry yield a stable soufflé with a small bubble structure and an incredibly soft interior.
Tarte aux citrons meringue, glace aux citrons – RM36
Lemon tart with meringue and raspberry ice cream.
Comforting, zesty and light. The topping was crunchy above, fluffy and marshmallow-like 🙂
Such a pretty dessert.
Larme de poires, sorbet a la framboise – RM36
Pear and Praline Tear, with Raspberry sorbet.
A dessert full of flavour from pears, vanilla and praline.
Le moelleux au chocolat guanaja, glace a la pistache – RM36
Guanaja Chocolate Volcano, with pistachio ice cream
It was warm, soft and filled with chocolate when you dip your spoon in! Perfect pair with the pistachio ice cream.
Maison Francaise
5 Jalan Changkat Kia Peng
50450 Kuala Lumpur. Malaysia
Tel: +603 2144 1474
Monday to Sunday DAILY: 11.00am – 11.30pm (last order)
Facebook Page: https://www.facebook.com/maisonfrancaisekl