P.F Chang's is one known as one of America's favourite China Bistro, that serves American Chinese cuisine. Boasting that each dish on their menu is prepared using the freshest and highest quality ingredients, I have to agree with that. However when it comes to flavours, it could be pretty tough to impress me personally, particularly me being Chinese dining in an American Chinese restaurant though I would be expecting fusion flavours.
Upon entering the restaurant, we were welcomed with a comfortable warm lighting with hues of red from the lanterns that were adorned as one of their centerpieces. Also, the prominent horse statue that is standing mightily in front of the entrance was an eye-catching display that promoted the overall ambiance. A symbol of high spirit and liveliness in Chinese believes, P.F Chang's bagged it all, hosting a stylish and high-energy ambiance.
We were very pleased with their services in terms of staff friendliness and attentiveness. And most importantly, they know their kitchen and restaurant well enough from their ability of recommending dishes while promoting their best sellers to us.
P.F Chang's being an American restaurant serving Chinese food, I personally thought that they could work out on the overall settings. And again, no problem with ambiance but the table settings of majority with booths is not really being fancied Malaysia when it comes to Chinese restaurants. When it comes to incorporating Chinese elements into an American restaurant, the overall layout of how usually the Chinese dine should be considered as well. One very prominent example would be round table. I've only noticed one round table in this eatery so far.
Asian Pear Mojito – AED 22
A Cuban tradition with an Asian twist. The very first time I'm tasting fruit mojito and I loved it as it was refreshing and thirst quenching too.
Strawberry Limeade – AED 22
One of their seasonal and special item on the menu containing muddled strawberries and cucumbers with fresh lime juice. Another refreshing drink to order.
Chang's Chicken Lettuce Wraps – AED 44
A combination of chicken and other traditional ingredients in a wok. Served with fresh iceberg lettuce wrap. The minced chicken were flavoursome and are always best friends with iceberg lettuce that gave the crunchy texture, serving as the outer skin to this filling. An appetizing appetizer to kick start with, but it's a pretty normal dish. I would love it to be a spicy version though. Like adding bird's eye chili (Cili Padi) and anchovies into it for that extra crunch.
Chicken Dumplings – AED 32
Drizzled with chili mash, this order of dumplings came in pan fried version.
Fillings were well marinated but the outer skin was a little too thick to our liking.
Crab Wantons – AED 49
Each wanton was generously stuffed with crabmeat, peppers, onions and cream cheese. Served with spicy plum sauce.
The wanton skin was too thick and hard although they were crispy.
Nice plating and folding of the wantons rather than the usual money bag pattern.
Dynamite shrimp – AED 47
In a martini glass, we have very flavourful battered shrimp with an explosive spicy sauce. One of P.F Chang's must order, we notice this dish almost on every table! Indeed a true favourite.
Shrimps were really fresh, battered perfectly and coated evenly with the spicy sauce. The level of sauce's spiciness is also acceptable. It was still crispy despite being coated with sauce. Very clever idea to serve in a martini glass as it totally stands out.
Lemongrass Salmon – AED 81
Asian glazed salmon with lemongrass, ginger, red pepper and fresh herbs, served over fresh asparagus. Although we ordered medium, but it came in well done. And thus the dry overcooked texture. I absolutely love the taste of this fish but somehow it's still missing the lemongrass essence and flavours infusion.
Salt & Pepper Prawns – AED 83
Stir-fried prawns, wok tossed with blends on salt and pepper and also chili peppers. Served with a sweet mustard dipping sauce.
Flavours hit the right note. Not too empowering and can still taste the prawn's freshness.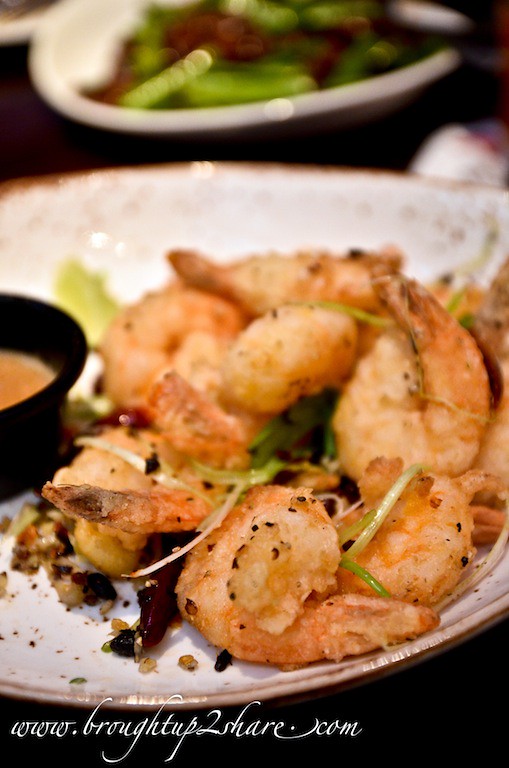 Lo Mein – AED 51
Classic Chinese egg noodles stir-fried with vegetables, beef, chicken and shrimp. I've heard a lot about Lo Mein from the States and thus I'm curious on the comparison of taste plus texture with our local stir-fry noodles. It was really tasty and the mixture of ingredients used was good. However, it lacks the Chinese "Wok Hei" which is translated as "wok thermal radiation" or "breath of the wok".
Cantonese Lemon Chicken – AED 57
Crispy fried chicken breast lightly seasoned then topped with a sesame broccoli salad and fresh lemon wheels. Drizzled with flavourful lemon sauce with hints of spiciness. Would preferably opt for chicken thigh, as it will be less dry and juicier to our palate, to balance the lemon's acidity.
Mongolian Beef – AED 71
According to the waitress, this dish is one of their guests favourite too. Preparaed with thin slices of caramelized beef in a very balanced sauce tossed with scallions. Not a usual Mongolian beef that we used to have back in Malaysia and this may give a wrong expectation and perception towards this dish. Mongolian beef are usually beef that is stir-fried with vegetables in a savoury brown sauce, usually made with hoisin sauce, soy sauce, and chili peppers.
However, I do enjoy this new flavours being introduced.
Banana Spring Rolls – AED39
Six pieces of bananas rolled in cinnamon and sugar, then wrapped in wanton skin and fried. Crispy and warm, served with a scoop of vanilla ice cream. I'm always a big fan of the match of cold and hot dessert together. Beautifully presented but it was also a generally common dessert.
Choco Buchi – AED 35
Traditinal rice dough, rolled with a choice of chocolate or Nutella center and a coating sesame seeds, fried till golden brown and drizzled with chocolate sauce. A daring approach of combining the Chinese sesame seeds ball with chocolate but I don't find it matching at all. The chewy texture from the rice dough is too contrast to the chocolate's velvety texture.
Great Wall of Chocolate – AED 59
Serves up to 4 people, this giant slab of cake is indeed generous. Made up of 6 layers, this chocolate cake has layers of chocolate and rich chocolate frosting encrusted with chocolate chips. Very densed, moist and packed with chocolate all the way. A great dessert to share but a serving of giant slab of cake being presented onto the table would rather scare one's dessert's appetite rather than impressing them. One would be very full and satiated from the appetizers and mains, and a smaller portion of this cake would do better.
Overall, food presentation was all A+, but giving an impression of serving Chinese infused meal, they should consider expanding their seafood selection, incorporate more modern Chinese desserts instead of just boring chocolate cakes.
I love the concept of P.F Chang's in terms of ambiance, flavours combination and services but I would only bring friends and family here perhaps only on special occasions if they were to anchor in Malaysia. Will not frequent this place as it is quite pricey and as a Chinese, we tend not to dine in higher end Chinese inspired restaurant when we can get these flavours at decent and lower priced eatery. Hmm… something for us to think about.
P.F. Chang's
Waterfall Promenade,
Lower Ground Level, Dubai Mall, Dubai
For Dubai's Full Itinerary, Click on the picture! 🙂