Being uncovered to the foreign civilization is an eye opener
Being introduced to far-off food is a discovery
I'm eager for more……..
Hoping to pioneer all scrumptious food around Scotland 🙂
However, too much of it made me under par.
Needed some antidote.
Yes, it's not a rumour,
RUMOURS is real.
The Malaysian restaurant around town.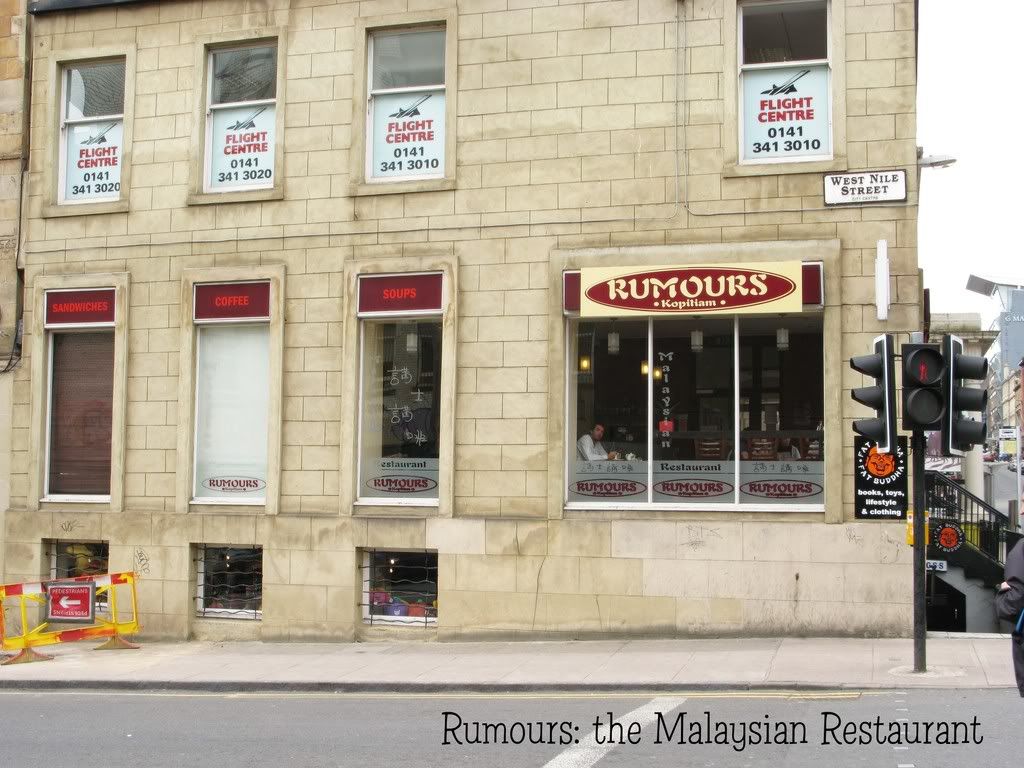 We headed straight to Rumours after our class test to get some breath of relieve and boost up our mood with some long missed local delicacies we get back home.
You can't really compare and rate 100% with what we had in Malaysia as it won't be the same, but we still find it good 🙂 Not as bad as I expected ;P Still have the it taste. At least I know where should I head to when I'm sick of the typical western food again ;P
Didn't manage to grab my camera along, and the below depictions are relied on my Z610i 🙂
Some of the dishes ordered from the Set Lunch Menu:
Available from 11am – 2 pm
Price: £6.50 inclusive of a starter, a main course and choice of either tea or coffee (dine in), £6.00 for take away.
Starters:
clockwise from left: Curry Parcels (curry puffs), Vegetable Spring Rolls, Roti Canai, Chicken Satay
Main Course:
clockwise from left: Nasi Lemak, Wat Tan Hor, Singapore Laksa
Think I should try some authentic Scottish restaurant next time…
Anyone know any cheap and nice place? 🙂
Can't believe my finals are scheduled next week! Exam marathon……..
Hope I can reach the finish line, feeling satisfied.
Rumours
21 Bath Street
Glasgow G2 1HT
Phone: + 44 (0) 141 353 0678
Business hour: 11am – 10.30pm