Yum Cha…
Define it.
A term in Chinese where we call it "drink tea", and it usually refers having a cuppa or two at night especially during supper. However most of the time, we ended up having supper during the yum cha session.
And this time…..
Yum Cha comes heavy….
Somewhat sumptuous.
Friends decided to get together after months of not meeting up and some even years for not seeing each other. After long thoughts of deciding our yum cha venue, Milwaukee crossed our mind. It's been years since we have meals around there and it's time for a revisit since they've renovated. Although I've heard the not-so-good remarks about this place and their food ever since they renovated but since they've upgraded their place with live music, we wanna go have a look for ourselves 🙂
Decided to head upstairs where the live band will be performing. Surprise, surprise!
The environment, the atmosphere…..
These were not what I expected actually from their interior downstairs.
Air-conditioned, sophisticated lightings and a different menu. *more expensive definitely if compared to the pricing downstairs*
Kinda relaxing.. and the food was not as bad as I thought they will be ;P Gorgeously presented.
Pleasant food, best friends and great music to enlighten you all the way throughout the yum cha reunion.
Yum cha: Of great density with the right degree of delicateness. In a good way:
Full Loaded Cordon Bleu with deep fried breaded chicken breast stuffed with cheese and turkey ham. That's heavy…. but spectacular. (RM20.90)
Hawaiian Chicken (RM19.90) was another portion of chicken cooked to perfection. Charboiled boneless drumstick with pineapple and cheese. Hmm… they even stuffed sausages in it ;P
Charboiled Juicy Chicken Slick (RM17.90) has tenderized and marinated boneless drumstick grilled with spices with an additional of the mushroom sauce.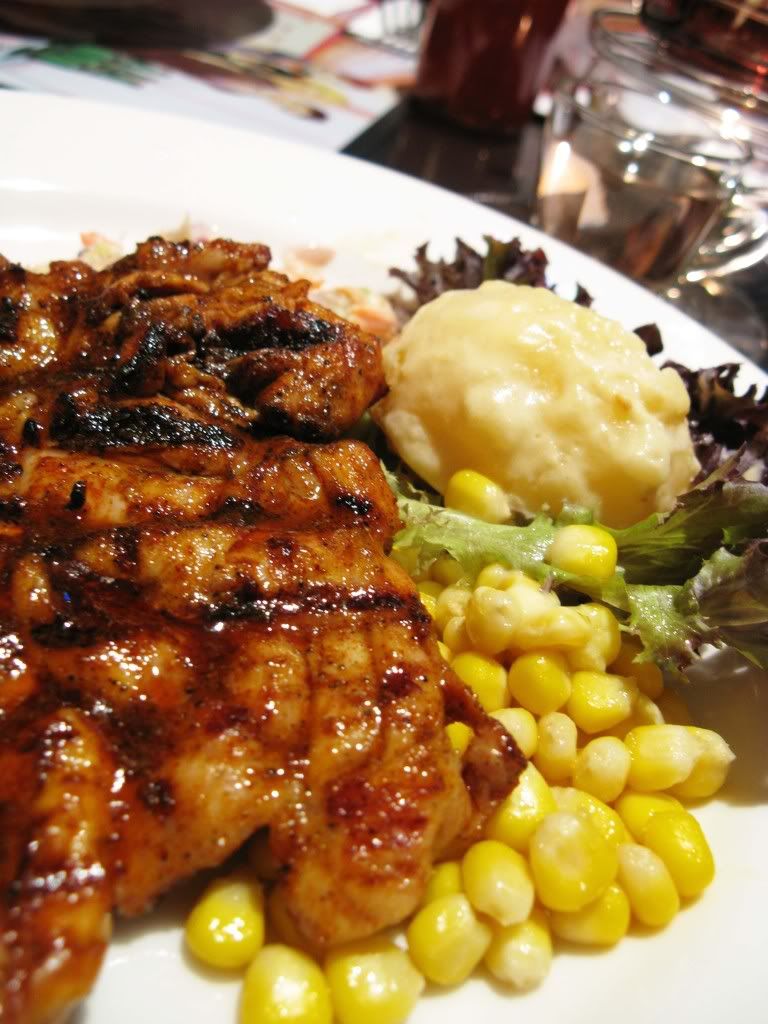 Another attraction of this restaurant was the Mushroom Soup served in a bread bowl (RM10.90). I wouldn't say it wasn't delicious but it's not the best I had ;P However, it's still worth trying out if you're mushroom soup fan like me, who will order any mushroom soup if you see one on the menu and try to make comparison from there….
Yum Cha: The Real Deal
Having thoughts of coming out for tea session initially, we wouldn't wanna miss having real tea.. ;P
Relaxing & Induse Sleep Tea (RM12.90) – refillable.
Yes. Lack of sleep these days. We need some boosters. Decent, with strong aroma and sweet, you'll find it taste better from the second cup of it. I think i slept better that night itself. haha.
Milwaukee Steak Corner
No.13, Jalan Kasturi 1
Plaza Kasturi,
Off Jalan Balakong,
43200 Cheras, Balakong
Tel: 03-90764522