It's finally all over! I yelled.
A tight confrontation with the exam papers I had.
Obviously, they don't respond to me.
Deliberating with the silent 'tough & tricky' questions is definitely no fun at all.
What's the answer ah?, spoke my heart.
Darn. I'm self-conversing yet again.
I think I'm nuts.
Whatever, reuniting with my temporarily unattended food blog was a happy turnover. Meanwhile while relaxing up my nerves before the results are out, let's start to chow down again!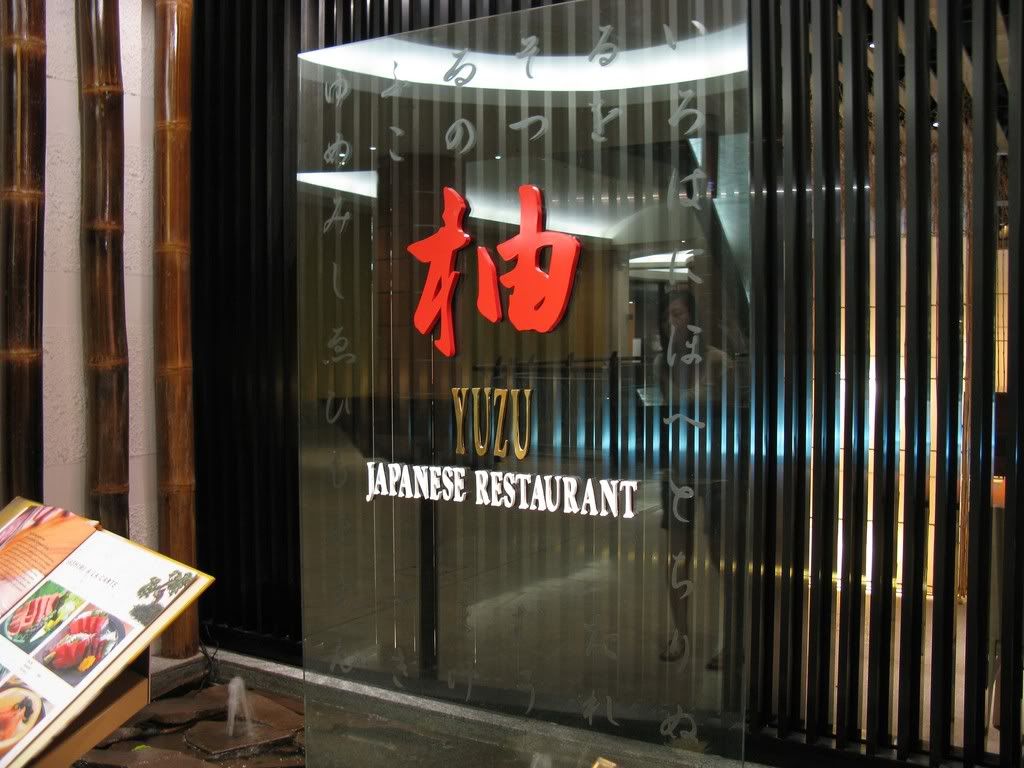 It was another girls outing with AiWei & Yen before Yen left for Australia. Going for Japanese again? Yeap. We're just not tired of it. AT ALL.
Yuzu was the venue to be. Having heard of good quality of foods they serve, this place is no doubt worth checking out!
Quality assurance:
Exterior – checked
Interior – checked
Service – checked
Food – checked, checked.. and checked!
A contemporary ambiance that alternates between sophisticated, classy and adoring, the mirrors on the wall did gave an extended look to it. Ventilation was good… as it was seriously cold, *they should work on this*, but the service was excellent. Friendly staffs welcomed us responsively and good recommendations is what you'll get.
We decided to go for their set meal since we're spoilt with the many choices they had. Affordable and big portioned!
Katsu Nabe Taki Komu Gohan Set カツ鍋炊きこみご飯御膳 RM25
A serving of braised deep fried chicken cutlet and braised rice served with egg custard, 2 small appetizers, pickles, salad and fruits. Sounded appetizing eh? Bet you'll love it if you were to order this too. The chicken meat was tenderly cooked over a hot stove, very tasty from the boost of its gravy, and with onion slices and eggs… verdict? Double thumbs up 🙂
In addition to these, rice were served in a pretty pot and it was aromatic! Just perfectly married to the serving of chicken.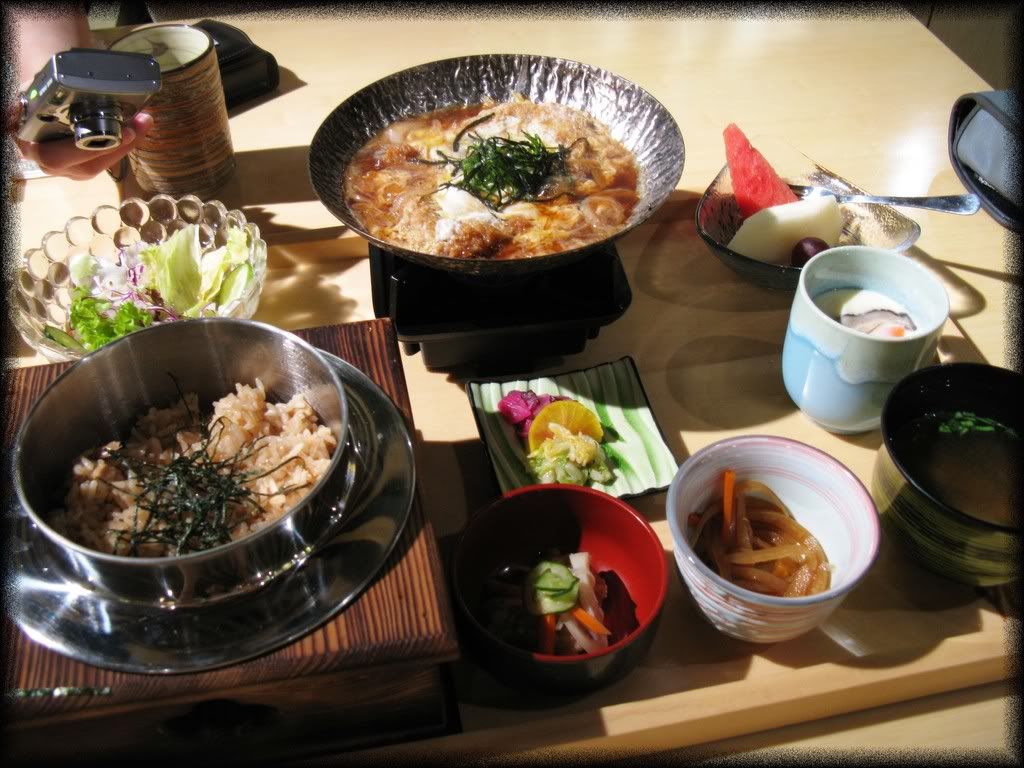 Unagi Maki Sushi & Kaminabe set 鰻巻き寿司&紙鍋セット RM35
Rolled Japanese eel sushi and glass noodles with vegetables and soup in paper pot served with egg custard, 2 small appetizers, pickles, salad and fruits was also flawlessly presented to us. The Unagi Maki was another splendid offer. The sauce coating the grilled eel generated the appetite uplifting factor and our tummy was also all warmed up, special thanks to the piping hot soup (kaminabe). Other than that, the side dishes like the salads and other appetizers were good starters before we dig into our meal ;P
and for the glass noodles…. ada ke? Ok. I didn't really pay attention, many a just a few strands! ;P
Egg custard was silky smooth
Sushi & Tempura Gozen寿司天婦羅御膳 RM38
There were assorted sushis and tempura served with egg custard, tea pot soup, 2 small appetizers, pickles, salad and fruits. Looking at the spread of different types of sushis overlaying before us made us happy already ;P We just can't wait to grab a bite out of it. Another interesting preparation was the tea pot soup. Tasted like the soup in the paper pot, the essence of mushrooms and enoki mushrooms went bursting out with the right flavour 🙂
There were also assorted tempura!
There were definitely lotsa food for just the 3 of us ;P
We can't disappoint our appetite, can we?
So satiated, so satisfied…
Have you tried? ;P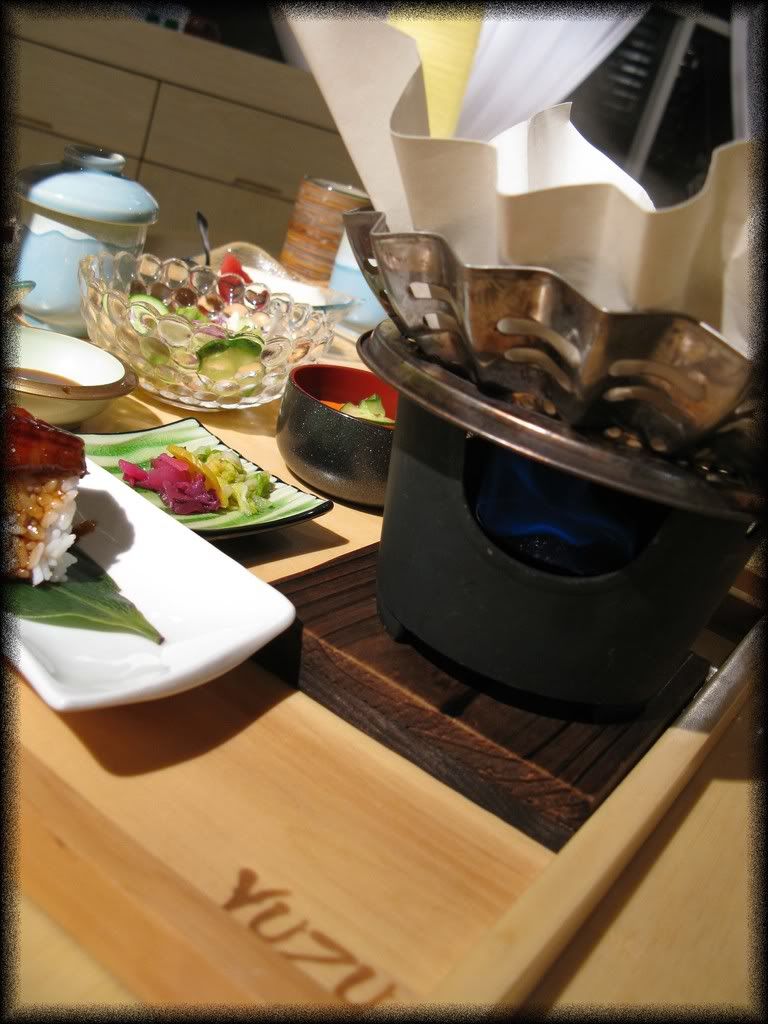 ~Halal~
Yuzu
T 236, 3rd Floor,
The Gardes,
Mid Valley City,
Lingkaran Syed Putra,
59200 Kuala Lumpur.
Tel: 603-22847663
Blogs reviewed: