Chinese New Year is drawing near and I'm pretty confident that most of you are busy shopping for CNY goodies and new clothes! My festive mood just started a day ago and thanks to the tests and report, my jovial frame of mind of celebrating the new year arrived late this year. Fortunately, I still have the time for some last minute retail therapy to help regain myself ;P
What do you think of when we mentioned Chinese New Year?
Well, besides family gatherings *love this*, house hopping *pai neen* and collecting ang paos *orare you giving them out?*, we just can't miss the FOOD! Many restaurants had came out with lotsa set meals offering 'yee sang' and other dishes with multiple prosperous names.
Family or friends gathering at the round table, enjoying the food while hoping for stokes of luck in a brand new year!
Ever considered this place? Please do so!
This dinner session was organized by BBO quite sometime ago, and felt that this is the appropriate time to do my review now… in conjunction with this prosperous festive season!
Let's Feast at Mei Chi Xuan!

Looking forward to some majestic treats? Then try their Double Happiness "Seong Hei Lum Mun" that featured the Lobster Sashimi! Priced at RM13 per 100g, the raw lobster meat was cooked to perfection in the Superior Soup prepared earlier. What's so super about the soup? Well, the soup base was actually double boiled for 2 days! Addition of ingredients such as lou gai 老鸡, lean pork 瘦肉, chicken feet 鸡脚, kam wah fo tui 金华火腿 (ham?). According to Chef Steven, the kam wah fo tui 金华火腿 was used to generate the salty flavour while the chicken feet 鸡脚 was to engender some degree of thickness to the broth.
It was really a preparation worth more than a million praise due to the impressive presentation, fresh translucent sashimi lobster served in a bed of ice and yummy broth (sweet and I bet you can finish drinking them all up)!! Please be reminded that if you were to order this dish, please call up to make reservations before hand.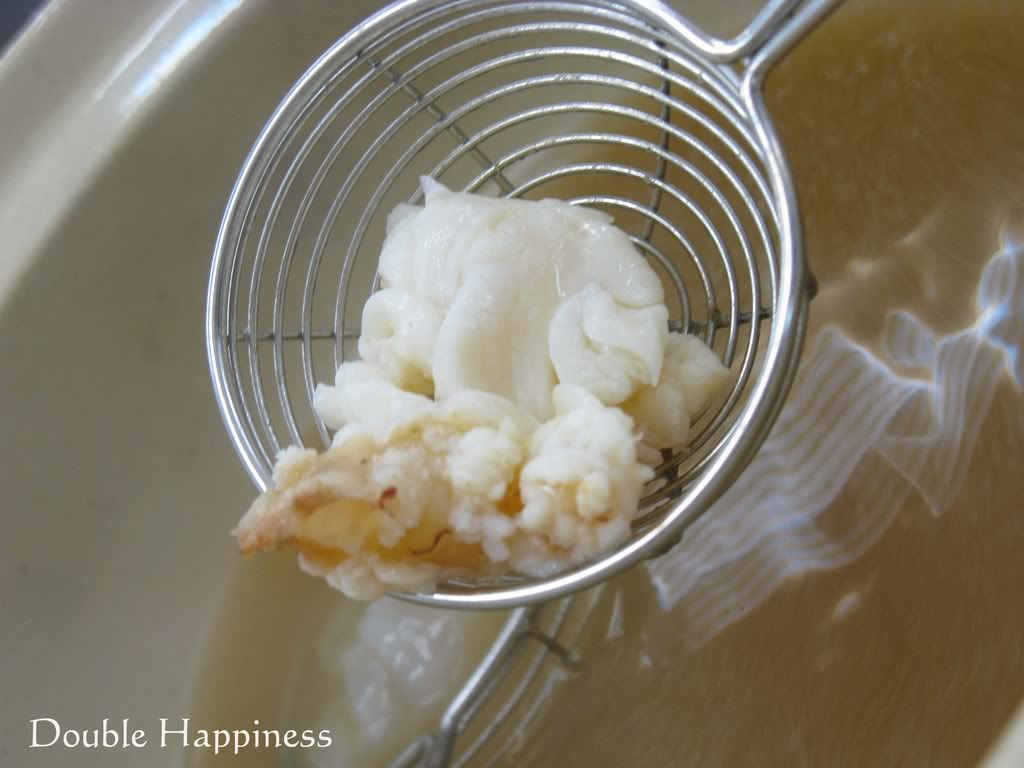 Later in the meal and between some dishes, the Lobster Noodles was served ala braised style with yee mee. It was done with the remaining edible parts of the lobsters. The yee mee and the fresh lobsters just harmonized perfectly and this our favourite! Just can't get enough if it as the distinctive taste generated is still burying in my thoughts. Very appetizing.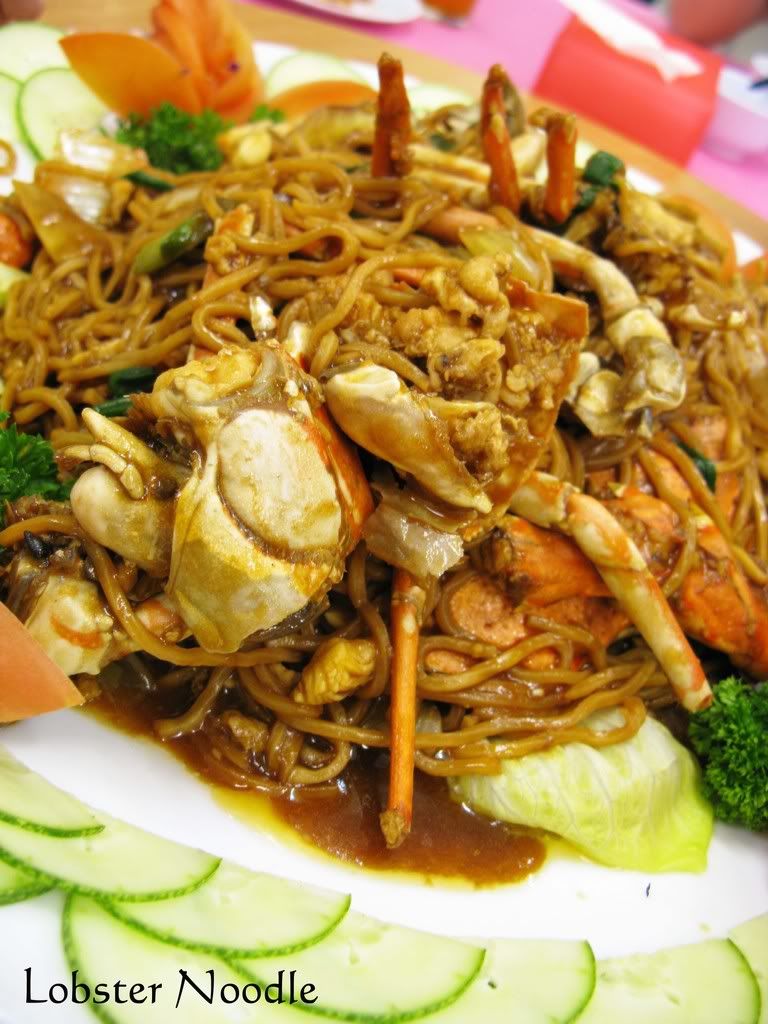 The Eight Treasured Duck is another appealing dish. Fitting ingredients which was made up of chestnuts, chinese mushrooms, button mushrooms, carrots, chinese sausages (lap cheong), lotus seeds, ginkgo and wood fungus, a quick and neatly skilful cut of the outer skin leads to overflowing fragrant ingredients to be enjoyed. According to Chef Steven again, this serving took about 2 hours to be prepared as it had to be marinated earlier and braised later with the ingredients. This is priced at RM80.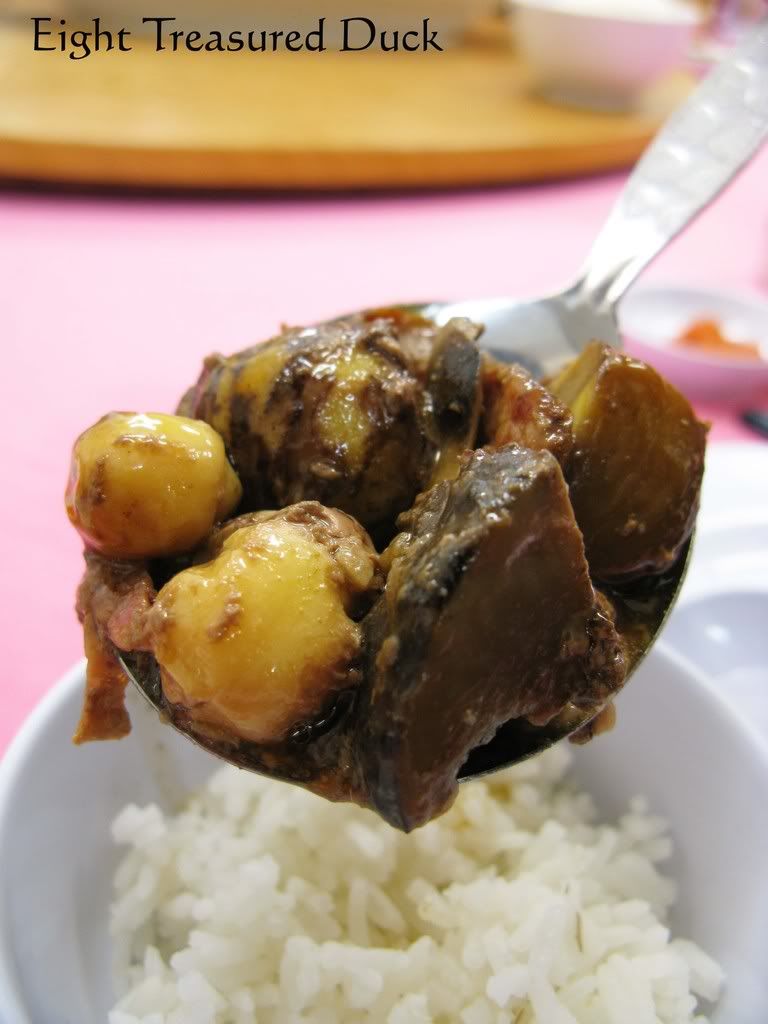 best eaten with our staple food!
Dried Oyster with Stuffing a.k.a the Hou See Fatt Choy is a preparation that meets the measure of this festivity coming up! A mouthful sized stuffings of fish paste embedded with black moss (fatt choy) bounded to the dried oyster was a true heavenly dish. Smoothing out with the moderately thick flavoursome sauce was another kicking factor! Priced at RM50.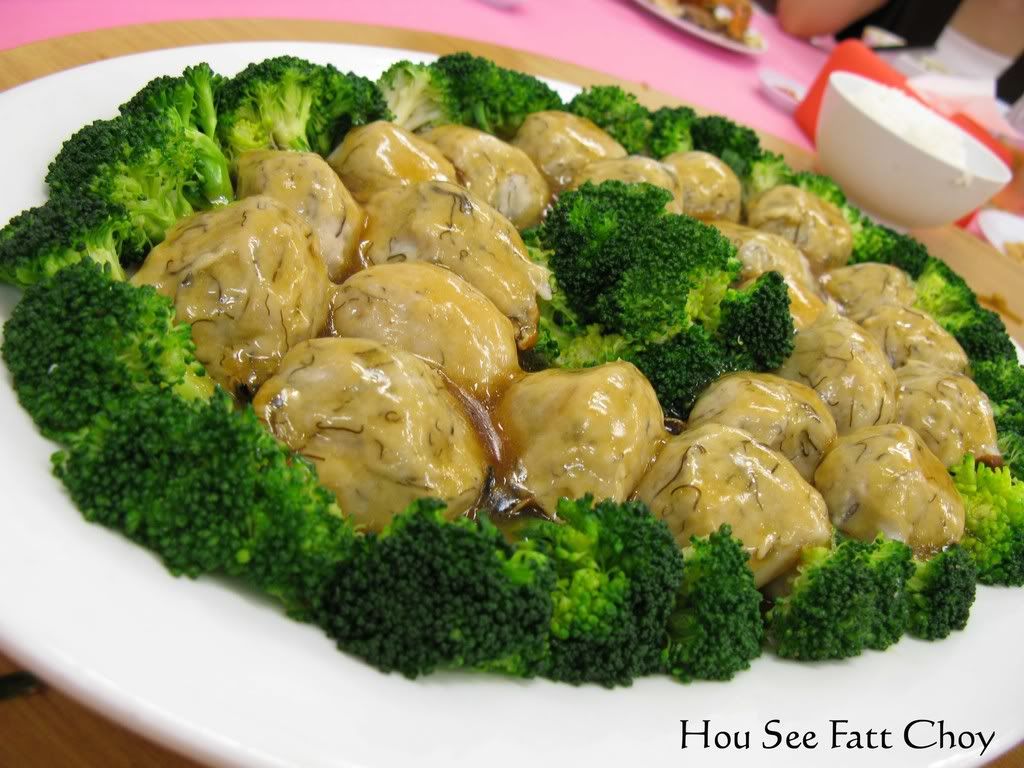 Another sweetheart for the night was the Golden Pumpkin with Tofu (Wong Gam Moon Ngok 黄金满府) priced at RM20. Soft pumpkin slices sandwiched between soft, silky homemade tofu by Chef Steven was more than enough to made me fell for it. Noticed the greenish concentrated gravy pouring over this serving? It was prepared using the blended golden pumpkin! No colouring added to this dish, no worries! 🙂
Another dish catered for CNY, a must order.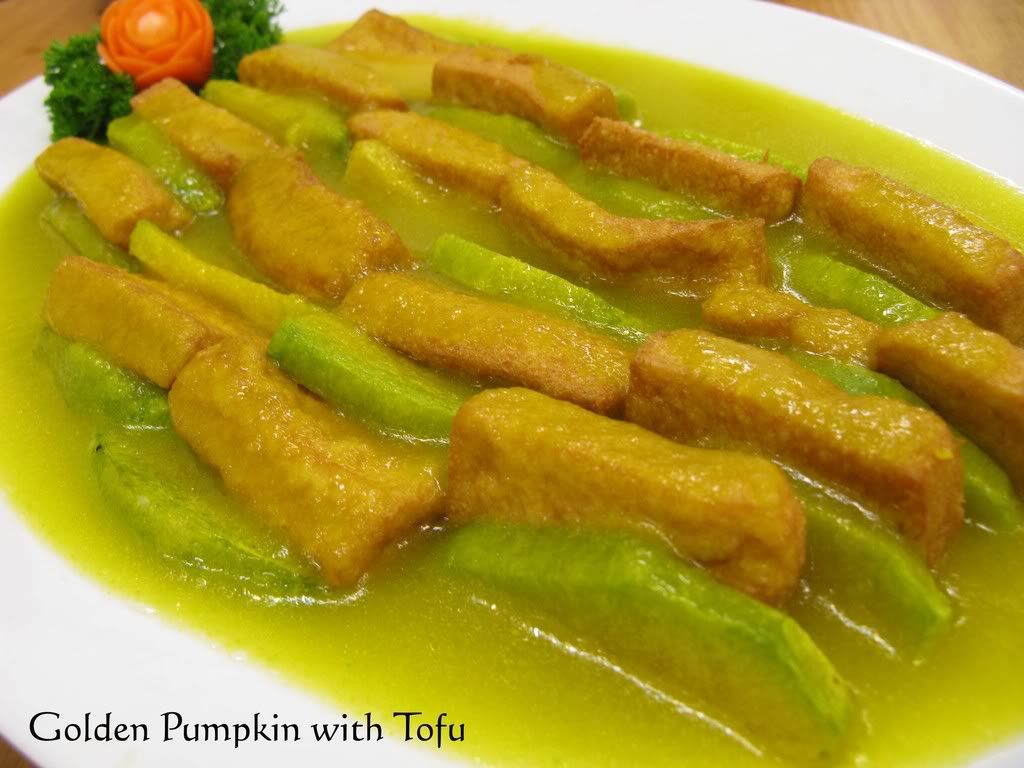 Boneless Fish with Meat Paste priced at RM18 was not something new that Chris and I have tried. Though so, we find that it was a yummier version of what we had before. The X factor? I must admit that it's the sauce; a combination of barbecue and tomato sauce gave the boost 🙂
And not to forget the skilful de-boning technique for the stuffing of fish plus pork with seasonings!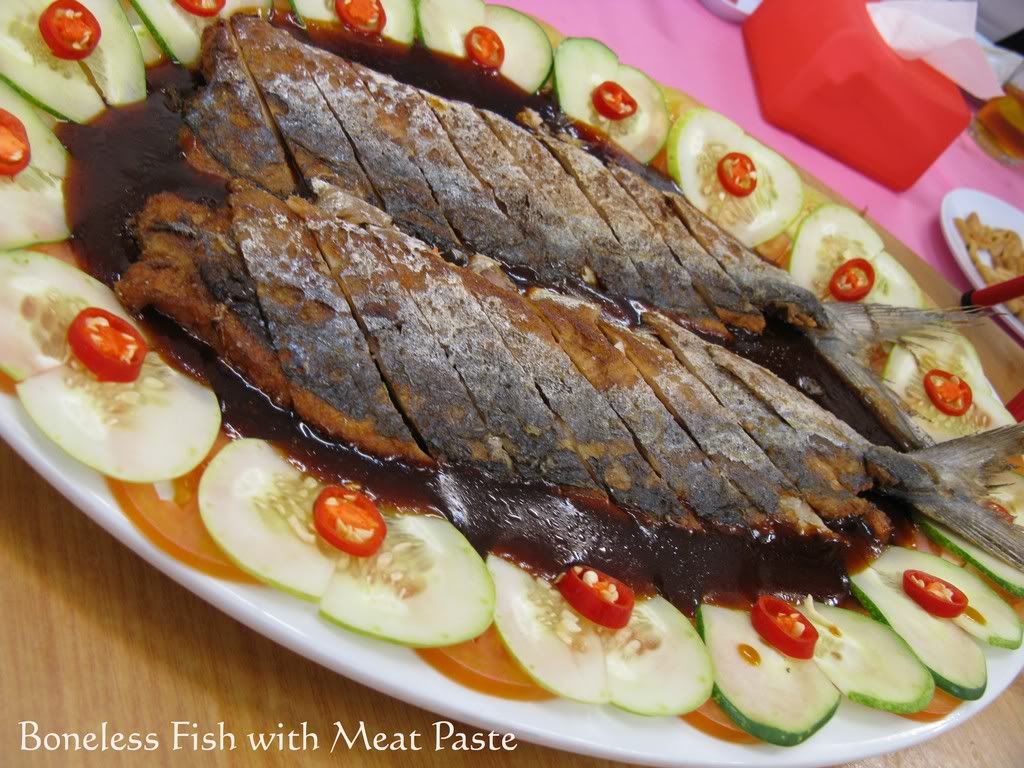 Next up was the Deep Fried Fish Baits (Pak Fan Yu) ala salt and pepper style priced at RM20. Crunchy fishes but we find it kinda bland.. Maybe it's due to the Boneless Fish with the heavily tasted gravy previously. Overpowered this dish..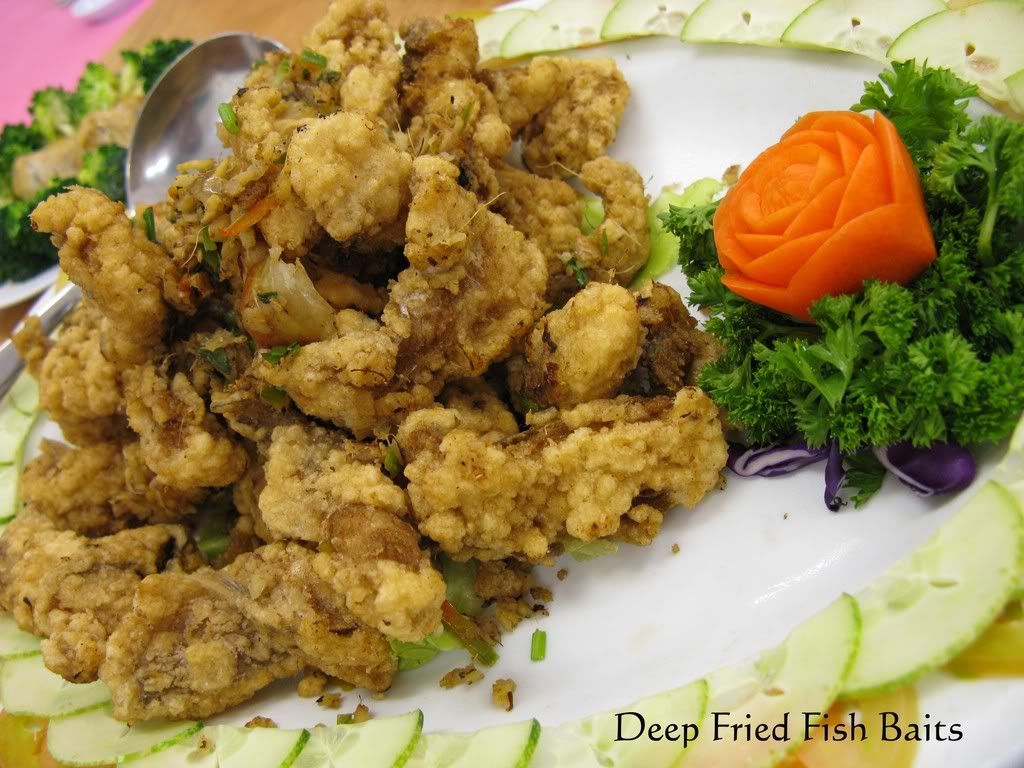 The last main dish for the night was the Fried Potato with XO Sauce. Only had a spoonful of it as I'm just too full to fill myself any further with mains… Have to leave some space for desserts.. 🙂
Aromatic and intersting, we thought… Never had a serving of potatoes sliced this way. Priced at RM15.
We're saving rooms for desserts! Coffee Agar-agar with Kiwi Seeds was something new. Only had one piece as I'm not really into coffee like I did last time… ;P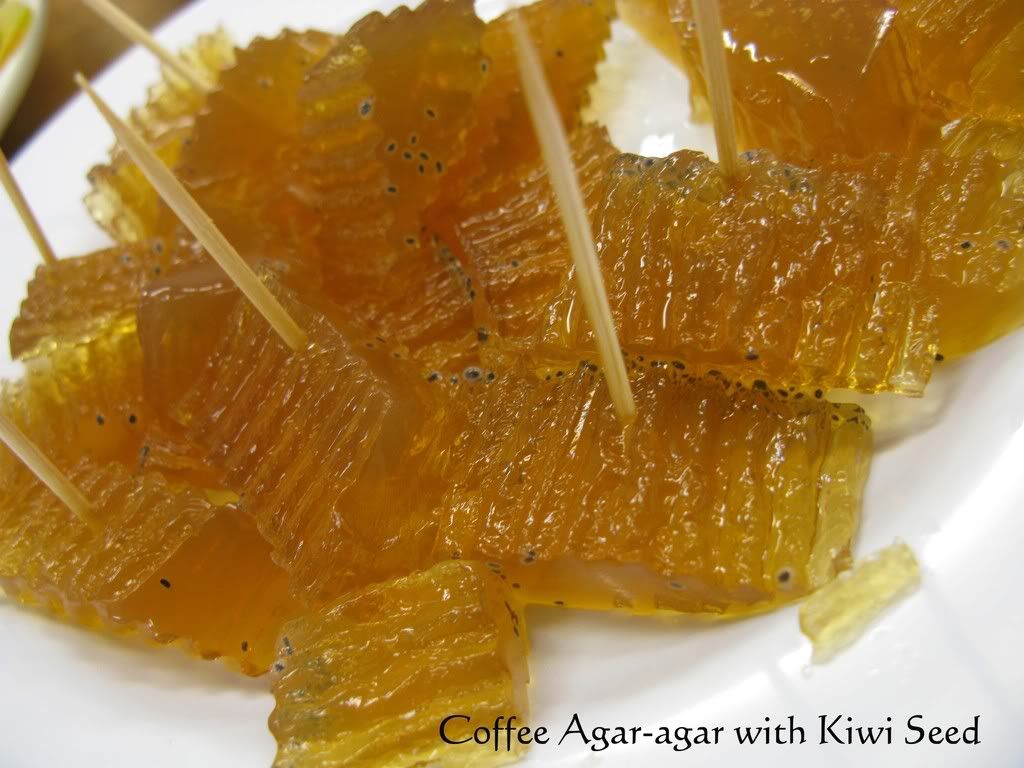 It's always hard to put an end towards something good… However, Sunny made that night's ending a sweet and lip-smacking one. He made us the Lychee & Chestnut Light CheeseCake. From the it's outer shell, you can already tell… Amazingly soft, fluff light cheesecake with lychee scent and chestnut creams circling round. Wanna order these? Click HERE. You'll never say no 🙂

Another surprise for me!! How thoughtful of the dear flogger friends to sing me a birthday song! 🙂
One… of the many cheesecakes…..
the one with candle was for me! *giggle*

Chef Steven was really friendly and it was very nice of him to share his experience on the culinary skills he have with us. Even taught us how to make our own tofu! His dedication and devotion towards this field is a contribution to us all, don't you think? *helped us ignite our palate and filled us to the fullest!* Thanks to Big Boys Oven again for organizing this and thanks to Chef Steven for all the lovely dishes 🙂
A gentle reminder: Dried Oyster with Stuffing a.k.a the Hou See Fatt Choy and the Golden Pumpkin with Tofu will be available during CNY and even starting from now! 🙂
Don't feel reluctant to order yea!

Click for enlarged map


~Non-Halal~
Mei Chi Xuan 美食轩海鲜饭店
No. 32A1, Jalan 5/10,
PJU 5 Dataran Sunway,
Kota Damansara,
47810 Petaling Jaya, Selangor.
Tel: 03-61416122
H/P: 016-2783089 (Steven)
Blogs reviewed: