Piccolo
– a half-size flute, and a member of the woodwind family of musical instruments.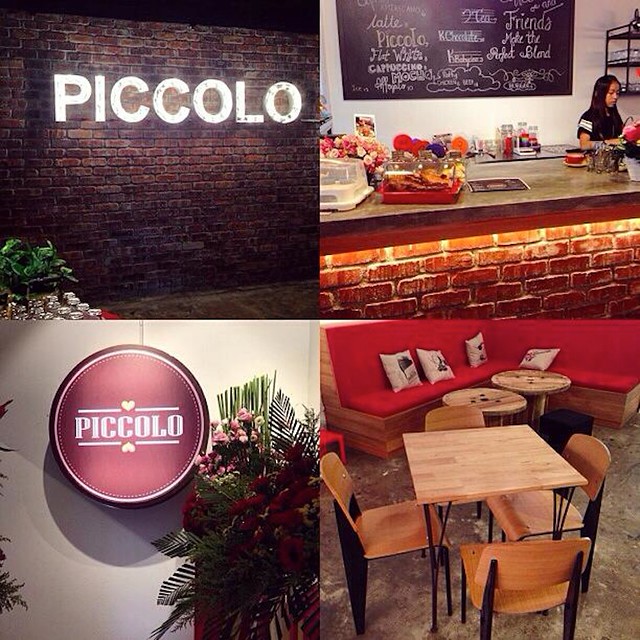 That explains the deco in the quaint cafe located at the new shoplots of Taman Equine and this would be the very first coffee house in this new area. With a grand piano, drum set and some musical instrument that sets the place artistically, brick walls, unfinished floorings uplifted the vintage ambiance of the cafe that is located on the first floor.
I refrained from coffee totally when I was pregnant with Mini C. So it's like a coffee prison break now. LOL.
Coffee at Piccolo is decent. Love their house blend. But can work more on the coffee art we personally felt. Well, not all are bothered with the latte art but I do as I usually order coffee with milk. Haha. Nonetheless, their coffee is great 🙂
Flat White – RM8
My usual order of flat white never fail me. Still, have to go easy on caffeine as I'm moo-ing my baby 🙂
Piccolo – RM7
Their signature. Latte-like, this is more concentrated with more espresso. Chris love this 🙂
All day Breakfast – RM16
Their breakfast is colourfully presented with mixtures of greens, sausage, ham, mushrooms, scrambled eggs baked beans, hash brown & charcoal bread.
Bagel – RM9
Fluffy ring shaped formed from wheat dough encasing our all time favourite: Nutella & Bananas 🙂
Simple servings like these are easy to make at home you might say. But we still love to order it. Haha.
Finally can get good coffee near our workplace! 🙂
Piccolo
15-1, Jalan Equine 1C,
Taman Equine,
43300 Seri Kembangan
Business Hour from 10am-10pm daily
FB Page: https://www.facebook.com/piccolo.equine