 Name: C ♥ C
Posts by C ♥ C:
September 29th, 2014

Time for another Bridal Shower this year on the month of September!
For the past 2 consecutive years, I've been a part of 2 bridal showers already! One organized by my beloved bridesmaid for myself, and another for Citygal last year! Yes. Both on September too
It's definitely fun, joyous and honourable to throw our BFF, the bride-to-be, a gift-giving party in anticipation of her wedding.

Organizing a bridal shower could be a challenge when you do not know where to start. But lucky me, I've Ivy who has been such a great partner in tea-parties-organizing. Great minds think alike! LOL!
So , let the pictures do the talking shall we?

The One, Two, Threes of the recent Bridal Shower that might be a little help to boost your idea if you're organizing one for your BFF too!

#1 Theme: Yen in Wonderland
We love themed parties! And with themes, it would definitely be easier to plan a party. Colours, props and other arrangements. And it would be great if the theme matches the bride's personality too.
Since our BFF Yen, is a spontaneous, cheerful & outgoing person, we decided to go for a colourful theme with pink being the core colour and the incorporation of "Alice in Wonderland" sort of settings. For example incorporating the touch of Mad Hatter's Tea Party. And instead of wearing hats, the girls have to wear a bow/ ribbon on their hair. Girls in white/ beige while we made the bride-to-be wore bright pink!

#2 Project Insta!
About 1 week before the shower took place, we would hashtag a pic that reads #yensteaparty on Instagram to create some sneak peek for the Bride-to-be. Oh! I've always love creating new ######!

#3 Venue: Le Moon's Eatery. Bakery. Zakka @ Jade Hills, Kajang
After a few enquiry on various places for the tea party, we settled for Le Moon's Eatery. Bakery. Zakka. A decent and cute looking cafe that's nestled in the Jade Hills neighbourhood in Kajang. For more detailed review of the place, you could read our review HERE & HERE.

Why Le Moon?

They have ample space for party planning. Since there was only 10 of us, we occupied the 1st floor of the eatery. If you're planning a bigger party like birthdays, weddings etc, you could utilise the top floor.
Discussions on how we want our party to be would be conducted prior to that
Comfy & beautiful table setting – small flower arrangements and heart-folded serviette on the table
Perfect ambiance for our theme
Friendly & efficient staffs
Delicious food of course!

The tea party food spread are recommended by the chef and you could choose what you would like to have on your menu or don't. Very personalized

Here's what we had for RM50++ per pax! (Drinks not included)
A mixture of savouries & sweets!

Mini Chicken Burger, Fire Cracker, Smoked Salmon Sandwich, Wild mushroom, garlic and thyme tartlet with goats cheese
Raisin Danish, Scone with whipping cream and fruity jams, Fruit Parfait, Bread & Butter Pudding
Mini Cupcakes, Mini New York Cheese Cake, Valrona Chocolate Cake

I think we went a little greedy with the food and we can't finish them all and had to take-away! LOL. So be warned! Although written as mini, the portion was huge! Overall, the hi tea spread was good! Not just good looking, but tasted beautiful too. And they were value for money

Mini Chicken Burger + Wild mushroom, garlic and thyme tartlet with goats cheese


#4 Handmade Settings!
We love handmade stuffs and love making them! From banners, props & other cute signage, we got it!
Well, balloons are not handmade though. Hehe. Balloons are one of the best props! Pink & White for the day!

Putting on food tags

The deco table!

Custom animated drawing of the bride & groom by Simply Card

Name tags for every girls! Since it's a wonderland theme, we made Rabbit a main character and thus, all bunnies related! That's the cotton wool as their fluffy tails.

Peter Rabbit & his Rabbit hole!

#5 Photobooth Props
Downloaded printables with the tea party theme

#6 Crown & Sash, and Table stand for the "Bride-To-Be"

#7 Handmade Scrapbook with Special Messages for the "Bride-to-Be"

Girls with thoughtful messages

#8 Crowning Session
As soon as the bride-to-be arrives, make sure you crown her! Make her the queen!

#9 Bridal Shower Games
Play simple games! For us, we did the "How Well do you Know your Hubby" game
It was really hilarious watching her think and answer so happily and at the same time making us all laughed till we drop! LOL.

#10 Bridal Gift
At the end of the session, gift presentation! Be sure to get something really useful for her upcoming wedding. Hehe.

#11 Photo Sessions
Can't leave without pictures sessions! Group photos, "selfies", "group-fies", "wefies"! And also Instax!

Pretty Bride-to-Be YEN!

My BFF. My great partner. Love planning parties with her!
Photos courtesy of Ivy too! (www.ivyaiwei.com)

*Pork-Free*
Le Moon's Eatery Bakery Zakka
18-G, Persiaran Jade Hills Utama 1/1,
Kajang

Business hours:
Tuesday-Thursday
8am to 11:30am -Breakfast
11:45 to 3:45pm -Lunch
4pm-9:30 pm – Light Dinner & Coffee (Last call 9pm)

Friday – Sunday
8am to 11:30am -Breakfast
11:45 to 3:45pm -Lunch
4pm-6pm – Light Dinner
6pm-10.00pm – Hearty Dinner (Last Call 9:30pm)

Prebook with them through +6010 289 9585, or +6016-441 2127
You can also contact them for more info on private party & function !

FB page: https://www.facebook.com/lemoons.eatery

September 27th, 2014

Are you craving for a bowl of excellent Ngiu Chap (mixed beef parts)?
When saying so, this if very often related to the famous Ngiu Chap stall in Sabah. Namely Kah Hiong Ngiu Chap 家乡牛什, they are very specialized in preparing your favourite serving of beef parts. Be it the sliced meat, tripe, tendon, intestine or other entrails, you could easily find it here to fix your crave. Slurp!

Learning that Kah Hiong Ngiu Chap has finally set its foot here in Klang Valley, opening their new branch at Bandar Puteri Puchong, we decided to finally pay this restaurant that is located somewhere near the Puteri Mart a visit. We've not had the Sabah version, so its our virgin try on Kah Hiong
As usual, finding a parking spot at Bandar Puteri especially during lunch hour could be a pain here.
Comparing to their Sabah outlet, Kah Hiong in Puchong has a better environment; air-conditioned and comfortable seats arrangement. Also, a more expensive price you have to pay of course.

Our order was promptly served and I must say that
smooth-tasting beef broth, although the piece of radish that came with it was soft enough.

Ngiu Chap Soup Noodle – RM13.90
Their signature that came with beef tripes, beef stew, beef slices & beef balls. A generous serving and the quality of the beef noodles is pretty decent. Tasty & smooth-tasting beef broth with slices of soft radish that came together. The beef were soft too.

Beef Ball Noodle – RM13.90
For patrons who are not comfortable or not a big fan of organs, beef balls noodles would be a great order. Their beef balls are dense & spongy Love the broth too.

Also remember their signature super hot chilli paste. Dipping your beef into it would definitely add in extra kick to your palate. But do be careful not to overdo it. They are also selling their own chilli sauce if you love to bring them home. Somehow strong chilli goes very well with Ngiu Chap.
While some Sabahans might complain about the price difference between their hometown and Puchong, somehow when the craving drops by, we just can't resist, can we?

*PORK-FREE*
Kah Hiong Ngiu Chap 家乡牛什
No.11 & 13, Jalan Puteri 4/8, Bandar Puteri
47100 Puchong New Village,
Selangor, Malaysia.
Business Hours:
Mon – Thurs: 10am – 9pm
Fri – Sun: 9am – 10pm
Phone: +603 8066 9829

September 22nd, 2014

Ever since Miam Miam open its doors in Penang last year, it has created quite a rave among foodies. And good news doubled when they decided to branch down to Klang Valley, right here at 1 Utama Shopping Centre. Patrons has flocked to the place to check out their legendary treats like French toast, soufflé, signature pastas, and many more.

I like the name Miam Miam

It means "Yummy" in French. Miam Miam is a place that combines refined Japanese aesthetics with the rich flavours of the French culinary tradition to produce a unique fusion that accentuates the best of both excellent culinary traditions. It has a casual setting of French Japanese Artisanal Cafe, enriched with a a French-Japanese menu that has managed to draw a huge crowd; be it families, working people or youngsters especially.

We've heard that the queues are crazy on weekends and there were complaints about their services being bad too during those peak days. Nevertheless, we decided to drop by on a weekday for late lunch.
Despite it being a late lunch hour already, they still have promising crowd. But lucky enough, we do not need to line up and their service was prompt too

Hand dripped Coffee – RM8
As usual, Chris will order his daily dose of caffeine. Checking out their recommended hand dripped coffee, he loved his order of black beauty as has that bold but light bodied coffee.

Miam Miam Spaghetti – RM26.80
While scrutinising at the menu, I have wondered why so many people tend to order the Miam Miam Spaghetti, which is one of their signature as it looks absolutely normal to us. Plus, they lack the pork bacon which can be found at Gurney Paragon.
Nonetheless, we still ordered it out of curiosity. Indeed, it's very well prepared. Al-dente spaghetti well tossed & infused with flavours of french butter, their secret broth & shoyu. Sautéed with frankfurters, tomatoes, baby spinach & turkey ham, it was also topped with a beautiful onsen tamago (soft boiled egg). Mixing the egg with other ingredients created a smoother texture & a whole new characteristic.

Black Rice & Omu Egg – RM28.80
Squid ink rice with assorted seafood, topped with the Omu egg that is moist, smooth & fluffy. Love the colour combination of this dish which is very contrast. The rice was cooked with the right flavour and the amount of seafood served was pretty generous too. Must try

Famous French Toast – RM16.80
In the menu, it reads, "An absolute must-have. Don't ask just order!"
One of their star dish that draws the crowd and almost every table has this french toast on it. And it's one of the reason we were there too. So legendary. Haha.
Learning that it will be served with maple syrup & whipped cream, we asked for ice cream cream instead. As we would like to try something hot & cold at the same time. It will be like having the Shibuya Honey Toast! (although we've not tried this in Bangkok…).
And Miam Miam's thickly sliced French toast was good! Unlike ordinary french toast, their bread is freshly made in thicker, denser form, dipped in egg mixture & slowly pan fried. Drizzle these high-piled toast with some maple syrup and pair it with ice cream. We loved it. Extremely hearty: buttery, fluffy light with a hint of sweetness! What an expensive serving of french toast you might say, but no one complains after having it. Haha.
NOTE: Additional RM2.20 will be charge for ice cream

We love Miam Miam. But only on weekdays. Do you?

*HALAL*
Miam Miam
Lot 146, G Floor,
1 Utama Shopping Centre
48200 Petaling Jaya, Malaysia

September 16th, 2014

**All pictures below taken with iPhone 5

Tokyo's top ramen specialist arrives in Kuala Lumpur earlier this year! With over 60 outlets across Japan, this Tokyo-based Bankara Ramen, a noodle chain, has taken its international expansion into our city centre finally.
Bankara is famous for its "Impact Taste" philosophy was developed over 15 years by Kusano-san in Japan.
They offer 4 distinct style of ramen, each with its own distinct broth and noodle: Bankara Ramen from Tokyo, Hakata-style Tonkotsu ramen, Saporo-style miso ramen and Tsukemen.
This is definitely something great for the patrons to explore as they are not just stuck with choices of only Hokkaido or Hakata styles ramen. We are able to savour the more expressions of each type of ramen with each delivering a different multilayered taste experience.

Experimenting with the garlic press tool. Do add some into your bowl of ramen & it will change its broth's character for sure!

Bankara Ramen is their signature ramen. Special pork bone broth infused specially with refined shoyu, served with medium thickness Tokyo style noodles. Lightly salted with a hint of sweetness, this ramen is best served with their signature braised pork belly. However, I was recommended by their attentive staff to order Assari Bankara instead of the original or the kakuni version as I was told it will be less oily compared to those 2.
Very thoughtful of her as she noticed that I'm pregnant and better not to take too much oil. Kudos to their team.

Bankara Original – RM21
Medium sized noodle served with Chashu, bamboo shoots, dried seaweeds & Japanese onions
It was mildly sweet & fatty-tasting though and flavoursome. Great for patrons who want a more luxurious texture. The downside might be it's fatty-taste as we find the broth kinda oily actually. Noodles texture and taste wise was alright.

Assari Bankara – RM21
Similar to Bankara Original but served in lighter soup base. Like what I had, this version is less oily compared to the original version. I personally loved it

Kakuni Bankara – RM30
Bankara Original topped with their signature kakuni (braised pork belly). The braised pork belly was soft and delicious but then again, the oily portion could be one sinful order. Haha. Some people might not like it. Like my mom. LOL.

And as for their Hakata-style Tonkotsu ramen, they employed a slow boil technique to create a milky & rich in flavour pork bone soup. Smoothness of the soup is the defining character that one could find.

Tonkotsu Chashu – RM28
Thin noodle in milky pork bone soup served with 4 pieces of chashu, jew's ear mushroom, spring onion & seaweed. Very different from that sharp taste of Bakara's signature, their Tonkotsu is lighter and creamier.

Goma Ice Cream – RM6
I just gotta fulfil my cravings for this scoop of black sesame ice cream which is filled with sesame seeds in every spoonful!

Will be checking out their Saporo-style miso ramen and Tsukemen next!

*NON-HALAL*
Bankara Ramen Malaysia
Lot 2-7, Level 2,
Avenue K, 156, Jalan Ampang, Kuala Lumpur
Tel: +603-2181 8618
Opening hours: Mon – Sun: 11am – 10pm

September 10th, 2014

It's has been quite a while since we explored any new coffee house around town as I'm sorta "decaffeinated" for the moment. LOL.
However the cue in the coffee zombie chanting "Need coffee now" was too strong to handle. Yes, it's Chris by the way
And learning that the busy neighbourhood of Sri Petaling rolls out the caffeinated carpet just last month, exclaiming as Japanese Specialty Coffee Bar, we paid a visit.

Like the traditional 'kissaten', a Japanese-style coffee house is still the city's true coffee hotspot in Japan. Many of these traditional coffee houses serve siphon coffee. Grinding fresh roasted beans seconds before brewing, the mechanical perfection of a siphon pot occurs when two chambers, vapour pressure and vacuum…brew the coffee.
Incorporating the kissaten environment that encourages customers to sit back, relax, and have the coffee brought to the table. The cup is laid down with all the grace of a tea ceremony. The owner has created an environment for customers to enjoy coffee, savour its taste, and to slow down.

The ever-so-busy street of Jalan Radin Bagus, where parking could be such a pain here nontheless welcomes:

103 Coffee Workshop
A japanese inspired cafe

We think cafes like this has became both a center of social life for the new modes of living, and a place where newcomers to the cities could go to observe peoples' ways, looks, attitudes and models of sophistication. Like a place to stop for a while. Some place where people could catch up & enjoy a nice cup of speciality coffee and hand-brewed coffee plus food. 103 Coffee Workshop serve Japanese brunch, dons, udon, snacks as well as some desserts. And as for drinks other than coffee, they have their own Japanese Milk Tea too!
**Their kitchen is open from 11am-4pm & 6pm – 9.30pm

Get ready for some tasty home-brewed single origin coffee! You can purchase the bean home too if you love them!

You can get to choose the brewing method and your bean of choice!

Barista busy at work

Their cosy workshop interior With blends of rustic & modern edge.

And as for the house blend, their blend is a mix of Arabica grade Brazil Mogiana, Colombia Inza and Guatemala Antigua.

Flat White (Double Shot) – RM10
Chris loved it and claimed "just nice" for him. Every sip of deep, dark goodness. I would have been overdosed by a double LOL

One of their cold brew of single origin coffee that has a desirable sharp and pleasing taste, with full-bodied aftertaste. Thanks to 103!

Kari Kari Pasta – RM3.90
Crispy fried pasta with their homemade seasoning. One of their most-ordered snacks, it was really addictive!

Tamago Garikku Tosuto – RM13.90
Garlic Butter Toast with spring egg served with sausage, ham & mixed salad.
The toast might look ordinary but the spread of garlic butter made the difference. Always love toast with tamago! However, the ham was a bit too dry to our liking.

Teriyaki Chicken Don – RM14.90
Chicken Teriyaki Rice Bowl served with Spring Egg.
Love this portion of rice as the chicken was perfectly grilled & coated well with the teriyaki sensation. Mixing them all up with tamago, ginger slices & spring onion makes a tasty bowl of goodness.

103 Coffee Workshop
103 Jalan Radin Bagus,
Sri Petaling, Kuala Lumpur.
**Located next to 7-Eleven.
Business hours: Tues-Sun: 11am-11pm
Tel: +603-9054 5512

To check out more of our compilation of Coffee Place, CLICK BELOW

September 4th, 2014

I could still remember vividly the last time Chris brought me up to Luna Bar for Valentine's Day celebration. And it was 6 years ago! Luna Bar is indeed a very romantic spot, especially for couples who would like to date under the moon & stars, overlooking the cityscape by the pool. And during that time, they also have a lounge area where it's filled with stylish couches and chandeliers. They served mainly finger food and drinks.
Never did we know that at the Pacific Regency Hotel Suites now, one could enjoy good view, perfect ambiance and not to forget, deliciously memorable fine food!
They've revamped the place about 4 years ago and now, a new menu set to impress!

As you proceed your way up to the 33rd floor, you will then climb a staircase up that leads you to an absolute tribal experience in fine-dining on your right. Where else on adjacent side, would be the widely popular Luna Chill Out Bar.

Cristallo di Luna

A chic, casual western dining restaurant located on the 34th floor of Pacific Regency Hotel Suites. The whole concept is set to be elegant with its adornment of glittering crystal chandeliers dangling from the ceiling and plush, inviting furniture pieces that promise comfort & luxury. The restaurant is intimate and dimly lit so you can enjoy the night view in all its splendour.
However, we personally thought that the restaurant's setting could be improved, in terms of furniture colour selection. The black details is a bit too overwhelming, resulting the place a bit gloomy instead of romantic.
However, the best feature about this upscale eatery is its stunning view of the KL cityscape making it "the cool place" of the golden triangle either for having an aperitif or a romantic, friendly, business dinner.
As the night progresses, step out onto their open-air sky bar area for a nightcap if you like

Thanks to Cristallo di Luna, we were able to sample some of their most favourited items on the new menu!
And also learn that there's actually good food at Luna. Not just cocktails and bar bites.
Many people, including Chris and I, don't have a clue that they serve proper food here until now. Oops!

You may want to start your dinner with an order of cocktails or wine first

Orange juice for me

Chris said their Long Island Tea was great!

Complimentary bread

Appetizer
Re-invented Buffalo Mozzarella stuffed in Roma Tomato, Pine Nuts, Arugula and Basil Emulsion – RM15
A vegetarian start, the chef thoughtfully started our course meal with a lighter dish that cleverly combines tomato and buffalo mozzarella to ignite our palate.

Warm Seared Scallops and Prawn with Ruby Red Grapefruit, Orange & Frisee Salad, Piquillo Coulis – RM30
The scallops and prawns were very fresh and the combination of flavours brought out the freshness of these seafood. Bouncy texture accompanied with hints of sweet flavours from the fruits & vegetables.

Kaffir Scented Lobster Soup with Sea Scallop & Coconut Foam – RM30
It's definitely difficult to find a place that serves good lobster bisque, as most places we've tried was way too salty and empowering for us. But at Cristallo, this version of bisque that the chef prepared was just perfect. Bursting with flavours but not too overwhelming till it over-ignite your tastebuds. Haha. And with the extra texture from the scallops, they matched great.

Mains
Grilled Tenderloin of Black Angus Beef – RM80
Pommes au Dauphinoise, Fricassee of Wild Mushroom, Glazed Baby Onions, Morel Jus, Truffle Scented Oil
Perfect medium rare, tender meat that retains its juiciness. The Pommes au Dauphinoise, also known as the gratin potatoes where an elegant, light variation of the layered carbs stays together. Every bite was heavenly. With the sauces drizzled all over, mushrooms, baby onions, all these ingredients just come together so well.

Oven Baked Cod Fillet, Mascarpone and Asparagus Orzo Risotto – RM50
The asparagus is topped with Flying Fish Roe & this dish sleeps on their Saffron Butter Sauce. Another must order dish, the oven cod fillet were fresh and not overcooked. Pairing the protein with the creamy risotto underneath was very delicious.

Dessert
Espresso Crème Brule with Vanilla Foam and Macadamia Ice Cream – RM20
Coffee based creme brule! And they uses Haagen Dazs Ice Cream here.

'Teh Tarik' Ginger Panna Cotta, Kaya Butter Toast – RM15
Malaysian fusion. The chef has been very innovative in incorporating our Malaysian "teh tarik Halia" into his panna cotta and it's definitely our first time having kaya butter toast in a fine dining restaurant. Haha.

Chilled Strawberries, Passion Fruit & Mango Soup in Pavlova Bowl – RM20

We absolutely fell in love with the food here as they lifted up our senses, with a passionate chef that has carefully aligned his innovative dishes & tastefully blended recipes to offer an unforgettable experience in fine dining and at the same time, capturing all our senses.
Price wise, it's not too heavy on the wallet if compared to many fine dining restaurants out there. Definitely value for money

*PORK-FREE*
Cristallo di Luna
Level 34, Pacific Regency Hotel Suites, (Go to Level 33 first by the lift)
Jalan Punchak, Off Jalan P.Ramlee, Kuala Lumpur, Malaysia.
Tel: +603 2332 7777
Opening Hours :
Mon – Thu : 5 pm – 1 am. Fri – Sat : 5 pm – 3.00 am. Sun: 5 pm – 1 am.

August 24th, 2014

Introducing another Werner Kuhn's latest establishment on the happening street of Changkat Bukit Bintang, would be a unique setting of eastern smoking den meets Western hipster hangout, surrounded with a mixture of Chinese oldies upbeat and some funky grooves in between. Love their interior as every corner is adorned with a different ambiance which brought out the opium den cum Chinese culture.
Different types of opium pipes displayed on the wall on one side, separated by a communal area with a wall of shelves displaying the custom-made Chinese ceramics traditionally used to store Chinese wine. So drunken master like. Haha. By the way, this is Opium KL that we are talking about & it was just opened July this year and this outlet aspires a 1930s-1960s look and feel

On the other side would be a sophisticated bar with a different personality of orient express style where spirits are put to order to create their booze.
It's all very theatrical, but that's nothing compared to the drinks! So while you may not be smoking, your glass is! Must check out their signature cocktails and booze created & served in a very unique way.

Indoor dining area for a more intimate experience. A very different dining experience compared to their al-fresco dining area which stands out with their burlesque-like striking pink seats making the whole place looks hip at the outdoor.

The Rose Room, with their centre piece of the opium bed. Well, it's actually meant for drinks and chitter-chatters You could also book this area for a more private function/ occasion.

Opium KL also has a rather special tagline:

Eat.Drink.Man.Woman
饮食男女

- A 1994 Taiwanese film directed by Ang Lee, referring to the basic human desires and accepting them as natural. Meat, drink, seeking pleasures in life which fits to the theme of this restaurant: A place for people to unwind and focus purely on the food, conversation and quality time.

What's Opium KL's call?
Asian Oriental Fusion food & addictive cocktails that you must order!

Opium Specialities (Non-Alcohol)
For those who can't take alcoholic drink, like me You can definitely check out some of their house specialties. Nicely concocted to ignite & refresh your palate. These drinks are served in a mini pot which is adoringly cute!

Mango Asam Boi – RM15

Calamansi Apple Ginger – RM15

Signature House Cocktail
Each cocktail is served cleverly in different glasses & pots, crafting a more interesting approach in letting patrons discover their drinks.

Peking Man – RM32
Vodka, Puer tea, Longan, Lime Juice ,Egg white, Orange Bitters. And the way they serve their peanuts! So cute!

Tea Trader – RM32
Rum, peach puree, black tea syrup, lemon juice, egg white

Shanghailander – RM38
Whisky, peated puree, black tea syrup, lemon juice, egg white

Trader Vic Heads East – RM32
Rum, spiced rum, orange curacao, lime juice, dutch almond syrup, mangosteen

Tiger Draft – RM22
Drink like a real Chinese man! Tiger drafts served in small wine pots and drink it from a bowl!

Crunchy Bites – Dimsums with a twist!
Money Bags – RM15
Crispy dumplings with fillings of chicken, squid, leek, spicy sauce & seaweed.

Crab Cakes – RM18
The crab meat was infused with herb sambal.

Cheese Samosas – RM18
Crispy popiah skin enwrapping 3 types of cheese & raisins. Apricot chutney served as dipping sauce. Good stuff.

Salad
Fern Leaf Salad with Grilled Prawns – RM24
Great flavours of wild fern leaves tossed with grilled prawns, sambal, ginger, shallots & drizzled with coconut lime juice. First try having fern leaf as a salad serving, it was really appetizing with all the mixtures of flavours.

Curry Spaghettini – RM28
Playing fusion, they uses spaghetti cooked in coconut based broth well infused with spices and topped with other ingredients like dried shrimps, chicken, long beans, bean sprouts, prawns, tofu puffs & eggs! Brimmed with goodness, it tasted like nyonya curry noodles.
We've personally tried pasta cooked with Eastern flavours during our days in UK. But back here, this was our first time! Great combo

Wagyu Beef Rendang – RM38
A pot of wagyu beef cooked tenderly with spices, coconut, tumeric leaves & kaffir lime leaves. You can opt to this main dish with either Lotus Leaf Buns or their Poppy Seed Rice. Very well flavoured and it's almost too addictive.

Creamy Butter Prawns – RM42
Prawns cooked with milk, butter, chili, garlic & curry leaves creating a creamy and fragrant dish. You can also choose to have this with either Lotus Leaf Buns or their Poppy Seed Rice. We love dipping their buns into the creamy sauce. Yum! Tasted just right and not too empowering with too much butter.

Sweet Stuffs for Sweet Ending
Cheesy Banana Fritters – RM18
Fried banana, aged cheddar & banana ice cream. The perfect combo of hot and cold. Loved it!

For all dessert good ness in a glass, you can opt for these selections instead:
From left to right:

Sago Gula Melaka – RM15
A mixture of sago pearls, gula melaka, coconut milk & jackfruit

Opium Ice Glass – RM18
Shaved ice with grass jelly, waterchestnut, basil seeds, peanuts, corn, mung bean paste, coconut milk, gula melaka & topped with coconut ice cream

Melon Ice – RM15
Honeydew melon with sago pearls & coconut milk

*PORK-FREE*
Opium KL
50 Changkat Bukit Bintang,
50200 Kuala Lumpur,
Malaysia
Tel: +603 2142 5670

Opening hours:
Sundays – Thursdays : 4pm – 1am
Fridays – Saturdays : 4pm – 2am

More of Werner's establishment on Changkat Bukit Bintang (read our previous reviews below)

August 17th, 2014

I have been a huge fan of crabs since young and visits to Singapore has always been like "Must eat Chilli Crab ok?" LOL
And since we've never blogged about Jumbo, here goes!

Since Gordon Ramsay won Ang Kiam Meng of Jumbo Seafood Restaurant by a five-per-cent vote margin for the chilli crab dish during a Hawker Heroes challenge last year in Singapore, I suggested that we must have Jumbo's Chilli Crab during our previous visit to Singapore.
Chilli Crab, a food icon of Singapore with some of the best places to lap up this stunning creation include No Signboard Seafood Restaurant, Jumbo Seafood and Long Beach Seafood at the East Coast Lagoon Food Village which sits right by the beach at East Coast Park.
But we pre-booked Jumbo like a must. Come to think of it, maybe it was because of Ramsay. Haha.


Wear your apron to avoid the mess!

We're pretty sure most of you would know Jumbo Seafood Gallery since it's so famous! A Singapore home-grown seafood restaurant group that was established in 1987 with its first restaurant located in the popular East Coast Seafood Centre. We visited their Riverwalk outlet instead since their other outlets that we wanted to visit like East Coast & Riverside Point were full!

Now they are a group of 5 restaurants: East Coast Seafood Centre, Riverside Point, The Riverwalk, NSRCC & Dempsey Hill. The 5 outlets all offer different menu features in addition to the regular award-winning signature dishes.

Chilli Crab – SGD67.20
Deep fried mini bun – SGD3.60
What a beautiful crustacean. Infused and swimming in a pot of tasty, sweet & savoury sauce, created with a base of chilli and tomato sauces which will electrify your palate and satisfy your taste buds.
The thick tangy sauce is made deliciously fragrant with garlic and rice vinegar, while thickening flour and egg ribbons are added to give the chilli crab dish the fluffy texture it's known for.

For extra kick, remember to order some mantou (mini toasted buns), to scoop up or dip them into the thick gravy. Oh so addictive!

Jumbo claw for me

Homemade Beancurd – SGD24
Silky smooth tofu drenched in flavoursome mushroom sauce, brimmed with generous amount of assorted mushrooms. Can finish a bowl of rice just with this dish.

Flaky Spicy Prawns – SGD33
The prawns were bouncy and sweet, coated evenly with flaky cereal that gave the crispy texture plus hint of spices, without being too overwhelming.

Jumbo Seafood Gallery
20 Upper Circular Road, #B1-48
The Riverwalk, Singapore 058416
Tel : 6534-3435 Fax : 6536-3836
Business hours:
Lunch : 12pm – 3pm (last order at 2.15pm)
Dinner : 6pm – 12am (last order at 11.15pm)
*Advised to make reservation before visiting to avoid disappointment. Especially on Public Holidays

August 15th, 2014

It makes us happy, it makes us fat. Well, not if you eat it properly.. Haha.
It seduces us and reduces us to behaving like children in a sweet shop!
It can even, according to the BMJ, lower blood pressure and reduce the risk of heart disease and strokes.
So rejoice, all fellow lovers of the cocoa beans!

Many have told us:

Once you taste GODIVA chocolate, you know that it's delicious. For real.

We agreed

GODIVA, a name that embodied the timeless qualities of passion, style, sensuality and modern boldness. Named after Lady Godiva by the chocolatier, with great legends, a lady on the horseback. It's on their logo if you noticed, this is well-known as one of the creators of the world's most elegant, hand-crafted chocolates, originated in Brussels, Belgium.

"To us, chocolate making is a real art. It starts with the most precious ingredient – the cocoa bean, which grows on trees in large cocoa pods." – GODIVA Chocolatier

Established since 1926 in Brussels by Joseph Draps, GODIVA Chocolatier has become one of the most prestigious chocolate brands in the world. The recipes of their founder and unique chocolate making process remain the secret of GODIVA superior quality, leading to GODIVA's appointment as the official supplier to the Royal Court of Belgium!

For over 80 years, from New York to Hong Kong, GODIVA Chocolatier has been bringing the best of Belgium to the world. It was really an honour & delight to join GODIVA's very own Chef Philippe Daue, GODIVA's Chef Chocolatier – Pacific Rim & China for a unique Chocolate School Session!

Before the class begins, Chef Philippe was telling us about the real way of savouring your chocolate, instead of just popping them into your mouth and munch them in quick seconds. Else, any great chocolate would be a waste!

Do you know the ways of "Savouring Fine Chocolate"? asked Chef Philippe. Here's how:
1. See – Observe the packaging. Good qualiy chocolate will be packaged with great quality material. The bar should have a radiant and consistent gloss, without white or grey marks. The colour should be appealing

2. Hear – Break the piece in half. It should resonate with a resounding and satisfying "Snap!" and exhibit a fine gradient along the broken edge

3. Smell – Smell especially at the break point. There should be a strong, intense and pleasant cocoa aroma. If the chocolate or the room is too cold, lightly rub the chocolate with the fingers to release all aromas.

4. Taste – Place the chocolate on the tongue. Let it melt. Chew it only to break it into small enough pieces that it begins to melt on its own. This allow the cocoa butter to evenly distribute in the mouth which mutes any bitterness in the chocolate.
As the chocolate melts, concentrate on the flavours that are enveloping your tongue. Melting will release more volatile compounds for you to smell. Close your eyes, enjoying this moment of bliss, and bask in contentment

After that, Chef Philippe demonstrated on how to make our own Chocolate Truffles!
And we were led to our respective work stations to make our own with guidances from the chefs

Dried fruits and nuts for decorations

Fun times with chocolate begins!
Here's Chris and his melted chocolate

Time to fill in the mould – first step of truffles making
Fatboybakes – the pro baker in action!

My turn! My turn!

Truffles Collection – the utmost sensation of smoothness and crunchiness.
FYI, truffles are traditionally made with a chocolate ganache centre coated in chocolate, icing sugar, cocoa powder or chopped toasted nuts. This time we coated ours with toasted nuts for the extra crunch.

Here's the simple steps of Godiva Chocolate taking Shape!
Melting the chocolate
Tempering the chocolate
Melting the chocolate shells in
Filling with Godiva ganaches
Closing the shells
De-molding the chocolate pralines
Decorating the Godiva pralines
Enjoying your creation!
These may look and sounds easy, but each steps of chocolate creation requires a lot of patience. And knocking. Haha! As we were told that most of the time will be spent on knocking out the excess bubbles/ air so that a perfect praline could be formed.
Piping in GODIVA ganache into the coated mould
Perfect pralines knocked out from the moulds
Time to coat them with toasted nuts! Hello Chef Chris
We were also taught how to make simple chocolate disc with the choco pipes that we filled and decorate them with dried fruits & nuts.
As the workshop finishes, Godiva surprised us with a gift to take home with us as well.
Their GODIVA Chocolate Gold Collection: a colourful palette loaded with five most loved GODIVA chocolate ingredients: hazelnut pralinés, ganaches, carrés, caramels and nuts chocolate series. Love them all!
Through this GODIVA Chocolate School Session, we've learnt to appreciate chocolate more and after all the steps we've been through with Chef Philippe, we somehow thought chocolate tasted yummier than ever with GODIVA!
Go get your chocolates from GODIVA from their existing retail outlet.
For more info, please visit: http://www.godiva.my/
Link To This Page
1.
Click inside the codebox
2.
Right-Click then Copy
3.
Paste the HTML code into your webpage
August 10th, 2014
Continued from Day 1 BabyMoon @ Pangkor Laut Resort
Read more HERE!
Started the refreshing Day 2 on Pangkor Laut Resort being greeted by nice weather as we got out from our villa, ready for breakfast!
WARNING: Picture loaded ahead! As we've got a whole day here!
While waiting for the shuttle service
Here's our full day activity for Day 2. Pampered with good food and relaxation
#1 BREAKFAST @ Feast Village
Culinary offerings from the Asia-Pacific region and beyond that features a patisserie, cafe, Chef's table and wine cellar where guests can purchase wines of their choice. The restaurant is open for breakfast and dinner.
Our beautiful morning begun by making our way to this Feast Village for our big breakfast before we continue our activity throughout the day

Spoilt with choices, savour yourself with different types of cuisines; from Malaysian delights, Western fix or even some Chinese cum Indian tasty surprises!
The morning face!

#2 Jungle Trekking (for Chris)
This activity starts at 10am every morning by gathering at the Library behind the main lobby. You will then be briefed by the resident naturalist beforehand. This was a 2-hour jungle trekking activity where it opens your eyes up to a lot of what nature offers, and the resident naturalist will be your fount of information about the flora and fauna of the island.
The journey started from walking along the beaches and villas before entering the jungle behind, accompanied by informations about the island as well. Chris explored the jungle treks through the rainforest accompanied by their experienced and informative resident naturalist. The walks are free of charge and offer a fascinating insight into the spectacular virgin rainforest that is estimated to be over 2 million years old. Some of the interesting wildlife you may spot on the island include crab-eating macaque monkeys, fruit bats, tropical monitor lizards and yellow pied hornbills.
Chris also got to crane his neck to peer up at the tall trees in the rainforest while climbing up the small hills under the cool canopy of trees. It was kinda sloppy, so I'm advise to wait for him at the Emerald Bay instead
#3 Laze & Swim @ the EMERALD BAY
While Chris went for his jungle trekking activity, I made a stop on the Emerald Bay myself with #miniC! His last stop will be at the Emerald Bay so I will just have to wait for him there while hanging out with my book, took a walk on the beach and nap on the beach chair with sea breeze brushing my face. When Chris reached, we had a small photo session on the beach as the weather was great that day. Even better than during our Minimoon.
Hello miniC
#4 LUNCH @ Chapman's Bar
Located Right on the Emerald Bay, is where Chapman's Bar is lay. So do plan your lunch route here after Emerald Bay for convenience. Just a short walk from your beach chair, we got our yummy lunch fare after chilling out on the beach, rounds of photos-taking session & Chris's jungle trekking activity.
This bar is named after a famous British Colonel who sought refuge at Emerald Bay before his dramatic escape by submarine in 1945.
They used to serve course meals but they have revamped their menu just recently and turn it into buffet style during our visit, serving Asian cuisines with local flavours from Malay, Chinese to Indian like satays, chicken rice, noodles, BBQ items and more!
**Note: Just last week, the Chapman's Bar have decided to revert back to their usual ala-carte / course meals instead of buffet sessions like this. Better food quality we bet
You could have a look at the ala-carte meals that we had before HERE. 
Cold Ginger Ale on the beach!
#5 Pool Time @ Lap Pool
Passed by their tennis court on our way to the pool.
After the swim, we got back to our room to bath and rest.
Chris just gotta get some white wine while he bathes! Enjoying the hot tub and sounds of the sea with his glass of wine
#6 SUNSET CRUISE
Our evening was made memorable by starting out with a refreshing beverage at sea on board at Pangkor Laut Resort's teakwood Oriental junk. Captain Desa and his friendly crew took us out to the sea, leisurely cruise around the island to witness the beautiful sunset with visits to some of the islands beautiful bays.
A private cruise just for us! And the weather was just so perfect.
During our cruise, we were served with a choice of refreshing non-alcoholic and alcoholic beverages and appetizers from the crew while relaxing on the main deck or on the loungers and day beds on the upper deck. Yes, enjoyed free flowing soft drinks, house wine or beer as we admire the island from the sea, bathed in the golden hues of the setting sun.
Hello! This is our Captain on board!
He stopped by the perfect spot for us to witness the breathtaking view of sunset on sea.
Also, he had very interesting stories to tell about the island too! Very entertaining.
The other side of PLR: The Estate.
Even more luxurious than you could ever imagine.
According to Captain Desa, once the sun touches the horizon line on the sea, it takes exactly one minute for it to go all the way down! Ok. I certainly didn't know that. Haha. We then count down all the way together!
This was a magical experience with the most breathtaking views of the island at sunset. Love!
#7 DINNER @ Fisherman's Cove
Right after our sunset cruise, we then walked leisurely to Fisherman's Cove for our romantic dinner for 2.
Sets at the wooden deck adjacent to the Spa Village, on top of the breezy sea, Fisherman's Cove made it a romantic scene for dinner. Live acoustic band that sets in the lovely environment, candlelit tables enriched by the sound of the sea & dimmed surroundings that bagged the winning ambiance for fine dining.
They also have an open kitchen where patrons can get to enjoy how the chefs hustle with their Western grill, fresh seafood, Italian cuisine and delightful desserts.
Please take note that this restaurant welcomes children aged 16 years and above for the comfort of all their guests. Proper dress code is required with collared-shirt, full-length trousers and shoes for gentlemen and smart casual wear for ladies.
Have to give a big shout-out to the Fisherman's Cove as their food was delicious and memorable. Furthermore, their excellent service is certainly worth another praise.
A selection of bread to start with, with homemade herb butters!
Amuse-bouche
Literally translated as "mouth amuser" in French. A single, bite-sized first course served before appetizers.
Appetizers
Seared Foie Gras
Looks almost like a mini burger, the foie gras was perfectly seared and mounted on the caramelized mangoes & fungus confit below it. Different textures and flavours on every layer has created a myriad of surprises to our palate.
Crystal Prawns
Served with rock melon & roasted walnuts. Once again, very fresh prawns with that crunch and this pairing with melon and walnuts was refreshing and the flavours are certainly not over the top.
Rock Lobster Bisque
Served with Lobster mash, saffron, sweet potato chips on the side. A very rich preparation of tummy-warming soup. Dip your breads into them!
Lime Sorbet served in between for "palate cleansing"
Main Course
Pangkor Laut Seafood Pyramid (for 2 to share)
A huge portion of chef's recommended seafood selections. Consisting 8 types of seafood that includes: Lobster, tiger prawns, crabs, squids, fish fillet, scallops, clams & mussels, they were remarkably fresh that night. So much crustaceans and seafood goodness in one plate.
This platter was also served with 3 different types of creamy sauce to go with the seafood.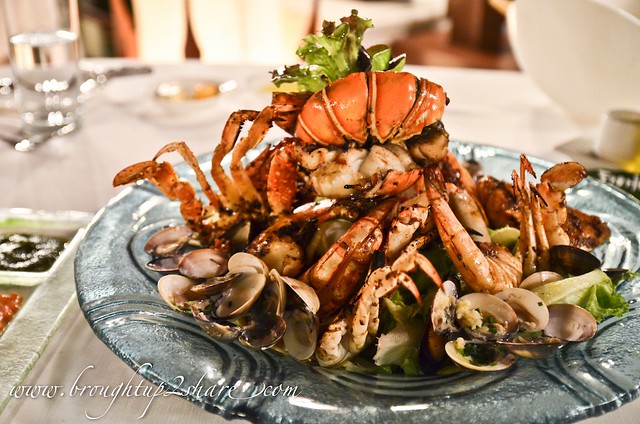 Desserts
Dark Chocolate Almond Cake with glazed cocoa topping and vanilla ice-cream
Spring Rolls
Wrapped with chocolates & topped with vanilla ice-cream
This ends our Day 2 with Pangkor Laut Resort. Awaiting more excitement on our last day with this luxurious resort on Day 3! Stay tune!
Link To This Page
1.
Click inside the codebox
2.
Right-Click then Copy
3.
Paste the HTML code into your webpage
August 5th, 2014
For the detailed Hua Hin travel itinerary, CLICK BELOW:

Cicada market is definitely not your usual Thailand street night market! Operating since October 2010, the Cicada Market in Hua Hin has become one of the area's most popular open-air markets!
It has definitely stand out for itself as this market is more of a platform for local artists to exhibit and sell their work, with a weekly schedule of live entertainment that includes local bands, international acts, theatre, performance art and various derivations of dance.
This market is created as a medium of connection to artists, creators, designers, tourists, students and community through integrating culture and arts with lifestyles.
As an art market with atmosphere of Hua Hin, this place is a source of contemporary art in various fields, including the invention of handmade decorative items, fashion clothes, collectible secondhand items and little products with innovative ideas to be displayed and sold in open-style mat and shops.
All things handmade!
Hand-drawn cute T-shirts designs!
Local artists operate from cute stalls! And yes, they painted every single masterpiece themselves.
So tempted to bring this umbrella home!
Here comes the bride! Can't resist to get his pretty veil for our cousin!
Their setting is like in a tropical garden, whereby the ambiance is relaxed, stylish and bohemian, with paths illuminated by lanterns and fairy lights and art installations throughout.
This market is also divided into 4 sections: Art A La Mode, Cicada Art Factory, Amphitheater and Cicada Cuisine. There are also 2 indoor galleries, known as The Art Factory which display the works of local artists and university students, plus a rotation of touring national and international exhibitions. Visitors can buy the art on display, or have their portrait sketched by one a local artist!

Air-sprayed portraits!
Love their Tourist Information Centre which they named it the Hua Hin Lifestyle Library. Equipped with computers, maps and infos, one can find out lots more about Hua Hin. Everything inside is so vintage and pretty!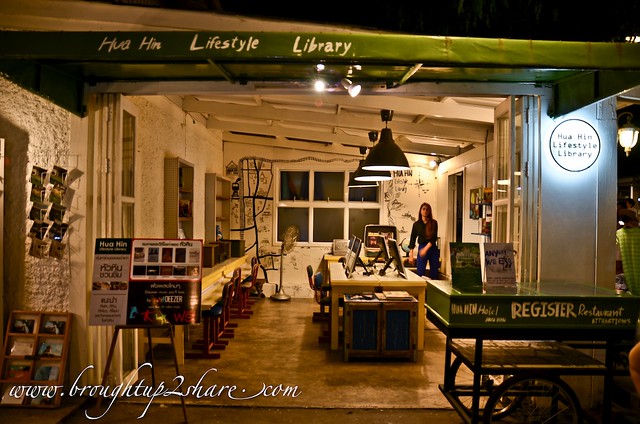 A
s you stroll along the night market, you will notice an amphitheater that offers different schedules of events which includes music, dance, theatre and more. Depending in which weekend, we can enjoy traditional Thai dance, magic shows, comedy, local musicians, b-boy and street dance competitions. We managed to watch some b-boy and live band performances while doing our shopping!
This is Cicada Cuisine. I lovetheir open are that offers a picturesque garden dining area. Food vendors here sells a wide range of Thai street foods with lots of local specialties. If you do not wish to have Thai food, there are also some selections of Chinese, Korean BBQ, western food etc.
Grilled fresh seafood here is also a specialty! Eyeing on those barbecued seafood
Coffee Break!
We stopped by a cute cafe by the name of Coffee Corner. Too hot must have cold coffee & cold milk tea!
Every cafe we stopped by in Hua Hin also never fail to melt us with its cuteness. Decos, petite table & chairs, and settings.

Iced Cappuccino – 60 Baht / Iced Milk Tea – 40 Baht
How to get there?
Cicada Market is easily accessible via cab or tuk tuk. As we booked a van, so it's not a problem

It's located in the Khao Takiab area, about ten-minute drive from Hua Hin Night Market. Located opposite the entrance to the Hyatt Regency Hotel.
Opening times?
They are only open on Weekends: every Friday, Saturday from 4pm to 11pm and Sunday 4pm to 10pm.
Link To This Page
1.
Click inside the codebox
2.
Right-Click then Copy
3.
Paste the HTML code into your webpage
August 2nd, 2014
It has been almost 2 years since we last stepped into a temporary paradise at Pangkor Laut Resort for our MiniMoon
Well you could read more about it here by clicking the picture below. Also, you could learn about how their Resident's Package works, which is very worth it.
And here we are again!
Back to Pangkor Laut Resort for more indulgence and for our BabyMoon!
Thanks to PLR for making this happen
A much needed break to find relaxation from work and we're sure you'll need this too.
Imagine yourself, for an indulgent moment, sunbathing on their Emerald Bay, with trees that cast slender shadows along the stretch of golden sand, the sparkling, azure ocean beckons you in for a swim. Lush rainforest, glorious sun and sea. After your dip, stroll back hand in hand to your spacious villa for a warm bath overlooking the sea and fluffy bed. Before getting ready for a leisurely seafood dinner, you can wander out onto your private balcony and listen to the surf. We could do this everyday!

Such delighting the senses.
At the waiting area of Marina Island @ Lumut, waiting for our boat transfer and it was just a 15 minutes journey to Pangkor Laut Resort! Safe for preggers like me! Hehe. For the boat schedules, do check out their official website for the different time allocation: http://www.pangkorlautresort.com/
Also, just leave your luggage with them at the jetty and they will be with you in your room when you arrive!
The weather was just so perfect that day
Blessed.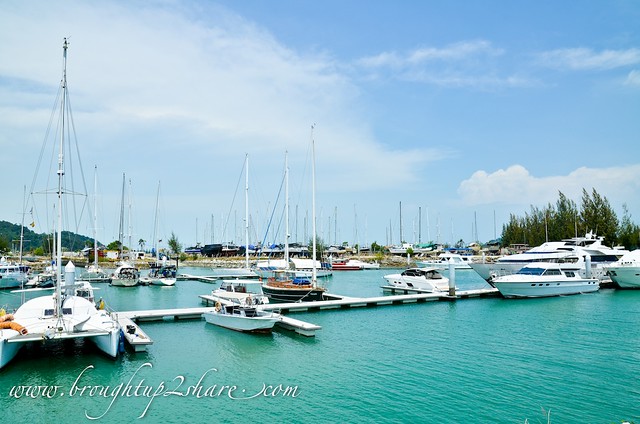 Time to board our boat and we just gotta take some selfie!

And also thanks to the beautiful couple who sat in front of us for a more complete pic. Haha.
On our way to being pampered at the YTL resort!
Upon reaching their Pangkor Laut Resort's jetty, we were greeted by one of their friendly staff, Loges. Ushered to their main lobby for another welcome drink and wet towel to refreshen up. Also, there will be a short briefing that were given personally to ensure we know our whereabouts, facilities and how to get around the island plus restaurants.
Before checking out our villa, we had lunch at one of their dining options:
LUNCH
Royal Bay Beach Club
The restaurant overlook the infinity pool serves a selection of Asian and Western favourites for lunch. In the evening, the restaurant will transform into a chic chill-out lounge serving cocktails and other beverages.
Appetizers
Mushroom Salad
Slow-roasted portobello mushroom on organic fields of greens and creamy egg dressing. Oh yes, we've had this during our last visit but we can't resist from ordering the same again as it's my favourite salad on the island. This time, much bigger portobello!
Rendang Quesadilla
Tortilla filled with slow-cooked chicken rendang , coriander-mint sour cream and guacamole , with heirloom tomato salad on the side. Highly recommended by the staffs, this tortilla was crispy and rendang were not too spicy too. Even children can take them. Love their selections of yummy dips with different flavour. Our favourite was coriander-mint sour cream.
Mains
Club Pizza
We selected three toppings: beef pepperoni, shrimp & mushrooms. Shrimps were absolutely fresh and the presentation was really pretty. However, their dough was kinda thick to our liking. Would have been perfect if it's thinner and crispier.
Roast Chicken
Rosemary Roasted Chicken, served with rustic potatoes & ratatouille. No complains, very well marinated chicken roasted to perfection and the sauce was delicious.
Desserts
Apple & Blueberry Crumble served with raspberry sorbet
Since Chris is not a very "berry" person, so I walloped the berries! Crumbly, sweet and sourish combination that we love. One side of the crumb is centred by apple while the other end with blueberry.
Daily selections of Ice-Cream & Sorbet (double scoop)
Vanilla ice-cream & Raspberry sorbet
Although I was tempted to choose over creme brûlée, but the weather calls for ice-cream! Our #minic loves ice-cream too. Haha.
After a round of tummy-filling feast, we were walked to our room which is one of the Sea Villas! Since our last visit was at their Hill Villa, our stay at their Sea Villa this time around is totally a different experience.
Time to check out their room on the sea!
Our Villa!
A beautiful wooden door opens to the first panoramic view terrace complete with reclining chairs and table. With charming interiors, wooden furnishings, nice comfy bed and a very spacious bathroom too! To be precise, a bathroom with panoramic window on the sea!
Mangosteen for bath & toiletries.
Love the different fruit flavours they used for shampoo, conditioner, shower gel & lotion. We smell like a fruit after bathing! And sea salt provided for a soothing, relaxing and stress alleviating bath.
An invitation to their cocktail session in the evening
Complimentary fruit basket! Just what I needed most. Constipation's a pain during pregnancy you know. Haha.
Too comfortable enjoying the sea breeze till #miniC says "Do Not Disturb" Lol.
Time for picture!
I
n between, you could take a dip at their pool near the Royal Bay Beach Club or take a walk on the beach.
Hello feet!
Time really flies and it's DINNER time already!
At Uncle Lim's Kitchen!
From our villa to the Uncle Lim's Kitchen, it's just a walkable distance away so we don't need to take their shuttle service provided
This restaurant is a spherical layed-out restaurant built on top a rocky outcrop overlooking the sea. It was named after the chef who has been with the Resort since its inception.
Uncle Lim's specialises in Nyonya and Hockchew Chinese-style home cooking. All dishes are inspired by the unique products available locally, and made to each guest's individual tastes and requirements. Love their exotic flavours of the East.
Many have asked, "Who is Uncle Lim?" "Does he really exist or just a name?" "Is he related to the YTL's family?"
Uncle Lim is actually Pangkor Laut Resort's oldest employee and head chef. This year, he is celebrating his 80th birthday along with 29 years of solid service at the resort!
In commemoration of this momentous event and appreciation for his years of dedication, his team of apprentice have prepared a special birthday feast incorporating Uncle Lim's favourite home-style recipes!
In conjunction with Uncle Lim's 80th birthday, Pangkor Laut Resort is offering guests the exclusive opportunity to enjoy this celebratory menu as:
Complimentary Dinner Upgrade for the Uncle Lim's Special Birthday Feast
For guests who book the ever-popular Resident's Package
Travel period to Pangkor Laut Resort from 1st September to 31st December 2014.
Uncle Lim's Special Birthday Feast
Available 1st September to 31st December 2014
MYR360++ per couple
**One Complimentary Dinner Upgrade for guests who book Resident's Package**
Four Seasons Platter
Lo-Bak, Sweet Sour Prawns, Foo Yoong Egg, Calamari with Peanut sauce
.
Hock Chew Fish Maw Soup
.
Select four from the following items:
Stir-Fried Sea Cucumber with black mushrooms and broccoli
Deep Fried Soft Shell Crab served with Kampung Koh Chilli Sauce
Fantasy Lobster – diced and stir-fried with Prawn paste
Aromatic Steamed Pangkor Grouper – fresh from the fisheries of Pangkor Island and fragranced with lemongrass and chilli
Stir-Fried Scallops with Ginger Wine
Braised Abalone with Homemade Beancurd
Herbal Chicken- steamed free range chicken with traditional Chinese herbs
.
Hock Chew Red Rice Wine Mee Sua
with handmade thin wheat noodles from Pangkor Island
.
Shanghai Pancake
Here are just some of the dishes from the above menu!
Four Seasons Platter
Lo-Bak, Sweet Sour Prawns, Foo Yoong Egg, Calamari with Peanut sauce
Such colourful appetizers! Love to dip the Lo-Bak with the Kampung Koh Chili they provide. Prawns and calamaris were very fresh too.
Hock Chew Fish Maw Soup
Tummy warming, palate igniting, and addictive. Chris isn't really a big fan as he doesn't like sour taste so much. I personally love it as it's tangy, sweet, spicy and sourish.
Braised Abalone with Homemade Beancurd
Silky smooth and the sauce goes very well with the rice.
Fantasy Lobster – diced and stir-fried with Prawn paste
Beautifully presented
The lobster were fresh but we personally prefer a less overwhelming taste to our lobster and we can taste their freshness more. The prawn paste was flavoursome but somehow overtook the freshness that one can indulge.
Too full till no more room for desserts! Lol.
Enjoyable dinner with the night breeze. Hand in hand, we strolled back to our room, carrying our tummies and #miniC! Haha.
Stay tune for our Day 2 experience!
For those who are interested in the Residents' Package, you book your stay with with Pangkor Laut Resort via:
Their website: http://www.pangkorlautresort.com/
Call YTL Travel Centre at +603 2783 1000
or Email [email protected]
Link To This Page
1.
Click inside the codebox
2.
Right-Click then Copy
3.
Paste the HTML code into your webpage
July 22nd, 2014
Cutting-edge cuisine has its place, but sometimes you just want a hearty meal with your favourite comfort foods. We've heard many people saying, "As everything around us changes faster than ever, there's always comfort in things that stay pretty much the same"

Which what makes one happy.
In this era of food anxiety, it's no wonder we sometimes feel the need to throw the book away and tuck into foods that remind us of simpler times.
Like what we felt when dining at:
The Kitchen Table Restaurant & Bakery
During the past years, we noticed many young restaurateurs has stepped up to the mark and opened their own independent ventures. And this include Marcus & Mei Wan, these are the 2 brilliant partners behind this restaurant tucked away on the shop-house street in PJ.
With an infusion of energy, delicious food and fresh ideas, these youthful crop of business owners is forseen to rise to the top and, at the same time, helping to shape the future of the local dining industry. Oh yeah.
Opened just this year, Marcus & Mei Wan originally runs a supper club based in Mont Kiara, Kuala Lumpur. With this new outlet in town, they continue to serve Modern American comfort food using local produce.
During the day, they serve pastries, breads, cakes other sweets at their bakery. As the night pours in, their restaurant is ready to serve dinner plates for sharing. So, you get different kind of experience at a different time
We love how simple yet sophisticated their interior turned out to be as you step in. Clean, bright, white plus wooden furnishings.
Sharing pitchers
Lemongrass & ginger fizz – RM25
Highly recommended by Marcus, it was really refreshing and a clean start to our palate before the indulgence.
Dinner for sharing
Small Plates
Citrus salad, grilled calamari, capers & shallot vinaigrette – RM24
Nicely presented with its colours from the citrus fruits, the combination of calamari and greens was really matching. Chewy and moderately flavoured.
Large Plates
Pork belly, apple reduction & watercress – RM46
Absolutely adore this portion of pork belly. I'm personally not a big fan of fatty meats but you just gotta have a few bites. The amount of lean and fats were just right and not overly satiating. With combination of sauces from the apple reduction and mash beneath that balanced the flavours of sweet and catchy, it was memorable.
Buckwheat fried chicken, thai basil crisps & pomelo salad – RM38
Also known as their flagship chicken, it was really crispy and aromatic. It's been a while since we really enjoyed fried chickens. Haha.
Desserts
Dark Chocolate Tart with Almond Tuiles – RM15
Crunchy, crumbly and very enriching!
Earl Grey Crème Brûlée with Shortbread fingers – RM15
Fragrant and creamy, there's really nothing like cracking through the caramelized sugar layer to reveal the smooth custard underneath. And the shortbread made us missed Scotland so much!
*Non-Halal*
The Kitchen Table Restaurant & Bakery
23, Jalan SS20/11, Damansara Kim, 47400 Petaling Jaya
Opening Times:
Bakery: Tues – Sun: 10am – 5.30pm
Restaurant: Tues – Sat: 6.30pm – 10.30pm (last order at 9.15pm)
*Sunday Brunch : 10am – 2pm
*Closed on Mondays
To view their menu: http://www.thekitchentable.com.my/
Link To This Page
1.
Click inside the codebox
2.
Right-Click then Copy
3.
Paste the HTML code into your webpage
July 15th, 2014
The burger culture in Malaysia is no longer dominated by major fast-food chain in town with many independent burger joints joining the burger rave. The popularity of burgers remains on top despite many judgmental thoughts of fast foods like these would leave quite a flimsy aftermath in our body and the menu could get boring. Well, not anymore in a "today-burger joint"!
Well, not just another burger joint. Really. Not as simple as that. Who are we talking about that has just landed not long along from Pearl of the Orient (Penang) to Subang Jaya SS15?
Marshall's Burger
Despite the mushrooming of many burger themed outlets, Marshall's Burger is still slicing straight to the meat of the matter. So, hats off to this new burger outlet of today. Also, we are not exactly getting our cravings for our burger of choice settled so easily nowadays at typical fast food joints, do we? Difficult on our wallet, same old selections, you name it.
At Marshall's, they offer in-house made patties from imported beef, daily fresh pork patty and chicken thigh. Serving humble juicy burgers by getting all burger basics right, we personally think their burgers have nailed it, in terms of locking the juiciness of the patty. So, wave goodbye to frozen patties, MSG & preservatives! Yay!
We were really surprised learning that Marshall's actually started off as a roadside burger stall in Pulau Tikus, Penang selling burgers with precessed meat patties initially. When they finally kicked off for their burger venture in 2012 where they introduced their famous pork burgers, the overwhelming response in Penang have made them decided to bring more of this delicious burger options to Klang Valley!
At Marshall's Burger SS15, it's not about those gourmet burger laid out on your table. It's all about simplicity when it comes to their ambiance, set-ups and even menu. A casual place for us to hang out for some burger issues
Pork, beef, chicken & fish. Each category has different selections. Whether you like yours with cheddar or bacon, double patties etc, take your pick! Also, Marshall's have creatively named their categories in cute names!:
The Fat Piglet (pork)
The Bull (beef)
Small Fry (fish)
Bacon special chicken thigh (chicken)
All burgers come in a set with side of either Fries or Onion Rings with a soft drink that you can pick from their fridge yourself.
Another plus point that we love about Marshall's was, they introduced spicy burgers! FYI, Spicy burgers are available in pork, beef and chicken meat, but not fish. No additional charges for the spicy version. What shall we say?
All burgers are grilled to just the right perfection that locked the juiciness of the patty. And if you opt for the spicy sauce that is well-infused into the patty, it would be a new favourite for strong-flavoured person as it was well-suited with our local tastebuds.
PORK
The Fat Piglet – RM13.50
Pork patty with 2 slices of bacon. We decided to have this version in their homemade spicy sauce. Sweet, spicy savoury sauce. The juicy pork patty was such a perfect match with the crispy bacon. Oh, we love pork burgers!
Hawaiian Piggy – RM15.50
Talk about the combination of juicy pork patty, cheddar and a sliced pineapple. Never think twice when ordering this. The combo of sweetness from the pineapple that also tenderizes the meat, it's a tropical match with the pork.
BEEF
Bacon Special Beef – RM13.50
The patties stayed deliciously moist and was topped with 2 slices of bacon. A comfort food most people would love, especially beef lovers.
FISH
Big Fry – RM15.50
We decided to go for this 2 fish fillet plus cheddar burger that was drizzled with Marshall's homemade tartar sauce. I personally love their tartar sauce (that comes in orangey yellow instead of typical white ones) very much. We even had this as dip to our fries and onion rings! Goes really well with their fish no doubt
Think you might get bored with just plain ketchup or chilli sauce for dipping, they have their very own Marshall's sauce that was fueled by fun flavours with mixtures of mustard in it too! Very addictive we warn you
Say hello to another great burger outlet

They have another outlet at Damansara Uptown by the way
*Non-Halal*
Marshall's Burger
23G, Jalan SS15/2A,
Subang Jaya, 47500,
Petaling Jaya, Malaysia
Opposite Aeon Big
Tel: +603 5612 2169
Business hours
Tuesday – Thursday: 12pm – 10pm
Friday – Sunday 12pm – 11pm
(Closed on Mondays)
Link To This Page
1.
Click inside the codebox
2.
Right-Click then Copy
3.
Paste the HTML code into your webpage
July 11th, 2014
We love Thai food!
Who doesn't?

Have always been a huge fan of those profusion of exotic flavours and fragrances from the Thai spices that made these flavours seemingly inexhaustible. Whether it be juicy pieces of grilled pork or a fiery bowl of 'Tom Yum' soup, they are all just thrilling to our tastebuds. We personally still prefer authentic Thai food if compared to those fusion Thai.
Having heard of the jam-packed Thai restaurant located just next to Coco Steamboat at Jalan Klang Lama, we've been yearning to pay them a visit but sometimes the waiting gets in our way. We finally beat the fear of waiting and hungry tummies and made a visit to BBQ Thai: Thai Street Food on a weekend!
Lucky us, we do not need to wait too long before they got us our seats.
As the name suggest, do not expect a posh or classy ambiance. Its designs are unique in a way that it churned out an atmosphere whereby patrons would feel like they're dining in Thailand. Decos like "Tuk-tuk", old school bike, and wooden huts of different colours. We didn't make any reservations and so we gotta seat outdoors. It could be quite stuffy when the crowd was humungous. Serving the best Thai delights we've heard, let's check out!
Though it was written clearly that we have to wait at least 40 minutes for the food, after ordering, the food came pretty fast without much waiting! Since it was our first time, we ordered their best sellers/ hot items for a try
Seafood Tom Yum – RM20
Would never miss this quintessential Thai aroma! A bold, refreshing blend of fragrant lemongrass, chilli, galangal, lime leaves, shallots, lime juice etc that shapes this classic soup, but somehow it's still not the best tom yum we've had after all when we tasted the next dish which was the "Kem Som" steamed fish! But it was loaded with seafood though
"Kem Som" steamed Siakap in Thai Special Sauce – RM48
We all really love our sharing of "kem som" with it's bold & sourish taste. Not too spicy too!
BBQ Pork Neck – RM28
Juicy meat grilled to perfection. We personally thought this was better than A Wet Thai's version! Love the green chilli dip too that gave the extra kick!
Green Curry Chicken – RM20
Green curry was kinda normal but still flavoursome t go with our rice.
Kangkung with Garlic – RM13
We would order kangkung everytime!
Group picha!
*Non-Halal*
BBQ Thai – Thai Street Food
17 Lorong Jugra, Off Batu 3 1/3
Jalan Klang Lama,
58000 Kuala Lumpur
Tel: +603 798 19888
Business hours: 5.00pm – 1.00am
Link To This Page
1.
Click inside the codebox
2.
Right-Click then Copy
3.
Paste the HTML code into your webpage
July 7th, 2014
Whimsical.
I've always adore this adjective that reflects a playfully quaint or fanciful moment. Colourful & a bit mischievous
And only recently, we learnt that a new wonderland that brought out the best of hot cold experience together was named Whimsical.
This is not just a frozen fantasy but a dream come true brought to you by Cielo Dolci @ Publika, KL.
Here's Whimsical Gelateria & Caffe by Cielo Dolci
As you may already know Cielo Dolci has done a great job in their artisanal gelato experience. Here at Whimsical, they decided to bring the adventure further. Like how?
What about gelato & coffee pairings?
Incorporating gelato into food items perhaps, even breakfast or salads?
Nasi Lemak Gelato anyone? They continues to surprise patrons with unexpected flavours.
Expect a hot & cold showcase at Whimsical!
Their shop front portrays an ice cream hut that doesn't really display its gelato like Cielo Dolci at Paradigm Mall. At this front counter, one can try the different flavours of gelato that are individually stored in Pozzetti tubs in stainless steel storage to keep them perfectly insulated for the smooth gelato texture assurance.
Cute ice cream on wall
Coffee + Breakfast + Gelato = love
Americano – RM7
Cafe Latte – RM10
Let's have a hot & cold breakfast!
Whimsical Breakie – RM29.50
An assembly of breakfast with lamb sausages, beef bacon strips, sautéed mushrooms, baked beans, scrambled eggs with savoury waffles. There's no gelato for this sharing but if you order the order breakfast spread of rise & shine, you could pair your breakfast with Cielo Dolci Beef Bacon Gelato!
Duck on the Run! RM23.90
A stack of smoked duck, caramelized onion & poached eggs on waffle & finishes with house hollandaise sauce. Love this preparation very much as we usually have our boring order of egg Benedict (which we are never tired of). This combination of salty and sweet taste together (duck + caramelised onion) was a perfect couple. Just wish the waffle was a bit more crispier
Whimsical Waffle – RM21.90
Sweet waffle topped with Cielo Dolci Vanilla Cinnamon Gelato and a myriad of strawberry, drizzled with chocolate ganache & roasted almond flakes.
Not enough Cielo Dolci Gelato? Go get extra scoops! We had double scoops at RM12.90 (additional RM1 for premium flavour): Pistachio (premium flavour) & Lavender Honey
With the BFF Ivy
Whimsical Gelateria & Caffe by Cielo Dolci
D2-G3-05, Solaris Dutamas, 1 Jalan Dutamas 1
50480 Kuala Lumpur, Malaysia
Tel: +603 6419 0966
Link To This Page
1.
Click inside the codebox
2.
Right-Click then Copy
3.
Paste the HTML code into your webpage
June 30th, 2014
**All photos below taken with iPhone5**
Hello! We're back at Le Moon's Eatery. Bakery. Zakka located at Jade Hills, Kajang again!
A cosy eatery that definitely beats the fuss out when it comes to ordering delicious comfort food, which is very near us
Read more about Le Moon's on our previous entry HERE. (more pictures on the ambiance too)
The last time when we had a meal here at Le Moon's for breakfast, their menu was kinda limited as they were new. Another visit now, we were wow-ed by their extended varieties and the crowd
They have their menu printed in little cute booklets and stored in a mini red suitcase.
This is their menu suitcase
And we were back at Le Moon's for a reason too. To celebrate our 13-years of being together since 30.06.2001. Haha. Another reason to indulge in their dinner menu too.
Iced peach & passion tea – RM13.80
Since it's their signature and its picture dominated a page of the menu, Chris ordered this. Haha. No doubt it was refreshing.
These were just appetizers. We ordered an additional Onion Rings at RM3. Not overly battered. Great choice of sides.
Appetizers
Wild Mushroom Risotto – RM17
Mushroom risotto served with slow roasted cherry tomatoes, pan fried mushroom & crisp tortellini. Love this delicious twist on the classic preparation as it has that creamy, earthy and nutty taste overall. WIth a sprinkles of freshly grated Parmesan on top that melted onto the risotto, it was flavoursome.
X.O Dory – RM16
X.O crusted dory served with goats cheese croquette & mushroom tortellini accompanied by broccoli and garlic puree, finished with dressed romaine leaves. Every component on this plate was delicous, we both agreed. The silky smooth dory fish was smothered and paired perfectly with their X.O drizzles. Croquette & tortellini too complimented well with the fragrant puree!
Main Course
Grilled Chicken – RM18
Sweet hot chutney grilled chicken, finished with options of sides: we chose mashed potatoes (other available options include fries or onion rings). The chicken thigh were grilled perfectly and smothered with a sweet, sourish plus spicy sauce of mega flavours on top. Definitely complemented well with the mashed potatoes that is not empoweringly seasoned with salt, milk & pepper. Always love mashed potatoes that still retains that potato taste
Dessert
Chocolate Marquee – RM15
Layered chocolate mousse between a thin sponge, served with a ruby red homemade raspberry sorbet. Great recommendation by their friendly staff Phoebe. The chocolate mousse was smooth and enriched with chocolate flavours that is not too sweet. And their homemade raspberry sorbet was refreshingly sourish that made these 2 components a perfect couple.
Happy 13 years to us! Cheers with love!
*Pork-Free*
Le Moon's Eatery Bakery Zakka
18-G, Persiaran Jade Hills Utama 1/1,
Kajang
Business hours:
Tuesday-Thursday
8am to 11:30am -Breakfast
11:45 to 3:45pm -Lunch
4pm-9:30 pm – Light Dinner & Coffee (Last call 9pm)
Friday – Sunday
8am to 11:30am -Breakfast
11:45 to 3:45pm -Lunch
4pm-6pm – Light Dinner
6pm-10.00pm – Hearty Dinner (Last Call 9:30pm)
Prebook with them through +6010 289 9585, or +6016-441 2127
You can also contact them for more info on private party & function !
FB page: https://www.facebook.com/lemoons.eatery
Link To This Page
1.
Click inside the codebox
2.
Right-Click then Copy
3.
Paste the HTML code into your webpage
June 28th, 2014
Korean food is almost everywhere in Malaysia & we are literally spoilt for choice. But most would still seek where to get authentic and good Korean food, like us. It's definitely getting more and more popular in our city with such huge Korean waves influencing our fashion, music and of course appetite. Haha.
And one more thing. Korean BBQ restaurants are everywhere and most of them offer the same thing, but what makes one different?
We look heavily into their services as well besides the tasty barbecued meat, varieties of Ban Chan and comfortability. Well of course you would smell after dining in a Korean BBQ restaurant, but some restaurants' ventilation were really poor even when they have the "hood" around. Ouch.
However, we do realized most of the Korean restaurants now are not installing that fume hood and very much depended on their air-conditioning system instead. Though so, we're not stuffed out like mad
And we had quite a good experience with:
Mr Lim Korean BBQ
Actually, we dropped by this place by accident as we were supposed to dine at WOW Korean Chicken restaurant. Thanks to @mocas, we're able to check out another place that serves good Korean food with our partners-in-crime Ivy & Kampungboycitygal
Starter salad, Ban Chan (side dishes), lettuce & condiments for your meat and wrap.
Comlimentary Steamed Eggs
At Mr Lim, they offer set deals which is fuss-free and you get to try most of their popular dishes.
We had their Special Set Menu – RM170
Although it's written there that it caters for 3-4 person, it's more than enough for us 5! And for this price, it was worth it too.
It came with Dak Gal Bi (marinated chicken slices), Dae Ji Gal Bi (marinated spare ribs), Sam Gyoub Sal (sliced pork belly): All BBQ items
Also Pa Jeon (Korean Seafood Pancake), Jab Chae (Korean stir-fry with sweet potato noodles) & Dolsot Bibimbab (Rice in hot stone bowl)
All the meat were cooked perfectly with minimal burnt marks and retaining its juiciness. The staffs were considerate enough to barbecue them n another corner as our table were full. So we smell less barbecued after dinner too!
Dak Gal Bi (marinated chicken slices)
Dae Ji Gal Bi (marinated spare ribs)
Sam Gyoub Sal (sliced pork belly)
Pa Jeon (Korean Seafood Pancake)
Love this very much although it doesn't look spherically appealing. With bountiful ingredients mounting it. Not too oily too
Jab Chae (Korean stir-fry with sweet potato noodles)
This was kinda sweet but still taste great to our liking.
Dolsot Bibimbab (Rice in hot stone bowl)
Kimchi Jigae – RM20
We had an additional order of Kimchi soup as we would tend to have Kimchi Jigae everytime! Not too spicy, tey were very generous with the ingredients too like tofu, cabbages, enoki mushrooms, pork & glass noodles.
Do check out Mr. Lim when you're around the corner of Desa Sri Hartamas
*NON-HALAL*
Mr Lim Korean BBQ
5G Jalan 26A/70A Primaville,
Desa Sri Hartamas, Kuala Lumpur
Tel: 03 6201 6984
Opens daily: 11am-3pm & 5pm-11pm
Link To This Page
1.
Click inside the codebox
2.
Right-Click then Copy
3.
Paste the HTML code into your webpage
June 25th, 2014
There are a good numbers of afternoon tea place selections around the capital, but some are better than others with a selection of finger sandwiches, delicate pastries and scones with clotted cream, all gracing a grand tea stand complemented with good tea leaves and doses of caffeine.
Which would be your favourite Hi-Tea spot in KL so far?
I personally love hi-tea but have to slow down on this adventure as I can't really have tea / coffee now. Need to go easy on caffeine, and also cut down on sweets. Catching back up on the delightful afternoon tea session, we decided to head over to Mandarin Oriental for an afternoon indulgence at their Lounge on the Park. Having seen that floor to ceiling glass windows and plush sofas scattered with cushions, Lounge on the Park showcases a seductive mix of Chinese heritage and classic style.
However, when we were supposed to be seated on those classy plush sofas at Lounge on the Park, it was totally full when we reached! On a weekday. Great. Very crowded and even if we got ourselves a seat, it would be among the crowds


Lucky us, the friendly staff assured us comfy seats inside one of their restaurant, Mosaic. So it wasn't exactly Afternoon Tea @ Lounge on the Park anymore. More like Hi-Tea @ Mosaic
Love their arrangement as we were seated beside the huge window overlooking the KLCC Park. Best of all, it was not crowded. So much privacy.
Back to MO's afternoon tea, their menu menu features 60 premium teas as well as cocktails, juices and coffees. We went for their English Afternoon Tea that features delicate finger sandwiches, warm scones served with jam, clotted cream and orange marmalade, and a platter of miniature cakes, tartlets and chocolates. Their spherical desserts and savouries stand also looks cute and oriental, with sweets on top & bottom, savouries arranged on the middle tier. 
Heard they also usually have the Oriental Tea Set consisting more of dim sums but it was not available that day.
English Afternoon Tea
2pm – 6pm
RM78++ per tea set
Love their spreads! Strawberry jam, rich clotted cream, lemon butter and orange marmalade.
Chris is not really a huge fan of tea, so coffee is a must! Latte please
And hot chocolate for myself since I can't take tea

However, the coffee was quite a disappointment. We suggest that you stick to their tea.
We actually had 2 tea sets but two persons could actually share one.
Ours was complimentary as we went there with the Mandarin Oriental The Club Privilege Card & complimentary voucher
Happee!
Soaking up the unique ambiance and lavish décor while enjoying our Afternoon Tea for Two.
Lounge On The Park
Mandarin Oriental, Kuala Lumpur
Kuala Lumpur City Centre
50088 Kuala Lumpur, Malaysia
Tel: +603 2179 8883
To view the list of Afternoon Tea places that we've visited, click below:

Link To This Page
1.
Click inside the codebox
2.
Right-Click then Copy
3.
Paste the HTML code into your webpage
June 20th, 2014
Have you ever thought of whether the way of enjoying your Xiao Long Bao is right or not? Many would just ended up eating a broken dumpling with its skin detached from the meat and the wasted broth pours out onto your plate. Well, you might just say that must be noob and say, "Just pop the whole thing inside your mouth! So easy!"
Okay, you would just burn yourself easily then as the broth wrapped inside is piping hot.
But many would know that you should gently lift it up onto your spoon but what's next?
Here's how
Gently lift up the soup dumpling from the basket to your spoon, placing extra care not to break the skin of the dumpling.
Chew off a portion of the dumpling skin from the side to allow cooling of the soup broth and pork filing. Please take into consideration that the dumplings are very hot. Do not eat the entire dumpling immediately to avoid scalding. This is one thing many people forgot!
Sip the soup from the opening you chewed off earlier!
You could then complement with the ginger slices and vinegar. Time to chow down your dumpling!
At Paradise Dynasty (Paradigm Mall), the oriental ambiance is complement and augmented by the large white Buddha seated right in the middle. Very pretty.
Signature Dynasty Xiao Long Bao (8 Flavours) – RM25.80 (8 pcs)
Since this is their signature, it's a must-try if it's your first visit. And perhaps settle down with the original xiao long bao instead if you are not really into this 'fancy-pancy colourful' dumplings. However, we both personally enjoy these different flavoured xiao long bao as they churn out different taste that you could savour.
Oh by the way, there's also a proper sequence that you should your XLB:
1. Original
2. Ginseng
3. Foie Gras
4. Truffle
5. Cheesy
6. Crab Roe
7. Garlic
8. Szechuan
But instead, the first dumpling i excitedly picked up was Garlic LOL. Too much love for garlic and skipped so many milder tasting ones. Haha. It's alright if you don't follow though. But best if you could and not to worry if you forget which to eat first as they provide a sequence card for you on each table
La Mian with Pork Dumpling in Hot Chilli Sauce – RM16.90
La Mian is also famous in Shanghai cuisine and this time we choose to excite our palate with their Szechuan sauce tossed springy noodles. Delicious dumplings, with strands of noodles beautifully drenched in the hot chilli sauce. It's not too spicy as we thought, it has that kicking taste with a little numbing sensation at the end.
Wok-fried rice with Shrimps & Preserved Vegetable – RM16.90
Simple fried rice that satisfied us easily. Clever use of the preserved vegetable that boosted the overall taste.
*Non-Halal*
Paradise Dynasty
Lot1 F-15
Paradigm Shopping Mall
+6 03 7887 5022
Open 11am-10pm daily
Link To This Page
1.
Click inside the codebox
2.
Right-Click then Copy
3.
Paste the HTML code into your webpage